Author Reveals Surprising Stories from Westchester's Past
Published: Wednesday, 10 March 2021 08:11
Joanne Wallenstein
Racism, cancel culture, anti-semitism and political extremism are not new to Westchester. Incidents that seem so shocking today have deep roots in our past. Robert Marchant, author of "Westchester: History of an Iconic Suburb" held a webinar on Sunday March 7, 2021 when he shared the remarkable characters and stories of struggle and success from the past, all connected to the Westchester we all call home. Marchant is a staff reporter at Hearst Media in southern Connecticut and the Greenwich Time daily newspaper. He lives in Croton-on-Hudson, New York. The talk was moderated by Scarsdale historian Jordan Copeland.
Below are some excerpts from his talk with some of the more surprising stories he told.
Marchant says, "It was a great pleasure and honor to discuss local history with Scarsdale residents on Sunday, and I hope it shed some light on the fascinating history of the village in particular, and Westchester County in general. Most residents aren't aware, for example, that a cross was burned on the lawn of a Black dentist and new homeowner in White Plains, that there was a Nazi rally at the County Center, or the extent of anti-Semitism in Scarsdale some sixty years ago. Few know about the protracted battle over so-called Communist literature in the Scarsdale schools."
A Cross Burning in White Plains
The story of Errold Collymore is fascinating, one of perseverance in the face of ugly racial hostility. Collymore was a dentist who bought a home in White Plains in 1930 with his wife, through a white intermediary, and shortly afterwards, a cross was burned on his lawn. As he later recalled, he went out in his pajamas to take a picture of the burning cross with a camera in one hand and a rifle in the other. He and his wife endured all kinds of threats and attempts to get them to move--motor oil was splashed on his garden, for instance—but he would not give up and led civil rights initiatives in White Plains for decades.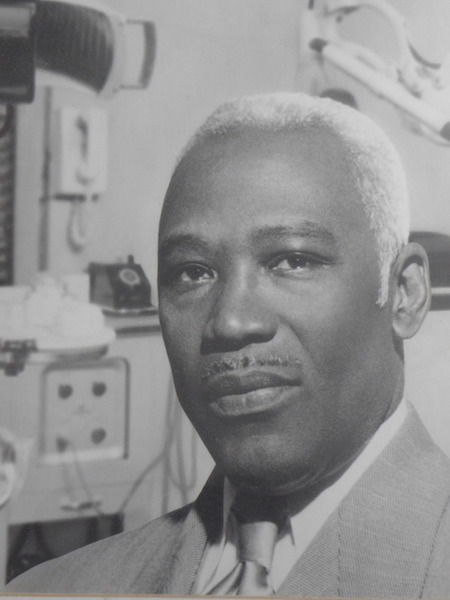 Dr. Errold Collymore resisted a viscious campaign to move him out of his home in White Plains in the 1930's.

Nazi Sympathizers Rally at the Westchester County Center
There was a lot of political extremism in the U.S. during the 1930's, and more than a few Nazi sympathizers. The pro-Nazi forces in the U.S. known as The Bund, held a big rally at Madison Square Garden. In 1938 they came to Westchester, holding a big rally at the County Center in White Plains that April. The Bund leaders, wearing militaristic Sam Brown belts and silver-colored shirts, marched into the County Center, itself decorated with a mix of pro-German slogans and swastikas and American flags. Speakers at the event, which numbered over 1,000 people, talked about an "international cabal" threatening the U.S.A., and used "blood and soil" rhetoric. There were over 100 police officers in attendance, and the rally ended without major incident, though a couple of teen-agers from Bronxville threw stink bombs into the crowd.

Anti-Semitism at the Holly Ball in Scarsdale
Anti-Semitism was always something of a shadowy phenomenon, keeping Jewish people from buying homes or gaining jobs in certain places. This "gentleman's agreement" was well-known but rarely discussed. In 1961, A young Jewish man—actually a Christian convert whose father was Jewish—was barred from accompanying a debutante to the Scarsdale Golf Club's Holly Ball, the annual holiday social event for upscale teenagers in the community. The Rev. George Kempsell, the Episcopal rector of St. James the Less Church, heard about the snub from the girl's mother, and made an impassioned sermon that captured national headlines, notably in Life magazine. Not long after the incident, Scarsdale Golf Club quietly began to allow Jewish members. The entire episode eventually came to be viewed as a turning point in the fight against anti-Semitism and discrimination, not just in the suburbs but across the country. Rev. Kempsell eventually left his clerical position in Scarsdale and moved west. He died in 1980.

Book Banning in Scarsdale
Scarsdale was the focus of a major controversy about so-called leftist influence in education. A group of activists led by a local financial executive, Otto Dohrenwend, probed the Scarsdale school district for what they saw as indoctrination by far-left authors and educators. The Scarsdale citizens committee—the Committee of Ten, as it was known—started with the school library in 1949, singling out works by Langston Hughes, the Black poet and intellectual, and Howard Fast, a leftist writer. The committee also questioned whether Scarsdale teachers had any affiliation with leftist groups. The Board of Education stood its ground when the Committee of Ten turned up the volume and the intensity of their attacks. Around 1,400 people came to a meeting in June of 1950, to hear Schools Superintendent Archibald Shaw say the targeted teachers had his full support. Thirteen years later, in 1962, the Committee of Ten protested and picketed a concert at Scarsdale High School by Pete Seeger, Ossie Davis and Ruby Dee, a benefit for the Freedom Riders, the civil-rights activists who were pushing for voting rights for African Americans in the South. About 1,300 people attended the concert, raising $4,000 for the Freedom Riders.

Marchant says, "I think it's important to lay hands with previous generations, to understand their hardships and challenges but also to bear witness to their ingenuity and how they solved or at least dealt with seemingly intractable problems. It can guide us to a better understanding of our own times. Remarkable history is all around us, especially here in Westchester."
Interested in Westchester history? Purchase your copy of Westchester History of an Iconic Suburb at Bronx River Books, 37 Spencer Place, in Scarsdale or directly from the publisher here: