Scarsdale Volunteer Fire Fighters Contribute To Medical Research To Help Child with Rare Disease
Published: Monday, 20 September 2021 12:08
Joanne Wallenstein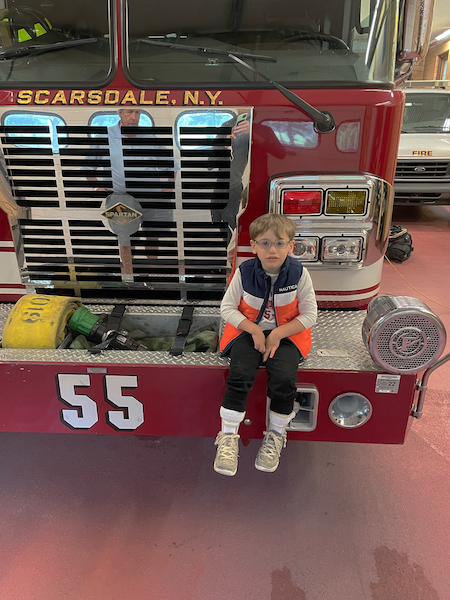 On September 14th, Volunteer Fire Company 3 presented Billy and his wife Robin Schultz with a donation of $1000 for Hunters CMT4B3 Research Foundation, a 501(c)(3) charity, founded by the Schultz family to raise awareness of CMT and fund research to find treatments for CMT4B3 and related neuromuscular disorders.
Billy is a long time resident of Scarsdale and a 30 year veteran firefighter with Scarsdale Volunteer Fire Company 3. His son Brett also served as a volunteer firefighter and Brett's four year-old son Hunter has been diagnosed with a degenerative neuromuscular disease called Charcot-Marie-Tooth Disease Type 4B3 (CMT4B3). Donations will support research and a life-saving gene therapy for Hunter.
Their Story:

In May 2020 after a three year diagnostic odyssey, Hunter was diagnosed with an extremely debilitating neuromuscular disease: Charcot-Marie-Tooth Disease Type 4B3.The doctors said there was no cure and no treatments. They told the Schultz's to go home, love Hunter and come back in a year to monitor the progression of this muscle wasting disease.
Untreated, Hunter's muscles will progressively waste away and he will no longer be able to move his legs, arms or hands. He will painfully suffer full paralysis, limb deformities and possibly go blind.
Rather than sit back and watch Hunter slowly deteriorate, the family made a promise to Hunter that they would not give up on him, no matter what barriers stood in their way.
Hunter is your typical social 4 year old who loves playing in the backyard, swimming and playing with his matchbox cars. He wears orthotics to stabilize his walking and glasses for vision. When he was born he appeared to be a healthy little boy. Unfortunately like many genetic diseases, there were no signs that anything was initially wrong. Within a few months of his birth his parents noticed that Hunter was missing certain milestones in his development, late to roll over, crawl, and then walk. However, all of his doctors told them to "wait, he will catch up." After three years of searching for answers, they were totally blindsided when the geneticist called with the devastating diagnosis of CMT4B3 and said to "brace ourselves for what we would read on the internet."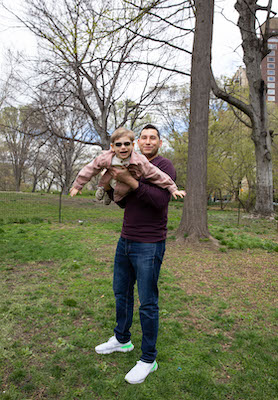 The Schultz's sat at the computer day and night reaching out to scientists worldwide. They immersed themselves in research to learn all they could about CMT4B3 and the rapidly evolving field of genetic therapeutics.
They learned that a coding error in one single gene, known as SBF1, was causing an important protein in Hunter's body to become nonfunctional. They found that the scientific community was making astonishing discoveries to correct genetic mutations and announcing daily breakthroughs and new medical treatments. It was possible that using gene therapy they could stop the progression of the disease. It was also possible to repurpose an existing FDA approved drug as a treatment.
Within just a few months, they read hundreds of articles, spoke with doctors from around the world and held the first International CMT4B3 Research Symposium attended by over 25 renowned scientists. Over the course of one day, they created a research roadmap and a plan for a treatment. Now, they are racing against time and doing everything possible to find a cure.
The sad truth is that rare disease research is almost completely parent driven and parent funded. If they want to find a cure, they must find scientists and fund their research.
CMT affects approximately 3 million people worldwide and about 150,000 people in the U.S. It affects the same amount of people who have Multiple Sclerosis and 10x more than ALS (Lou Gehrig's disease). CMT is the most prevalent Peripheral Nerve disease that no one has ever heard of! Symptoms of CMT usually start in the third or fourth decade of one's life, caused by the deterioration of the protective coating around the nerves. This is called neuropathy. Hunter had neuropathy at birth, which is why his type is classified as a severe-rare early onset form of CMT.
To find a cure, they founded Hunters CMT4B3 Research Foundation to bring hope to thousands of children suffering from early onset peripheral nerve diseases. In less than a year, they founded a non-profit, established a world-renowned Scientific Advisory Board, became a patient resource with the Peripheral Nerve Society, have two gene therapy projects underway, established a CMT4B3 biorepository and registry, are in the process of developing pre-clinical tools, including CMT4B3 mouse models and targeted cutting edge, expert driven research projects at renowned hospitals and universities worldwide.
They are grateful to all the doctors and scientists for giving them hope and thankful to friends, family, communities, neighbors, and complete strangers who are helping fund our research. Gene therapy and drug discovery costs anywhere from $5-$8 million dollars to develop. The CMT4B3 Research Foundation is composed of 100% volunteers with no salaries and no overhead costs. Operational costs are covered by the co-founders, therefore 100% of donations go towards research.
This is the only foundation driving research for patients and families who are fighting CMT4B3 and related neurological disorders. Click here to watch their story.

Please help them in any way you can!
Send your contributions to hunterstribe.org