Julia Deschamps and Aaron Mark: 2022 Celebration of their 2021 Wedding
Category: On Our Radar
Published: Monday, 18 July 2022 14:00
Joanne Wallenstein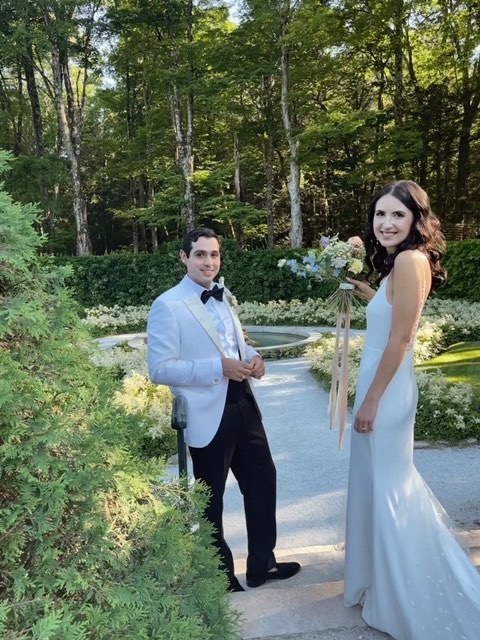 On July 9, 2022 Julia Mark (nee Deschamps) and Aaron Mark celebrated their marriage of 2021 at The Mount in Lenox, MA. Cantor Amanda Kleinman of Westchester Reform Temple blessed the happy couple under the chuppah in the beautiful French garden of The Mount.

Julia and Aaron met at The Dakota Bar in Manhattan in 2015 and have been together ever since. They had originally planned a substantial wedding celebration for 2019, but their plans were upset by COVID pandemic public health concerns. They were married on June 12, 2021 in the backyard of Aaron's parents' home in Scarsdale in front of a small group of family and friends. On July 9th of this year, they finally got to celebrate their marriage in grand style surrounded by their family and friends.

Ms. Mark, 29, is a social worker at Mount Sinai Hospital in New York City. She graduated from Temple University with a B.S.W and from Hunter College with an M.S.W. She is the daughter of Peter Deschamps of North Bethesda, Maryland and Ann Deschamps of Reston, Virginia. Peter Deschamps is a Certified Financial Planner currently providing financial counseling to military service members and their families. He is married to Sandra Birnbaum, a physical therapist practicing in Germantown, Maryland. Ann Deschamps is Vice President of Trans Cen Inc., a non-profit organization dedicated to promoting meaningful work and community inclusion for people with disabilities.

Mr. Mark, 31, is a Digital Strategy Lead Executive at Google in New York City and is pursuing an M.B.A at NYU's Stern School of Business. He has a B.A. in English and philosophy from Boston University where he graduated Cum Laude, and an M.A. in English from Fordham University.

He is the son of B. Kathleen (BK) Munguía and Jonathan I. Mark of Scarsdale, New York. His father retired in 2017 from the law firm Cahill Gordon & Reindel LLP where he was a partner for 35 years. Both parents are active members of the Scarsdale community. Jonathan Mark served as the Mayor of Scarsdale, New York from April 2015 to April 2017 and BK Munguia is an active volunteer in several not-for-profit organizations as well as the alumni associations of Yale University and Columbia University Law School.