LWVS Hosts Panelists Andrea Stewart-Cousins, Letitia James, Amy Paulin and Mimi Rocah
Date:
Sunday, January 24, 2021 7:00 pm - 8:00 pm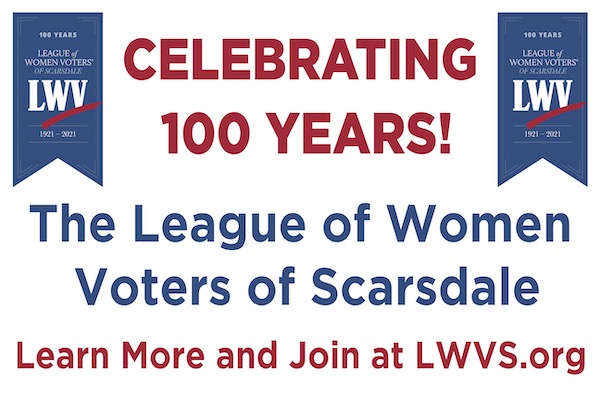 League of Women Voters of Scarsdale (1921- 2021)
100 Years of Progress -- Women in New York Politics
Centennial Speaker Event
Sunday, January 24 at 7 pm via Zoom
Register to attend the webinar here:
For more information about the event, click here:
As part of our celebration of the 100th anniversary of the founding of the League of Women Voters of Scarsdale, please join us as we welcome NYS Senate Majority Leader Andrea Stewart-Cousins, NY Attorney General Letitia James, Assemblywoman Amy Paulin and Westchester District Attorney Mimi Rocah for a discussion on a variety of political and social topics. This is an opportunity to see your elected officials discuss their priorities for 2021 as well as their roles and responsibilities in light of the pandemic and broader civic unrest.
The discussion will be moderated by LWVS member and immediate past president, Janice Starr.
To submit questions for the panelists, click here:
Questions? Email Leah Dembitzer at lwvspresident@gmail.com