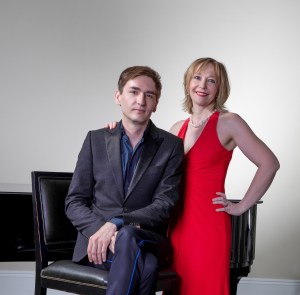 Vassily Primakov and Oxana MikhailoffPianists will Perform With Four hands On One Piano
The Music Section of the Scarsdale Woman's Club, 37 Drake Road, will present an opening program concert by pianists Oxana Mikhailoff and Vassily Primakov on September 14, Tuesday at 2 pm. The pianists will perform Czerny Sonata op.10 in F Minor and Saint Saens Carnival of the Animals with four hands on one piano.
Oxana Mikhailoff is a Russian-born American concert pianist of extraordinary talent who has performed in acclaimed concert halls in North America and Europe. Mikhailoff appears regularly playing solo and chamber music concerts and is known for her vast repertoire ranging from Baroque to contemporary composers. She has won many awards including the Martha Argerich International Piano Competition. Vladimir Feltsman has said "Oxana Mikhailoff is a mature and accomplished musician…her playing has character, imagination, and is poetic." In addition to her concert performances, Ms. Mikhailoff maintains an active teaching schedule and is a Founder of Homeschool Music Conservatory in Westchester County.
Vassily Primakov was born in Moscow where he attended the Central Special Music School. At age 17, he came to New York to pursue his studies at the Juilliard School of Music with the renown pianist Jerome Lowenthal. Primakov has won several international piano competitions including First Prize in the Young Concert Artists International Auditions which presented him with the opportunity to perform throughout the United States. The Classical Recording Foundation presented Primakov with the Young Concert of the Year award in 2007. He became a Yamaha Artist in 2012. Since the release of his recordings of the Chopin Piano Concertos, Primakov has been considered a pianist of "world-class" importance. Bridge Records has released numerous recordings by Primakov that include works by Bach, Mozart, and Chopin, among other well-known composers.
Oxana Mikhailoff and Vassily Primakov have known each other since their formidable years at the Moscow State Conservatory under the tutelage of the legendary Professor Vera Gornostaeva. Audiences on the duo's tours around the country enjoy hearing them play four hands on one piano as each pianist brings individuality and unique musical texture that perfectly complements the style of the other.
The program is free and open to the public. A reservation is necessary to confirm your seat by calling or texting 914 220-2387. Please leave your name and telephone number for a confirmation. The Scarsdale Woman's Club adheres to the recommendations by New York State regarding Covid-19.
Categories