Go to the Scarsdale Public Library's Meeting Room North South on Wednesday, May 24th at 10:30 AM for a morning of art and fun while celebrating the rich artistic traditions from around the world!
In honor of Asian American and Pacific Islanders Heritage Month, Kören Beck of Edgemont Art Barn will teach a workshop on the work and styles of contemporary artists with East Asian heritage. This month will be focused on Byron Kim, Yayoi Kusama, Tadeshi Murakami, and Ai Wei Wei. Come paint in a relaxed and supportive environment. Try something new, pick up some helpful tips, or discover a style you've never considered. All levels are welcome.
Supplies will be provided, but participants are encouraged to bring their own sketchbooks and other supplies if they want more variety in media.
Click here to register.
Event Title: Surviving Seasonal Allergies presented by White Plains Hospital
Date/ Time: Wednesday, May 24th 2023 at 6 PM
Venue Name/ Location: Virtual Lecture via Zoom
Category: Healthcare, Allergies, White Plains Hospital
Price: Complimentary, registration via this link is required https://tinyurl.com/SperberAllergy
Audience: Anyone with an interest in learning more about managing seasonal allergies.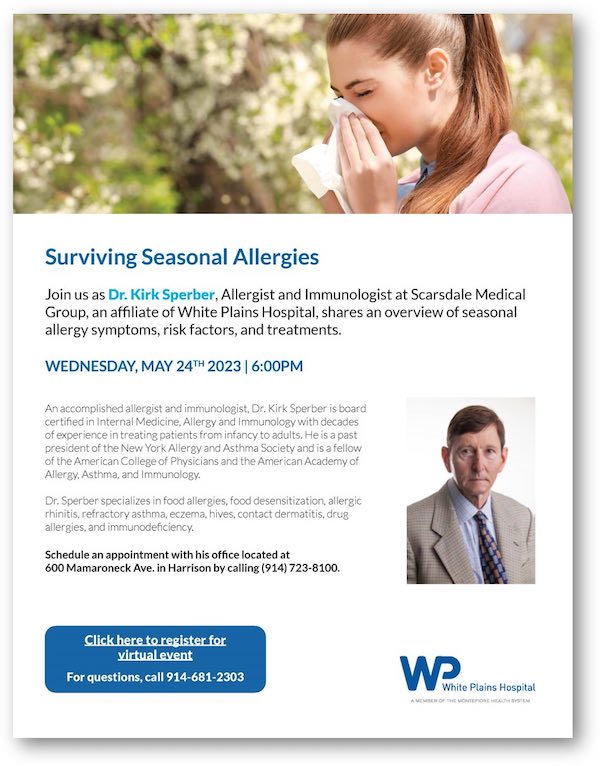 Categories