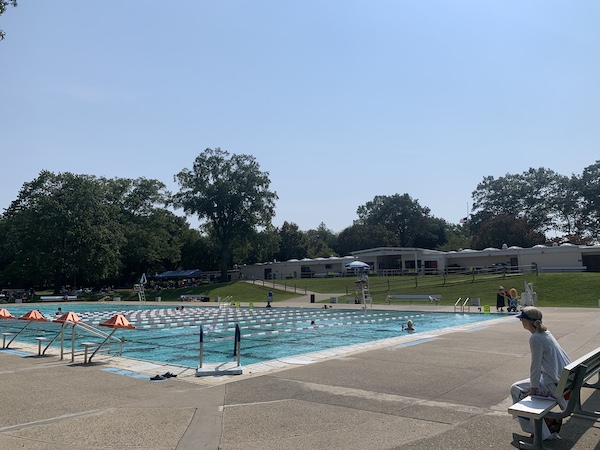 The Scarsdale Municipal Pool Complex will be open for the 2023 season on Saturday May 27th, 2023. The season will end on September 10th, 2023.
The pool hours:
Pre-Season: Saturday, May 27th- Sunday, June 25th
Mondays: 12:00 AM – 7:00 PM
Tuesday – Friday: 11:00 AM – 7:00 PM
Saturday & Sunday: 9:00 AM- 7:00 PM
Holidays: Memorial Day 5/29 and Juneteenth 6/19 9AM-7PM
Following Tuesdays 5/30 and 6/20 12PM-7PM
Regular Season: Monday, June 26th – Sunday, August 20th
Mondays: 12:00 PM – 8:00 PM
Tuesday – Sunday: 9:00 AM – 8:00 PM
Post Season: Monday, August 21st – Sunday, September 4th
Mondays: 11:00 AM – 7:00 PM
Tuesday – Sunday: 9:00 AM – 7:00 PM
Please call the Recreation office at 914-722-1160 to purchase your pool membership for the 2023 season.
They offer a variety of different programs and activities such as private swim lessons, after camp at the pool, firework spectacular, 4th of July Carnival Day and so much more. Please visit our website at Scarsdale.com/recreation for more information.
It is very important that all Pool members, adult and children, bring their membership card to enter the pool complex. Without your membership card, you will not be granted access to the pool complex and to reprint your card there will be a charge of $10 per card. Now is the time to get your cards ready for opening day! Opening day will be a busy day. You also have the option to come into the recreation office earlier to get your pictures taken for your membership cards. The recreation office is located at 244 Heathcote Road (Supply Field). The hours for ID's are Monday – Friday 9:30 AM– 4:30 PM.
Categories