Corona Count Rises, Governor Orders All Non-Essential Businesses Closed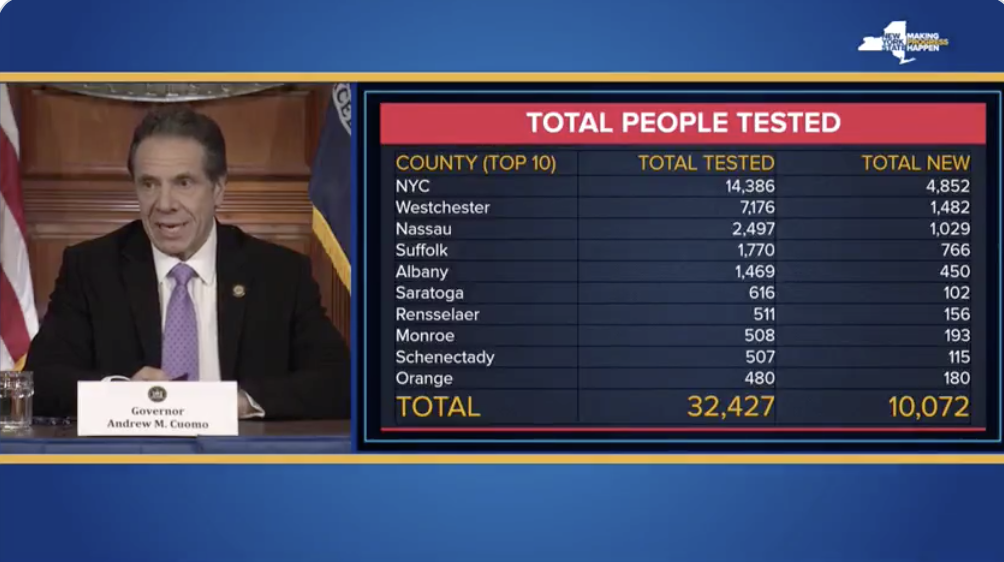 The number of positive cases of Coronavirus in Westchester County climbed from 538 on March 18 to 798 on Friday March 20. Westchester County is second in the state to NYC where the count has jumped to almost 4,000. As a result, Governor Andrew Cuomo announced new restrictions calling them "the most drastic actions he can take."
On Friday March 20 Cuomo said, "I will sign an Executive Order mandating that 100% of workforce must stay home, excluding essential services. This order excludes pharmacies, grocery stores, and others. This goes into effect on Sunday night March 21 at 8 pm."
He recommended that seniors over 70, immuno compromised people and those with underlying illness do the following:
-Remain indoors to the greatest extent possible.
-Go outside for solitary exercise
-Pre-screen all visitors by taking their temperatures
-Wear a mask when in the company of others and ask everyone in their presence to wear a mask.
-Stay six feet away from individuals
-Do not take public transportation unless it is urgent and absolutely necessary.
For others he said outdoor exercise should be solitary and barred any group activities like ball games.
All barbershops, hair salons, tattoo or piercing salons, nail salons, hair removal services and related personal care services will be closed to the public effective Saturday, March 21 at 8:00PM.
Casinos, gyms, theaters are closed until further notice. Bars and restaurants are closed, but takeout can be ordered during the period of closure.
The Governor said these provisions will be legally enforced and there will be fines for those who violate them.
New York State is waiving all park fees in state, local and county parks.
Testing is free for all eligible New Yorkers as ordered by a health care provider.
Your local health department is your community contact for COVID-19 concerns.