Peloton Hacks: Tips on Getting the Most from your Bike

Former Scarsdale resident Mark Gompertz, with help from Penny Lowy, Daniel Spielsinger and Allie Weber, who also hail from the 'Dale, has just published a timely new book. Peloton Hacks, Getting the Most From Your Bike, helps users figure out how to use your bike from the moment it enters your home.

With so many confined to their homes, Peloton purchases and usage has surged. There are now 1.5 million users of this indoor workout bike that has quickly become an obsession for some. However, the bike is complex. Getting used to it and getting the most out of it are challenging and that's how this book can help.
In Peloton Hacks, Gompertz tells you virtually everything you need to know about the bike – from where to place it and how to set it up to how to be comfortable on it and use it to its full capacity. Need a class on understanding the tablet? Gompertz outlines all the options that are offered and how to navigate to what is best for you. If you're having any technical problems with the equipment, there are tips on correcting those as well.
The book is comprehensive and includes tips on clipping in and out of the pedals, executing correct posture, positions and ergonomics, understanding the leaderboard, setting up power zones, customizing audio, video chatting with friends, trouble shooting heart monitor issues, navigating different levels of classes, measuring health and fitness metrics and more.
And for those who don't want to use the bike itself, there's advice on choosing from the wide array of stretching, cardio, boot camp and yoga classes that are available with the subscription service.
Author Mark Gompertz is a publisher of many New York Times best-selli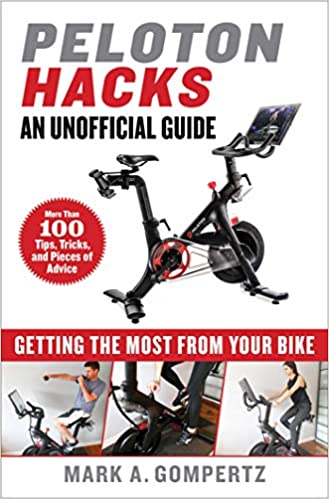 ng books. He has edited several books of fitness and health. A life-long couch potato, he is now an active and proud Peloton owner.

The book is published by Skyhorse Publishing and is on sale in hardcover and as an e-book. Check it out and get yours here: