Program Guide for Kids and Adults Too!
Details

Category: Resources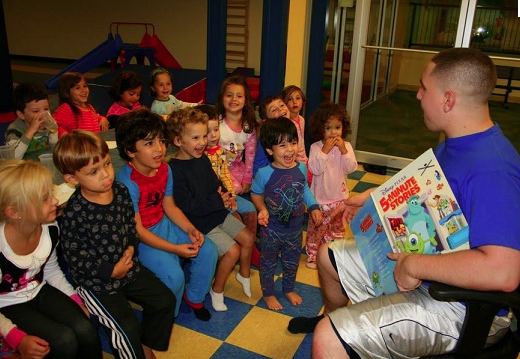 Here is a list of local programs for kids and adults too! Also finds links to local organizations below; Kids can do everything in the Scarsdale area: learn digital skills and design, expand their vocabulary in Chinese and Hebrew, practice karate or yoga, develop a musical ear and play baseball, softball, and soccer. For the youngest children, there are still some openings in several pre-schools – review your options below. If you're planning a fall birthday party, consider the new Chelsea Piers in Stamford, Great Play in Scarsdale and BounceU which opens on October 20 in Elmsford. And if you don't find what you're looking for on our list, let us know in the comments section below.
Pre School
Creative Playtime at Grace Lutheran Church provides morning and afternoon programs for children ages 2 to 5 years old, with several extended day options. Creative Playtime's curriculum is developmental and age-appropriate. It is designed to foster children's growth by stimulating their curiosity. We promote language and social skills and the building of self-esteem, while respecting each child's uniqueness as individuals. Their development is enriched through books, music, cooking and dramatic play. Kindergarten readiness is achieved in a playful and nurturing setting. Creative Playtime is staffed with highly qualified, caring and dedicated teachers committed to providing a quality program for the children. The school year runs from September to June. Our classrooms are bright and cheery, and air-conditioned. Our outdoor playground is fenced and boasts a recent renewal of its cushy surface. Rates are very competitive.
Extended day options include: Lunch Bunch + Extended Day #1 (12:15pm-2:45pm), and Extended Day #2 (2:45pm-5:15pm). Extended Day #2 is available as a stand-alone drop off afternoon program. This year, Extended Day programs will have a literacy theme. For more information, please contact Director Gigi Aronoff at 914,472,4777, email info@creativeplaytimescarsdale.org, or visit their website : www.creativeplaytimescarsdale.org
Hoff-Barthelson Music School is one of Westchester County's most cherished and active cultural resources and HoffGuppies1has achieved national recognition as a premier community music school for its unsurpassed leadership in education, performance and outreach. Don't miss the Open House for HBMS's Programs for Young Children and Preschool on Thursday, September 6, 10 am – noon! Music exerts a profound impact on children's lives! Young Children being their music education at Hoff-Barthelson helped and encouraged by experienced, dedicated teachers. Our Music Programs for Young Children offer a range of choices for preschoolers, all of which help them acquire many skills through music and music activities. Children learn to focus, observe keenly, concentrate and learn to watch and take turns with their peers. Music and Movement Classes; Recorder Classes; Suzuki Instruction. HBMS also offers a full Preschool for 3 and 4 year-olds.
The School's educational approach for older students centers on quality individualized instruction, a comprehensive, broad musicianship program, and numerous performance opportunities for students. Hoff-Barthelson Music School, 25 School Lane, Scarsdale, NY. Call 914-723-1169, email: hb@hbms.org, or visit www.hbms.org
Kol Ami: The Early Childhood Program at Kol Ami is dedicated to providing a comprehensive and developmentally appropriate curriculum teaching and modeling Jewish values. We believe that children learn best through experiential play and provide for these rich experiences within warm, accepting, and nurturing surroundings. All of our Head Teachers have Masters Degrees in Early Childhood or related educational fields. Our teacher-student ratios are 1:5. We offer programs for children and families. Starting with the very young Mommy Talk, a drop-in playgroup for infants 2 to 9 month olds, and First Friends, a non-separated playgroup especially tailored for children 13 months to 21 months. Our 2's can choose from two to five day experiences, 3's programming choices include three, four, and five day morning opportunities with additional programming every afternoon until 2 pm. Our 4's can choose between morning programming and full day programming until 4 pm. Our A Step Ahead! program for Fall 5 year olds provides full day pre-k learning until 4 pm. School day specialists include Gym, Music, Israeli Dance and Movement, Nature, Gardening, Torah Alive!. Afternoon fun includes Soccer, Art, Yoga, Nature, Literacy, Math Magic, Cooking, Karate, and Ballet.
Call oDirector, Nan Blank at 914-949-4717 x107, to schedule a mutually convenient time when you can come by. You will meet our staff and observe first hand the programs that will nurture your child and begin their journey into the world of school and community. Feel free to visit our website at nykolami.org .
Over the Moon Music and More: Did you know that all children are musical? Have you ever wondered what you can do to nurture the musical growth of your child, regardless of your own musical ability? And did you know that there's a storefront location where you and your child can play musically together, right here in Scarsdale? Over the Moon Music and More offers Music Together®, the internationally recognized early childhood music and movement program, in a beautiful and comfortable space at 78 Garth Road, as well as in 6 other convenient locations in Westchester. Our classes--for children from birth through kindergarten age accompanied by an adult caregiver, as well as for children from 5 through 7 years, with or without a caregiver--are research based and experiential, not performance oriented, but most of all, they're fun! Free demo classes are available. For class and demo class schedules, please visit www.overthemoonmusicandmore.com or call 914-722-2025.
WRT Center for Early Childhood: The Early Childhood Center at Westchester Reform Temple (WRT/ECC) is a state licensed preschool offering programs for infants through pre-K. We offer a comprehensive, top-notch educational program in a warm and nurturing environment. We are dedicated to enriching young children's lives socially, emotionally, academically, spiritually and physically. We strive to be inclusive, welcoming every child regardless of cultural background or affiliation. The ECC is a family-centered community where parents are encouraged to become involved in both the classroom and other school activities. Parents are included in holiday parties, weekly Shabbat celebrations, regular newsletters and e-mails, social functions and teacher conferences. Families are also invited to many activities open to the greater temple community like Sharing Shabbat, children's High Holy Day services, charitable activities, and holiday carnivals and festivities. The ECC seeks to create a stimulating environment for children and their families so that they may grow and explore the world together. We see the preschool experience as a critical first step in a child's journey of developing values, self-esteem and lifelong learning —planting the seeds from which a child will eventually grow into adulthood. Free, drop-in morning groups, including an Infant Class on Wednesdays and a Bagels and Babies Playgroup on Fridays, are offered throughout the year.
Contact Susan Tolchin, Director Westchester Reform Temple Early Childhood Center, 255 Mamaroneck Road, Scarsdale, New York 10583 by phone at 914-723-5493, ext. 8620 or email: Sue.Tolchin@wrtemple.org.

Enrichment
Chinese Language Program: With Mandarin Language being one of the most important languages for your children to learn, consider CHINESE LANGUAGE PROGRAM for all children (CLP) located next to Scarsdale Village at 51 Popham Road. Each child is placed in the appropriate age and level to learn mandarin through fun interactive methods that will keep your child engaged while having fun learning the language of their future! Moving into its' 4th year, CLP has a proven success record teaching heritage and non-heritage children through distinct specialized curriculums catered to each student's Mandarin language learning track.
To learn more about our program, please visit www.clpchidren.com or call: 914.907.6075. FALL SESSION BEGINS SEPTEMBER 10TH, 2012. Check out the new northern Westchester location opening in Mt. Kisco September 2012.

Digital Arts
The Digital Arts Experience is proud to announce the recent opening of our 8,000 square foot facility in downtown White Plains. Including 8 state of the art computer labs, a full recording studio, a photo/video studio, and a multi-purpose room capable of handling large events, the facility offers a truly unique opportunity for the community. The Digital Arts Experience is a non-traditional enrichment program that focuses on computers, personal technology, and the digital arts. Offering after school programs for teens in Digital Photo, Video Production, Animation, Graphic Design, Audio Production and Web Design, and programs for adults ranging from the absolute computer basics to Digital Photo and Video Production, The DAE provides a unique learning environment that centers around hands on experience and real world application. We feel that by surrounding our students with like minded individuals that share similar goals we can establish a non-competitive, inclusive environment allowing our students to get the most from themselves and each other. Call (914) 644-8100, email info@thedae.com, or visit www.thedae.com to register your teen or yourself for a truly unique experience!
Sports and Activities
Backyard Sports Home Field Advantage: Bring a sport right to your own backyard. We'll send the coach and equipment to your home for your very own BYS group session. Flexible, convenient, and fun. 2012 BYS Fall Prep Basketball League: Open to boys and girls in grades 3rd - 9th grade. Sign up as team or individually and we will place you on a team. Runs Sept. 9 - November 18. Games played at Purchase College on Sundays from 2 -5pm. League fee includes optional Sunday pick up games and weekly skill sessions.
Backyard Sports in conjunction with the Greenwich Stars will be launching a new Fall Basketball League. The league is for boys and girls going into third through ninth grades. The games will prepare players for their travel, school, and recreational teams. Players can sign up with a previously organized team or register individually and will be placed on a squad. All teams are helmed by the outstanding Backyard Sport Coaches led by Vin Minotti, the boys Varsity Coach at Rye Country Day School. Vin led his teams to New York State Championships in 2010 and 2012. For additional information go to the Backyard Sports website at www.byardsports.com or call Danny Bernstein at 914-304-4052.
Chelsea Piers: CHELSEA PIERS CONNECTICUT NOW OPEN: Our 400,000 square foot state-of-the-art sports LacrosseatChelseaPierscomplex provides world-class facilities, expert instruction and the most exciting sports curriculum available -- all under one roof! Sports facilities include: 2 ice rinks, an Olympic-sized pool, the Splash Zone water play park, a 12-court Squash Club, a 7-court Tennis Club, baseball/softball and gymnastics training centers, a Field House with a 100-yard indoor turf field for soccer, lacrosse and field hockey, basketball/volleyball courts, a childcare center and preschool, pro shops and food service. Fall programs include: classes, competitive teams and leagues for children ages 6 months to 17 years. Optional Squash, Tennis and Club (swimming/tennis)family memberships available. CPCT also offers a wide range of birthday party options, including Splash Zone and Adventure Center (Trampoline/Rock Climbing) parties.
Contact By phone at 203.989.1000, email at: info@chelseapiersct.com or visit: chelseapiersct.com
Fox Meadow Tennis Club: Fall 2012 Junior Tennis Program: Building on the success of the Spring 2012 Junior foxmeadowtcTennis Program, the Fox Meadow Tennis Club on Wayside Lane in Scarsdale is pleased to announce their Fall 2012 Junior Tennis Program. The program is open to all area residents.
Junior Tennis Clinic: Thursdays, September 6-October 25; 5-8 year olds 3:30-4:30, 9-12 year olds 4:30-5:30, 13 & over 5:30-6:30
Cost: $210 (includes 7 weeks and one rain date)
Clinics will include drills and games to develop strokes, footwork and strategy.
Contact Gary Squires at 914 384-0336 or garysquires3@gmail.com to sign up your children or grandchildren.
Great Play of Scarsdale - (pictured at top) is a kids' gym for children ages six months through fifth grade that uses its unique curriculum to help kids build confidence and competence in motor skills. Classes are conducted in a patented Interactive Arena™ that uses computer technology, image projection and directional sound to bring the space to life. The concept has been recognized as one of the most innovative youth programs in the world by the IHRSA (International Health, Racquet and Sportsclub Association), the global trade association for the fitness industry. Great Play offers five fantastic, age-appropriate programs, each built on the same underlying philosophy and structure for making youth physical development fun and effective! Classes are high energy and interactive and tap into the key developmental windows that open at each stage of a child's growth. They use a broad-based approach to help ensure that each child develops to his or her physical potential -- starting from a broad foundation of introductory motor skills for the younger Players, all the way through complex sport skills for fifth graders. In addition to motor skills and sports skills, they also offer Zumbatomic® Great Play Style, Fit-n-Fun (New!), birthday parties and special events such as Parents' Night Out.
For more information on classes, events and birthday parties, visit: www.greatplay.com/scarsdale , email: scarsdale@greatplay.com or call at (914) 713-3470.
Kinderkickers introduces soccer to boys and girls ages 3, 4, 5 and 6. Soccer is taught in such a way that children will develop a love for the game and have fun. The program is instructional. Emphasis is on individual skills, dribbling, passing, ball control, and shooting. Each session culminates with a small-sided game. The program features and outstanding instructional staff, snacks and T-shirts and a weekly game. Fall progam dates in Scarsdale are Saturdays from 9am-10 am on September 8,15,22,29 and October 6, 13 and 20. The program is held at St. Pius School, 85 Palmer Avenue in Scarsdale. From information, contact Kinderkickers at (914) 833-2024 or visit http://summitsoccer.net/kinderkickers.html
The Scarsdale Youth Softball Association is a volunteer organization run by Scarsdale parents. The mission of our club is to provide Scarsdale girls interested in fast pitch softball a competitive experience that stresses skill development, game knowledge, and sportsmanship. Our players will receive professional coaching from members of the Scarsdale High School coaching staff. Our programs are designed for girls who live in or go to school in Scarsdale. All players who register during the enrollment period are offered positions on teams. During the fall the SYSA will field travel teams in U-10 and U-12. These teams will be placed in a competitive league where they will play local travel teams from within the surrounding area. The SYSA will also field highly competitive U-14 & U-16 Tournament Teams. These Teams will play in fastpitch softball tournaments within the metropolitan area. Additionally girls who are entering the 3rd grade in the fall will be offered the opportunity to participate in a skill development program run by the same professional coaches that work with our teams. For more information on SYSA programs and registration, please visit us at www.scarsdaleyouthsoftball.com or contact Anthony Ruggeri at Anthony@scarsdaleyouthsoftball.com.
Karate
World Seido Karate: Founded in 1976, World Seido Karate has opened its newest location in Westchester. Our traditional Japanese karate style was founded by world-renowned ninth degree black belt, Kaicho T. Nakamura, and incorporates the development of the mind, body, and spirit. Our newly renovated school provides high-quality adult and children¹s programs (including a Mommy/Daddy & Me class) that develop better physical fitness, but also aim to develop individuals of the highest moral character. No previous experience is necessary. Come see what over 20,000 students have already embraced.
World Seido Karate - Johshin Honzan
1 Parkway Plaza (Exit 21 off the Saw Mill River Parkway),
Elmsford
(914) 909-5000honzan@seido.comwww.seido.com
http://www.facebook.com/pages/Johshin-Honzan/114353115252374
Yoga Station: No matter what our age, a consistent yoga practice can help us learn to breathe through life's more trying times, whether we are navigating the playground or studying for finals. For the young athlete, the benefits of yoga are increased flexibility and strength, while cultivating a quiet peaceful mind. Yoga helps the young artist get out of her head and into her body, which translates to a freer and more confident performance. At Yoga Station, our kids' classes are filled with laughter. We are a judgement-free zone, which allows us to have fun and not take ourselves too seriously, while focussing on the fundamentals of yoga.
Classes are available for children of all ages, from Toddlers to Teens. The next Ten-Class Series begins in September. Tuition is $200, and siblings enjoy a 10% discount. To learn more about dates and times, visit our website at www.theyogastation.com and look under "Children's Classes" or call us at (914) 874-6295. Yoga Station is located at 221 East Hartsdale Avenue, Second Floor, steps from the Hartsdale Train Station.
YWCA of White Plains and Central Westchester: The Y's vision for childhood development incorporates fun, safe, child-centered environments in classrooms that celebrate diversity and foster respect for all. They offer childcare, nursery school, before- and after-school programs along with an array of aquatics, fitness and gymnastics activities.
YWCA of White Plains and Central Westchester
515 North St., White Plains
(914) 949-6227
www.ywcawhiteplains.com
Religious School
Shaarei Tikvah, the Scarsdale Conservative Congregation, is offering a special promotion for families whose oldest child is starting Kindergarten, First, or Second Grade. With enrollment in our dynamic religious school, the entire family gets free synagogue membership for one year, which includes High Holiday tickets! Shaarei Tikvah – large enough to offer everything you want in a synagogue yet small enough to feel like home - is two minutes from the Scarsdale train station and eight minutes from Ardsley Middle School! Contact the office 914-472-2013 Ext 300 or email synagogue@shaareitikah.org.
Birthday Parties
At BounceU of Elmsford, we specialize in perfect party ideas. With our amazing inflatable structures, unbeatable customer service, and clean, climate-controlled environment, all you really have to do is show up and take pictures. Throwing a private party here couldn't be easier - just give us a call, choose one of our popular packages, and let us take care of the food, the cleanup, and everything else. Kids flip for our unbelievably cool bounce stadiums (imagine the ultimate children's playground experience in a safe, indoor setting), but they also can't get enough of the games, the food, and sharing the spotlight with family and friends. Incredible kids' birthday parties are only the beginning at BounceU. From Programs and classes, to fundraisers and team parties, we're excited to host just about any group that wants to get its bounce on. Also contact us and reserve a spot at one of our famously fun Open Bounce sessions, we typically have a Preschool playdate open session Monday - Friday at 10am for kids 7 and younger, and don't miss our after school All Ages Open Bounce from 4pm - 5:30pm, Monday thru Thursday. The whole family can enjoy our Tuesday night Family Night Bounce from 6pm - 8pm
BounceU of Elmsford
150 Clearbrook Road
Elmsford, NY. 10523
Tel. 914 874 5200
www.bounceu.com/elmsford
Adult Learning:
The Scarsdale Adult School is a continuing education program that provides enriching curriculum for lifelong learners. Day and evening courses are offered at convenient local venues with staggered start dates throughout the season. With more than 230 choices this semester, there is something for everyone!
SAS is pleased to introduce brand new classes in SAT preparation, speed reading, how to get a push button memory, parent and child cooking, playing the sitar, Bollywood dance, Nia technique, Alexander technique, tarot readings, and crossword puzzles. Expanding the computer offerings, the catalog now includes courses on making sense of social media such as Facebook, Twitter, Tumblr, and Flickr, professional networking on LinkedIn, and improving productivity and collaboration with the Google Suite of free applications. The adult school continues to offer digital photography, games galore such as bridge, mah jongg, and canasta, fitness instruction in yoga, body sculpting, qigong, belly dancing, and zumba, as well as many great courses in history, fine arts, architecture, film, literature, foreign languages, and more.
For additional information on all of the course offerings, visit the website at www.ScarsdaleAdultSchool.org or call (914) 723-2325 with any questions.
Camp and Teen Program Advisor
Ellen Wylie of Spectacular Summers, your local camp and teen program advisory service, knows the camps and teen programs and is happy to share her knowledge and expertise with you. A former camper, counselor and practicing attorney, this mother of three has been advising families on camp and teen programs for over a decade. Ellen spends her summers visiting camps and summer programs and the rest of the year speaking with directors. Her broad knowledge enables Ellen to make the right recommendation for each child. Ellen takes a warm and personal approach to the camp advisory business. She spends time getting to know each child/family she is works with and carefully tailors her recommendations so as to not inundate families. The service she provides is free of charge to parents. Ellen loves what she does and it shows. To find that spectacular summer camp or teen program for 2013 or 2013, call Ellen Wylie at (914) 722-2644 or email Ellen@spectacularsummers.com or visit www.spectacularsummers.com.
Local Links
Village of Scarsdale : http://www.scarsdale.com/
Scarsdale Library: http://scarsdalelibrary.org/
Scarsdale Public Schools: www.scarsdaleschools.org
Scarsdale High School PTA: http://shspta.org/
Fox Meadow Neighborhood Association: http://foxmeadowna.org/

Friends of Scarsdale Parks: http://www.friendsofscarsdaleparks.org

Heathcote Five Corners Coaltion: http://www.heathcotefivecorners.com/
Scarsdale Little League: www.scarsdalelittleleague.com
Scarsdale Youth Soccer: www.scarsdalesoccer.org
Scarsdale-Edgemont Family Counseling: www.sfcsinc.org
Scarsdale Friends of Music and the Arts: http://www.scarsdalearts.org
Edgemont Association: http://blog.edgemontassociation.org/links.html
White Plains Hospital: www.wphospital.org.