2 Cooper Road Hangs in the Balance: Former Home of Nazi Agent of Influence
Published: Wednesday, 17 February 2021 20:25
Joanne Wallenstein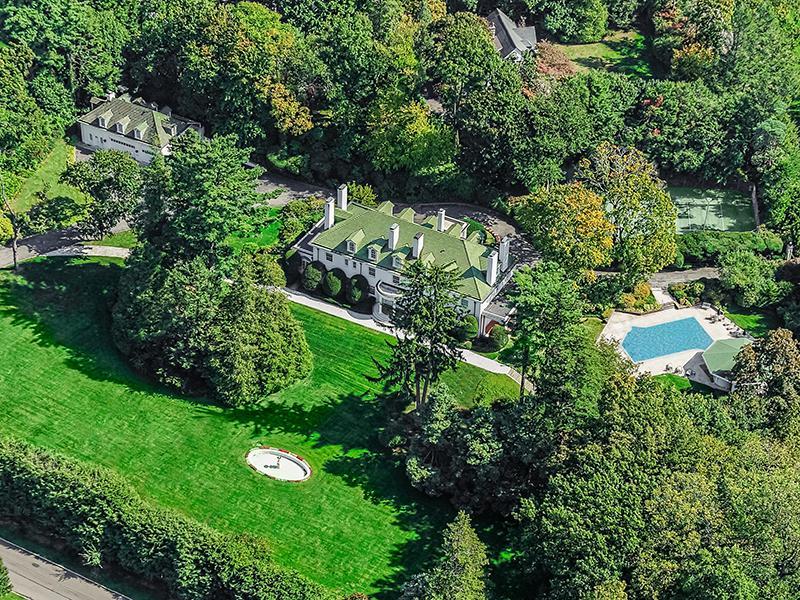 While the Board of Trustees deliberates on the fate of a historic home at 11 Dolma Road, an application to take down another iconic Scarsdale home has been filed for consideration at the February 23, 2021 meeting of the Committee for Historic Preservation. Perhaps one of Scarsdale's oldest and largest homes, and certainly one of the grandest now faces an uncertain future. The application can be viewed here.

The 10,656 square foot , 21-room Colonial Revival mansion at 2 Cooper Road was built in 1914 and features a grand stairway and rooms for every occasion, including a game room, a music room, a library, an upstairs family room with built-in bar, and a third floor with spacious accommodations for staff or guests. There are 10 bedrooms and 8 bathrooms and a tennis court. There was originally a guesthouse, a pool, and a 5-car garage.
In 2013 the home was selected to be a Designer Showhouse of Westchester, and 20 designers decorated various rooms on the property. Contributions from visitors benefited the nonprofit Cerebral Palsy of Westchester.
The 27-room home on 3.75 acres at 2 Cooper Road was put on the market in 2014 for $16.5 million, but languished until it was ultimately sold at auction for $6.050 million in June 2018.
The purchaser at the auction was local developer Bobby Ben Simon who attained permission from the planning board to subdivide the property into three lots in 2019. Subsequently he applied to demolish the 5-car garage and servant's quarters in 2019 to make way for the division of the property. His plan includes two more homes to be built on Cooper Road. It is not known whether he has been successful at selling homes on these two lots.
Ben Simon has been attempting to sell the house at 2 Cooper Road and remaining 1.59 acres, dropping the price to $2.675 million but apparently still not finding a buyer. Now he claims that the house has no historic significance and he has applied to take it down. His application was filed with the Village for the February 23, 2021 meeting of the Committee for Historic Preservation.
Perhaps even more interesting than the house itself are the stories of the people who owned the house during its 107-year history. The home's owners included titans of industry, men of wealth and surprisingly, an oil tycoon and alleged Nazi collaborator who assisted Hitler's efforts during World War II.
The first owner was John T. Kelly who purchased the original 4 acres in Scarsdale Estates and built the house in 1915. Kelly was a founder of the Kelly and Jones Company, manufacturers of brass and iron fittings and valves. The company was formed in Greensburg, Pa., and established branches in New York, Pittsburgh, Chicago and San Francisco. He remained as its active head until October 1925, when it was sold to the Walworth Company of Boston. Mr. Kelly died in Scarsdale at the age of 74 in September 1927.
Following Kelly's death, the home was purchased by Arthur H. Spero, a stockbroker from Rye, who bought the estate on Cooper Road, for a reported price of $225,000.
The most infamous owner of the estate at 2 Cooper Road was undoubtedly William Roades Davis, who, after his death, was accused of being a Nazi sympathizer. Rhodes supplied petroleum to Nazi Germany to fuel the war effort and made political contributions in the U.S. to influence policy toward Germany with the personal approval of Hitler. His playbook was perhaps a presage to some of the actions political operatives took recently to influence U.S. politics on behalf of Russia and to undermine the presidential election.
Davis, born in Montgomery Alabama to "parents in reduced circumstances," and he claimed that he was a direct descendant of Cecil Rhodes on the maternal side and of Jefferson Davis on his father's side. He started out selling candy on railroad trains and eventually became one of the biggest independent oil promoters in the world." His obituary says, "It is said that he had "won and lost millions in thirty years of operations in the Western Hemisphere, in Europe and in Africa." After attending Stark College in Alabama for a short time, he became a candy salesman on the Texas and Pacific Railroad, then a fireman and later a locomotive engineer. In 1913, he organized an oil and gas company in Muskogee, Oklahoma. During the World War he served with the A.E.F. in France in the Twenty-first Engineers Light Railway detachment and was discharged as a second lieutenant in 1920."
In 1933 Davis built an oil refinery in Hamburg, Germany and served as the principal negotiator of an arrangement that allowed Germany and Italy to build up their oil reserves in the years before World War II using expropriated Mexican oil, until the British blockade put an end to the enterprise.
In 1940, Davis arranged for multiple contributions, evading the restrictions of the Hatch Act, to back Republican presidential candidate Wendell Willkie's campaign to defeat FDR, without Willkie's knowledge. During the 1940 U.S. elections, Davis used funds provided by the German government to contribute approximately $160,000 to a Pennsylvania Democratic organization to help defeat Sen. Joseph Guffey, a Democrat and a prominent critic of Germany, and to bribe the Pennsylvania delegation to the 1940 Democratic National Convention to vote against Roosevelt, moves which both failed. The German government allocated $5 million, stored at the German embassy, to support Davis's efforts.
In December 1940, Verne Marshall, head of the 'No Foreign War Committee,' claimed that Davis, upon returning from a trip to Germany in 1939, presented the State Department with a peace plan representing Hermann Göring's views and called for President Roosevelt to serve as mediator between the warring nations. Marshall criticized FDR for failing to take advantage of the opportunity, but most viewed the plan as an attempt to impose a "German peace." The German government denied any knowledge of such a plan.
On December 31, 1940, in reaction to Davis's role in forming and financing the 'No Foreign Wars Committee,' U.S. Senator Josh Lee (D-OK) said Davis's support of the new group represented "the diabolically cunning betrayal of the American people." He continued, "The record of this man Davis shows conclusively the great financial stake he has in a complete Nazi victory in the European war. Much of the gasoline sending showers of fiery death into the defenseless heart of London was sold to the German government by this man Davis.... He is still trying to promote a phony peace through the White House to pull Nazi Germany's chestnuts out of the fire.... The 'No Foreign Wars Committee' is a timely object lesson in the technique of all Nazi infiltration."
In response, Davis said he was loyal to the US and hoped to negotiate peace to end the war. He distanced himself from Marshall and the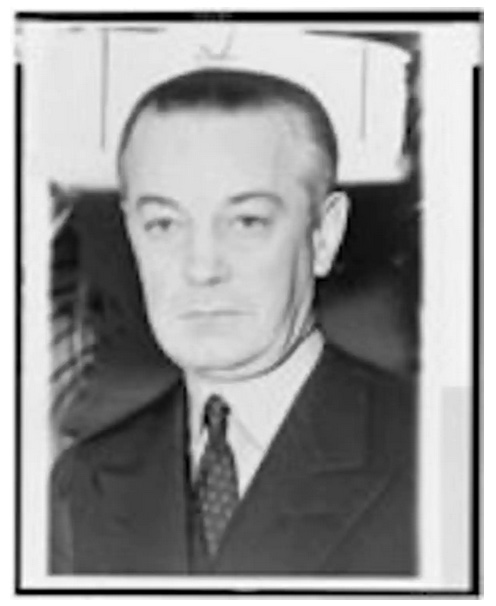 William Roades Davis: Photo Credit Library of CongressNo Foreign War Committee while expressing sympathy for its aims. He asked Sen. Burton Wheeler, a prominent isolationist, to call him before a Senate committee so he could defend himself against "an organized nation-wide campaign ... by financial and competitive interests."
On January 7, 1941 he was subpoenaed to testify before a Washington, DC, grand jury investigating campaign expenditures for violations of the Hatch and the Corrupt Practices Acts during the 1940 presidential campaign. The same day, Wheeler scheduled Davis to testify before the Senate Interstate Commerce Subcommittee about the "peace place" described by Marshall.
Some people regarded Davis as a profiteer; others as a man who would furnish needed markets for Mexican oil; and others as a ... Nazi agent or as a crook. In reality, he was a composite of each of these descriptions.
Davis died of a heart attack in Houston, Texas, on August 2, 1941. A few years after his death, Davis was named in Assistant U.S. Attorney General O. John Rogge's Nazi Report identifying him as Abwehr agent C-80, not a spy but an "agent of influence" whose activities were financed with the personal approval of Hitler, and who in that role supplied petroleum to Nazi Germany and helped Germany try to influence U.S. politics.
The United States government released captured Nazi government documents in 1957 showing how Davis funneled Nazi funds into the 1940 U.S. elections.
Jack Wasserman and Sol Berger
The next owner on record is Jack Wasserman a dress manufacturer from New York who then sold it to Sol Berger for less than $100,000 in 1953. The home stayed in the Berger family for over 60 years until it was auctioned in 2016. Berger founded and ran a shirt manufacturing company in Woodbury, Tennessee where his company eventually grew to employ 2,200 people. Additional plants were opened and at one time numbered 20 factories.
According to the Cannon Courier, "It is estimated that Mr. Berger was directly responsible for pumping approximately $200 million into the economy of Cannon County (Tennessee) in the form of payroll checks alone. In today's dollars, that would amount to more than $200 billion. This made it possible for one to see new washing machines on the front porches of homes in every section of the county in the late 1940s and early 1950s. Later we saw new homes, shiny new cars and pickup trucks everywhere. Television antennae were growing from every rooftop. Inside plumbing, add-on rooms and new appliances and new furniture were enjoyed in almost every home....There is not a single home in the county that was not affected by the presence of Colonial Corporation of America. Families were able to send their children to college. The quality of life of most of our people vastly improved due in part to the economic growth caused by the presence of Colonial Corporation of America."
Berger sold the company in the 1960's and then went into investing in real estate. He died in 2009 and is survived by two daughters, Renee and Sandy Berger, and their children and grandchildren who sold the house to current owner Bobby Ben Simon.
Sales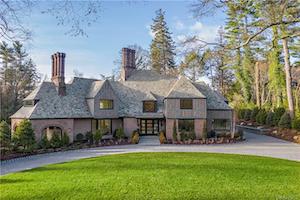 1 Hickory Lane
This meticulously reimagined Fox Meadow residence delivers contemporary style and old-world grace with exquisite finishes and extensive smart home tech ideal for life during and after COVID-19. Soaring ceilings, oak floors and custom millwork. Enjoy a formal dining room and vast great room with a marble linear fireplace. The open kitchen dazzles with Wolf and Miele appliances, a dry pantry, butler's pantry and breakfast room. The lavish owner's suite includes a safe room, custom closet and ensuite spa bathroom. Four more bedroom suites on the 2nd floor, plus one main-floor suite perfect as a home office. The third floor is a remarkable wellness center featuring a yoga studio, Peloton gym, massage room, sauna, steam room and full bath. Two laundry rooms, mudroom, 4K movie theater, wine room, staff quarters and a playroom/classroom. Covered all-season patio, gunite pool, fire pit patio and mature landscaping. Heated three-car garage with Amazon drop-off camera, Tesla charger and elevator. Exceptional location.
Sale Price: $7,150,000
Assessed Value: $3,110,471
Real Estate Taxes: $31,937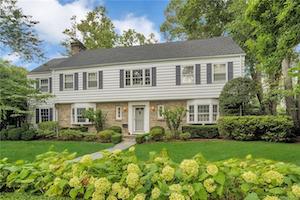 31 Brite Avenue
Classic stone and clapboard colonial on one of Fox Meadow's most beautiful streets, renovated and expanded in 2012. Set on .40 acres of flat property with room for a pool, this 6 bedroom home has all of today's features that every buyer seeks: a renovated kitchen with an open family room with rows of windows letting in tons of natural light, a home office with beautiful wood built ins, walk in pantry, mudroom with a closet and cubbies, 6 generously sized bedrooms all on the second floor, a luxurious master bathroom with double sinks, separate jacuzzi and shower, laundry on the second floor, and a finished basement equipped with a playroom, gym and a full bathroom. Walk to town, train, schools, parks and more from this phenomenal location.
Sale Price: $2,470,000
Assessed Value: $2,175,000
Real Estate Taxes: $54,366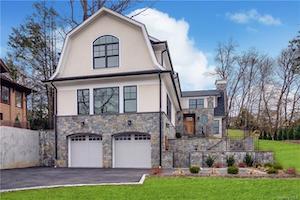 26 Walworth Avenue
New stunning center hall colonial with 6600 square feet of livable space located in sought after Greenacres section of Scarsdale. Incredible finishes, amazing kitchen with center island with Top of the line Stainless Steel appliances, and seating that opens to a breakfast area and a large family room, custom bathrooms. living room/office and amazing bonus room beaming with sunshine on first floor with a two-sided fireplace. Private master bedroom suite, 4 other bedrooms upstairs. Full finished basement 10-foot ceilings. Plumbing for laundry in 2 locations. House wired for full automation from top to bottom, original fireplace in family room that carries through to the upstairs. Bar area in dining room. Walk up attic. All new roof, gutters, siding, electric, plumbing, footings, underpinnings, foundation, sewer system, drainage, heating and air.
Sale Price: $1,900,000
Assessed Value: $2,463,500
Real Estate Taxes: $44,367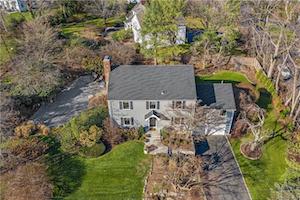 2 Carriage House Lane
Renovated sleek and stylish Colonial with every amenity imaginable including a gunite pool set on almost .5 acre in the Scarsdale School District. Modernized floor plan! The gourmet eat-in kitchen will delight the most discerning chef w/ top of the line cabinetry and appliances, soaring ceilings, marble countertops and plenty of room for cooking and conversation. Ideally opens to dining room and family room with access to backyard. There is also a 1st floor home study with custom built-ins. The 2nd floor offers spacious master bedroom with 2 closets and master bath. 3 additional bedrooms and renovated hall bathroom complete the 2nd floor. The finished lower level has plenty of space to play and exercise and potential to create an ensuite guest room with new full bath and laundry room. Other upgrades include: new Hardy shingle siding, Marvin windows and doors, new roof and gutters, and updated electrical and surround sound.
Sale Price: $1,799,000
Assessed Value: $1,356,000
Real Estate Taxes: $31,836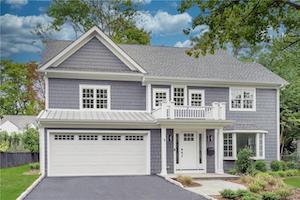 16 Lenox Place
This stunning home is where you will find a blend of luxury and practicality. Not only is it gorgeous, it is a 'SMART' home. Situated on a cul-de-sac street. Welcoming foyer and double-sided fireplace. The open floor plan is perfect for entertaining and includes the living room, kitchen and great room with wet bar. The kitchen boasts all the "must haves" the home chef requires! Fabulous vaulted ceilings, Wolf range with grill, Subzero and Bosch oven and dishwasher. The master bedroom with vaulted ceilings with the spa shower and linear fireplace. 3 large bedrooms and baths complete the second floor. The lower level offers a bonus room with bedroom with bath. Everyone will enjoy the patio and beautifully landscaped yard. Aesthetically expanded with hardwood floors throughout and crown molding, this home has been expertly designed to embody today's lifestyle.
Sale Price: $1,700,000
Assessed Value: $675,000
Real Estate Taxes: $22,469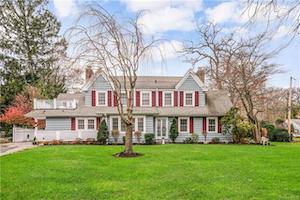 23 Donellan Road
French Colonial set on a tranquil road in a convenient walking location. Delightful flow from the entry hall to the living room, dining room, sitting room or office and eat-in kitchen. A secluded room on the first floor with a full bath is suitable for an office/den or guest room. Near the Cook's eat-in kitchen is a family room adding another space for gatherings or an office where two people could easily work. Four bedrooms and two baths on the second floor. French doors and carpets enhance beauty and comfort throughout this sunny home. Every room on the first floor has doors that close providing complete privacy. 37 new Anderson double-pane windows.
Sale Price: $1,220,000
Assessed Value: $936,225
Real Estate Taxes: $21,903


Featured Listings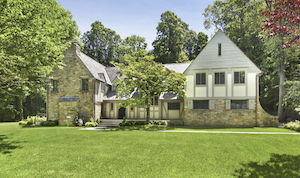 4 Richbell Close
Scarsdale, NY 10583
Listing Price: $4,800,000
Beautiful 2020 stone and stucco Colonial in the heart of Murray Hill on a tranquil tree-lined cul-de-sac street in Heathcote Elementary School district of Scarsdale. This fine quality home elevates all to another level. Quiet elegance and easy casual living both indoors and out make this property perfect for anyone seeking a suburban lifestyle. This amazing home sits on 1.15 acres with room for a pool. Perfect floor plan: open, bright with high end finishes and features a slate roof, copper gutters, large patios for great entertaining, two laundry rooms, backstairs, guest quarters, seven bedrooms and eight-and-a-half bathrooms, several areas for private offices. 8413 interior square feet. Location is ideal for neighborhood outdoor play and long, peaceful evening walks. Less than a five minute walk to Scarsdale High School and library and a four minute drive to Scarsdale Village and Metro North train.
Learn more here.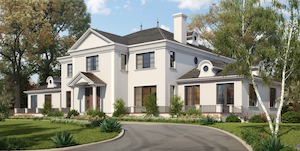 0 Hickory Lane
Scarsdale, NY 10583
Listing Price: $4,650,000
Incredible opportunity to design and build your ultimate luxury dream home on .81 acres of level land with room for a pool in the heart of Fox Meadow. This fully customized home can have a total of 8000+ square footage, with seven bedrooms and bathrooms, a great room with a state-of-the-art kitchen, breakfast area and family room, home office, living room, dining room connected to butler's pantry, separate mudroom entrance, 10 foot ceilings, three car garage and much more! Walk to library, Fox Meadow Elementary and Scarsdale High Schools. The final building plans are subject to Village approval. An offering not to be missed!
Learn more here.

Open Houses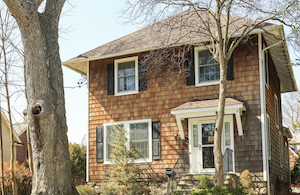 23 Cushman Road
Scarsdale NY 10583
Sunday February 21, 2021 1PM-3PM
Listing Price: $1,525,000
This chic and sophisticated modern Colonial situated in the heart of the Heathcote estate area is an absolute gem! This home has been completely remodeled in 2005 and features an amazing chef's kitchen with Viking and Subzero appliances, granite countertops, and an open floor plan/family room make this a perfect place to entertain and enjoy friends and family. A formal living room with walls of windows allows for sunlight all day long. Beautiful, sunny, and spacious dining room, powder room, and gleaming hardwood floors throughout round out the first floor. Stunning and expansive master bedroom suite with spa-like master bathroom ensuite bath, high ceilings, three additional bedrooms, and hall bath complete the second floor. A partially finished basement can be used as a home gym, additional office, or playroom. Enjoy the rear yard featuring a bluestone patio for outdoor entertaining. High-efficiency sani-dry basement air filtration system and dehumidifier. Two-zone heat/AC. Eligible for a free district bus to Heathcote elementary school, as well as the Scarsdale high school and a short walk to the Middle school. Close to Hartsdale village, train (one mile), and shops make this a perfect place to call home!
Learn more here.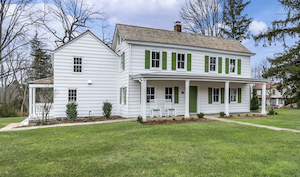 937 Post Road
Scarsdale, NY 10583
Listing Price: $1,499,000
Sunday February 21, 2021 12PM-2PM
The Cudner-Hyatt House, a unique pre-revolutionary Farmhouse has been restored and reimagined with attention to detail, honoring the historical prominence of our agrarian past. Thoughtful restoration of exposed hand hewn beams, existing hardwood floors/doors compliments the new roof/gutters/wiring/plumbing/insulation/heating/cooling system. Conveniently located within walking distance to Scarsdale Village, markets/schools, this unique home has a tastefully designed costume kitchen with fireplace/separate mudroom/laundry room/adjoining family room/study, plus a private home office, half bathroom, living/dining room all adorned with the heirloom character of 1734. Upstairs, the main bedroom is divine with a custom outfitted walk-in closet, bathroom with double vanities/heated floors/stall shower/soaking tub, plus private back stair direct to the kitchen. Three additional bedrooms/hall bath. The lower level is a perfect play space with a distinctive area begging to be a wine room.
Learn more here.