The Master of the Cloud Returns to Scarsdale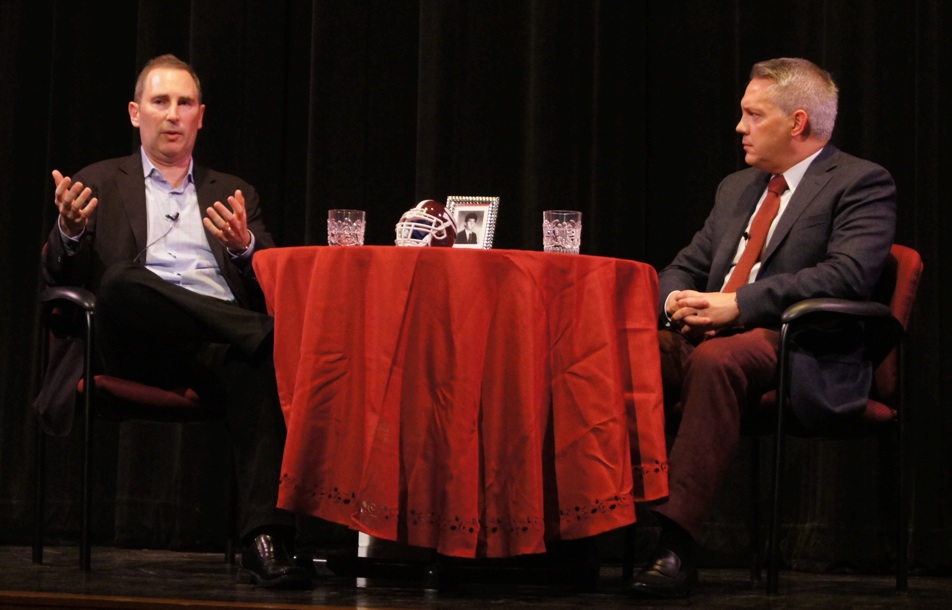 Scarsdale got a glimpse into the past and the future when the Scarsdale Schools Foundation welcomed SHS alumnus Andy Jassy to address the community on Tuesday night, September 16th. Jassy, who heads up Amazon's Cloud Computing division called Amazon Web Services, gave the packed audience a glimpse into what's driving Amazon's success as well as his own impressive career trajectory at the company, offering credit to Scarsdale for making him the person he is today.
Superintendent Thomas Hagerman interviewed Jassy and said he looked back at Jassy's transcript at Scarsdale High School for something interesting but could only find a record of success. He presented Jassy with a framed photo of himself from his 1986 yearbook.
Jassy reminisced about Scarsdale and said the last time he was in the auditorium he was performing in the senior class play Guys and Dolls. He told the audience that Scarsdale has "an incredible school system" and "you should feel lucky you send your kids to school here." He remembered the teachers who had made a difference in his life including Eric Rothschild who taught him to write, engage and consider himself a student. In Warner Feig's class on constitutional law he learned the Socratic method and the importance of preparing for class. Though he wasn't fond of English teacher Courtney Cauble, he ended up in his class for three years. Cauble had "unrelenting standards" and taught Jassy to write. His ninth grade Social Studies teacher Larry Davis insisted he learned to take notes in shorthand, a skill he continues to use at meetings today.
After attending Harvard College and Harvard Business School Jassy accepted a position at Amazon in Seattle where he felt he could learn and quickly assume bigger responsibilities. In fact, Jassy believes that a hunger to continue to learn throughout life is key to success. Today he manages what he says could become Amazon's biggest business, Amazon Web Services, which serves some of the world's biggest websites, companies and government agencies. Clients include Pinterest, Netflix and Air B&B as well as General Electric, Time Inc. and large academic centers. He said, "We are still in the early days of what is possible," and that the company "develops their services in response to customer needs."
What do they look for in hiring new talent? Amazon seeks intelligent, analytical people with a high tolerance for ambiguity. They look for people who are strategic but can deal with the details as well. Those who succeed are tenacious, persistent, able to overcome barriers, reflective and vocally self-critical. According to Jassy, the company cannot hire enough computer engineers. He said, "It used to be that becoming a doctor was a guarantee of earning a good living. Today, if you
graduate with a degree in computer science you will have a job." He encouraged the district to teach coding at an early age as it teaches problem solving and critical thinking.
In order to be nimble, the company is divided into small, autonomous units so that work teams are not dependent on other units to succeed. These units are called 
"Two pizza teams" meaning that the teams must be small enough that they would need only two pizzas for a meal.
Another key to Amazon's success is the prioritization of new projects. Since there are always new ideas, the challenge is to select those that will respond to customer needs and have the biggest impact. In order to define those projects Jassy says that before any coding or development begins the team will write a press release and an FAQ on the new product, laying out its benefits to customers and answering questions that will arise. By evaluating these materials first the company can decide which projects have the most merit and potential before using resources for development.
What's down the road? Jassy said, "We are planting seeds now that will hopefully grown into trees." More specifically he mentioned the drones project that could be two, five, or even ten years away. He said that in the future very few companies will have their own data centers and will use the cloud to collect, store and analyze data at a far lower cost. He even predicted that cancer would be cured by computer scientists through data analysis. The use of mobile apps and devices will be more pervasive and sensors will be used to collect and transmit data back to the cloud.
Hagerman questioned Jassy about the work environment and Jassy replied that the rapidly growing company always has too little space. In order to make the most of the space they have, walls are lined with white boards so that any room can become a meeting space. To keep teams in Seattle in touch with teams around the world, they stream videoconferencing on their computers 24/7 and speak to people around the world as if they were in the same room.
Asked who inspires him, Jassy said, "My boss Jeff Bezos." He continued, "He is the most brilliant thinker I know, he is unbelievably creative, has technical acumen and unusual empathy for the customer. Jassy shadowed Bezos for 18 months and saw that "he quickly got to the heart of an issue and added value." Bezos is "not set in his ways, does not rest on his laurels, is optimistic about change and does not believe there is a glass ceiling on what we can do."
An audience member asked him what he wished he knew when he was in high school and he quickly replied, "I wish I knew then that trying to be cool or popular was overrated."
The irony is that almost 20 years later Jassy is the coolest guy in the room.
Watch the entire conversation on Video on Demand here.
The talk was sponsored by the Scarsdale Schools Education Foundation that is supporting research and development, innovation, technology and the improvement of the physical infrastructure of the Scarsdale School District. The foundation will embark on a fundraising program to support these initiatives this fall. For more information, visit scarsdaleschoolseducationfoundation.org.