Maroon and White Donates $100,000 For Fitness Center at SHS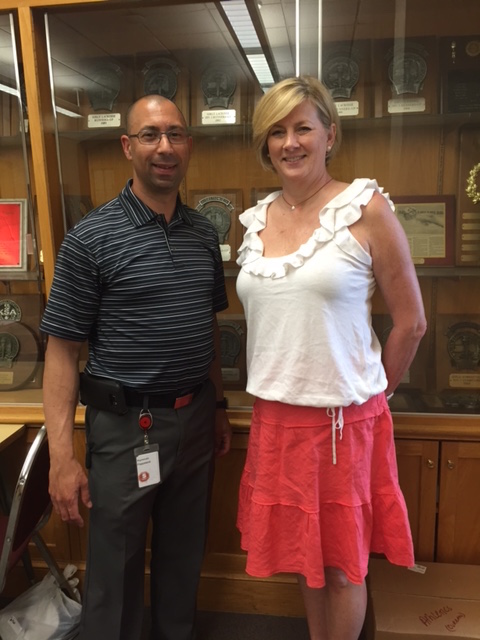 Thanks to a donation to the Scarsdale Schools Education Foundation from Maroon and White, the campaign to build a new fitness center in Scarsdale High School is now $100,000 closer to its goal. The Scarsdale Schools Education Foundation's (SSEF) mission is to reach a goal of $2.6 million to build a Fitness Center and Design Lab at Scarsdale High School.
Since the foundation launched their fund raising campaign just over a year ago, they have raised more than $1.9 million. The SSEF continues to take steps to unite the community in their campaign and raise enough money for the project. We talked to Foundation President Mark Bezos, who provided his insights on the campaign. " We have taken some important new steps in the past few weeks. Most notably, we have invited the entire community to participate in our campaign through the purchase of pavers that will create a 'Bander-snatch Garden' in a courtyard at the high school. Information on how to buy pavers is available on the home page of our website scarsdaleschoolseducationfoundation.org".
The Maroon and White donation is a large contribution to a school that only recently began asking for funds from private donors. Bezos said, "Although many of our peer schools in Westchester have had similar foundations for many years, we recognize that seeking private donations for our schools is a new initiative here. That's why we have made it a point to work very closely with the Board of Education since the very beginning. It is important, for example, that the district's administrators and the elected Board of Education set policy and priorities for Scarsdale's schools. We see our role as providing essential financial support that will enable the schools to accomplish special initiatives that don't fit within the confines of their own budget." This close connection between the Board of Education and the foundation has facilitated strong progress.
Even though the goal for the foundation has not been met, the school plans to begin construction next month. Bezos explained this situation "We are working very hard to provide the needed funds as soon as possible. Construction will begin at the end of this month in any case as there is a good deal of initial work and infrastructure preparation that has already been funded through the bond the voters approved 18 months ago." He continued, "To be successful we will need the participation of as many residents as possible. I would encourage everyone in Scarsdale to speak to one of our board members or our Executive Director." In addition to reaching out to the community, Bezos thanked Maroon and White for their donation and noted that their donation and contributions from others have given the campaign the confidence it needs to be successful in reaching its goal.
In addition to learning about the foundation and funding, we also talked to the SHS Athletic Director Raymondo Pappalardi about the new fitness center. Pappalardi, who is just about to complete his first year in this position noted that students are under a lot of stress and they are looking for a way to manage their stress. He believes this new fitness center is a great solution to stress-relief for all students.
We asked Ray about the center design. "It will be approximately 6,000 square feet. There will be three main sections in the area. There will be an open space for stretching or free movement, a cardio section and then a space for power lifting or weight training. The interesting thing though is that it will be much more inviting and bright. The key features will be the technology that will support learning. We have not decided exactly what equipment will be there but when it gets closer to opening we will be able to decide as the technology keeps changing," Ray stated. These improvements and open space will allow for more students to use the facility comfortably. Ray noted that the current fitness center is very dated and does not provide enough space for students.
A major draw to the new fitness center is what it will allow the Physical Education program to do. Ray explained how the new fitness center will fit with the gym department. "The size of the new space will allow for there to be at least two gym classes in there at a time so it can facilitate a lot more students. We plan on having a gym class in the fitness center every period and possibly allowing drop-ins during school hours which will allow students to use the gym during their frees".
The new facility will not only benefit gym classes but will also benefit athletic teams. The open space in the gym will allow teams to train more easily together during season or during their off season. The center will also house a strength and conditioning coach who will be there to help students and athletes prepare and condition. Ray also pointed out that "Part of the purpose of the space it to help prevent and treat injuries. The space will allow athletic trainers to treat students". This improvement will help promote wellness by teaching athletes prevention exercises they can do to limit injuries or programs to work on improving their injuries.
Overall Ray noted that this fitness center will create an exciting social place for students and will promote fitness and wellness. Ray spoke about his first year at Scarsdale and told us "It has been pretty exciting. It has been busy. I think the most exciting part is when I get to talk to students and get their perspective. We have had some stellar seasons here too. So that has been exciting. I would like to take credit for it but I can't. I really have just been learning about everything that has happened here and how we made decisions. I have focused on looking at what programs we can implement to help all students. We want to look at how we support wellness k-12. No program should operate by itself without looking at the other aspects". Ray is hopeful this new fitness center will help the fitness and wellness program to flourish.
After talking to Ray we spoke with Maroon and White President Kathy Coleman. Kathy explained that the Maroon and White was able to make such a large donation because they have had many successful years of fund raising and were able to trim some of their costs. The Maroon and White raises money from membership dues and by selling Raider gear. Kathy explained how they decided to donate to this project. "One of the things we have been saving for is field lights, but they are a long way away in terms of where are we going to put them. So flash forward and this fitness center comes up and they needed the money to make this work. We had the money to give away and still had a good amount and we thought this gift is what Maroon and White's charter is because it touches every single kid in the High School immediately. There was really no argument or talking anybody into it. We were hoping it would also spur some more people to donate seeing that Maroon and White is behind this program". With the Maroon and White's backing, along with the SSEF's support, construction on the fitness center will begin next month with the goal of completion before school opens again in September.