New SMS Principal Prioritizes Student Wellness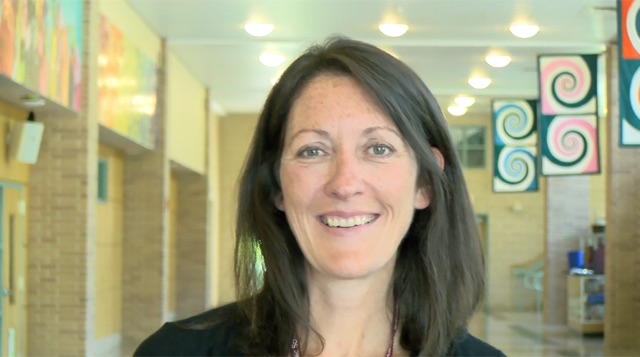 The new principal of Scarsdale Middle School grew up in a town outside Syracuse where she learned the values of community, support and relationships from a father who was superintendent of the local schools and a mother who was a teacher.
Meghan Troy might have seemed bound to follow in her parent's footsteps, but took what ended up being a wrong turn in her career to bring her back to a path forged as a child.
"Educational leadership has always been in my bloodstream," Troy said in a recent interview in her office at the school.
Troy studied at Georgetown University, where she majored in government and psychology, planning on heading to law school. After working for a year in a corporate law firm, she realized that it wasn't the right career for her, and instead pursued educational graduate work at Fordham.
In 2001, she moved to Scarsdale and began to work as a social studies teacher in the Cooper House. Since then, she's worked with the Scarsdale Teachers' Organization as a secretary and rights and responsibilities handler, where she's been able to meet with district administrators and build relationships with central offices and teachers. As the Social Studies Department Chair, Troy gained experience working dually as a teacher and administrator. "You never want to be too far removed from the work that's going on in classrooms," she says. "Connected to kids, connected to teachers in the classroom... I think that's how I envision this role. And I think that's the beauty of being a department chair, you really have a foot in each world." She supervised and evaluated staff, while maintaining a watchful eye over the needs of her students. She now benefits from the advantage of knowing how middle school students operate, and how to form relationships with them.
Troy first heard of the Latin term 'cura personalis' in college, and has since pledged to the philosophy as her role as educational leader. Translating to "care for the entire body," she seeks to balance a student's academics with social, emotional, and physical needs. "Take care of their social and emotional needs, help them manage stress and anxiety... and obviously all the extra things that happen at the middle school, like modified sports, and clubs," says Troy, a marathon runner. "Those things are so important to let kids find their passion and excel in other areas where they don't excel in. You know, showcase that."
In addition to this doctrine, Troy's goals include watching and learning her first year. "It's important for me to really learn other people's' perspectives in order to help shape my own... because I really am coming from one perspective... one discipline, one house." She seeks to be as visible as possible and wants to build relationships with students not only in times of crisis. She is redesigning her office with a round table and stools, to foster and facilitate casual student conversation. Troy is working on a district-wide initiative of wellness, in which she connects with students and faculty in order to reduce stress and reinforce positive psychology.

One way she will try to accomplish this is through a change in the cellphone policy. Though students are already prohibited from phone usage in class, Troy wants to encourange students to put their cell phones away when they enter school in the morning so that they can connect with each other and faculty - and focus on the day ahead. Phones, she added, are too much of a distraction for students in school, who she believes should engage with peers, faculty and life at school. At dismissal, kids can again use their phones to contact their parents.

Troy also aspires to foster parent involvement. She highlights the creation of a Twitter account, which will let parents and students know the day-to-day happenings at the school. She is working closely with the PTA and plans several coffee gatherings with parents in October, in which she will explain initiatives to parents and host an open discussion. Troy also has a column in the monthly PTA newsletter, as well as a weekly faculty newsletter, which outline what has happened and what is to come. The faculty newsletter operates for teachers' professional development, by exposing lesson plans across the school and allowing for cross-pollination of ideas. "There's never too much communication. And the more transparent and open we can be, the better off everyone is."
Note to Parents and Students: The schedule for a middle school day will change in September: 16 minutes of instructional time will be added to each day. Homeroom will be removed, and first period will start at 8:10 a.m. The final bell will sound at 2:36 p.m. Incoming sixth graders will, however, be assigned a homeroom class the first week in order to help their transition. Announcements and special passes will be delivered electronically.