Westchester Community College Foundation Presents Great Chefs Culinary and Wine Event Series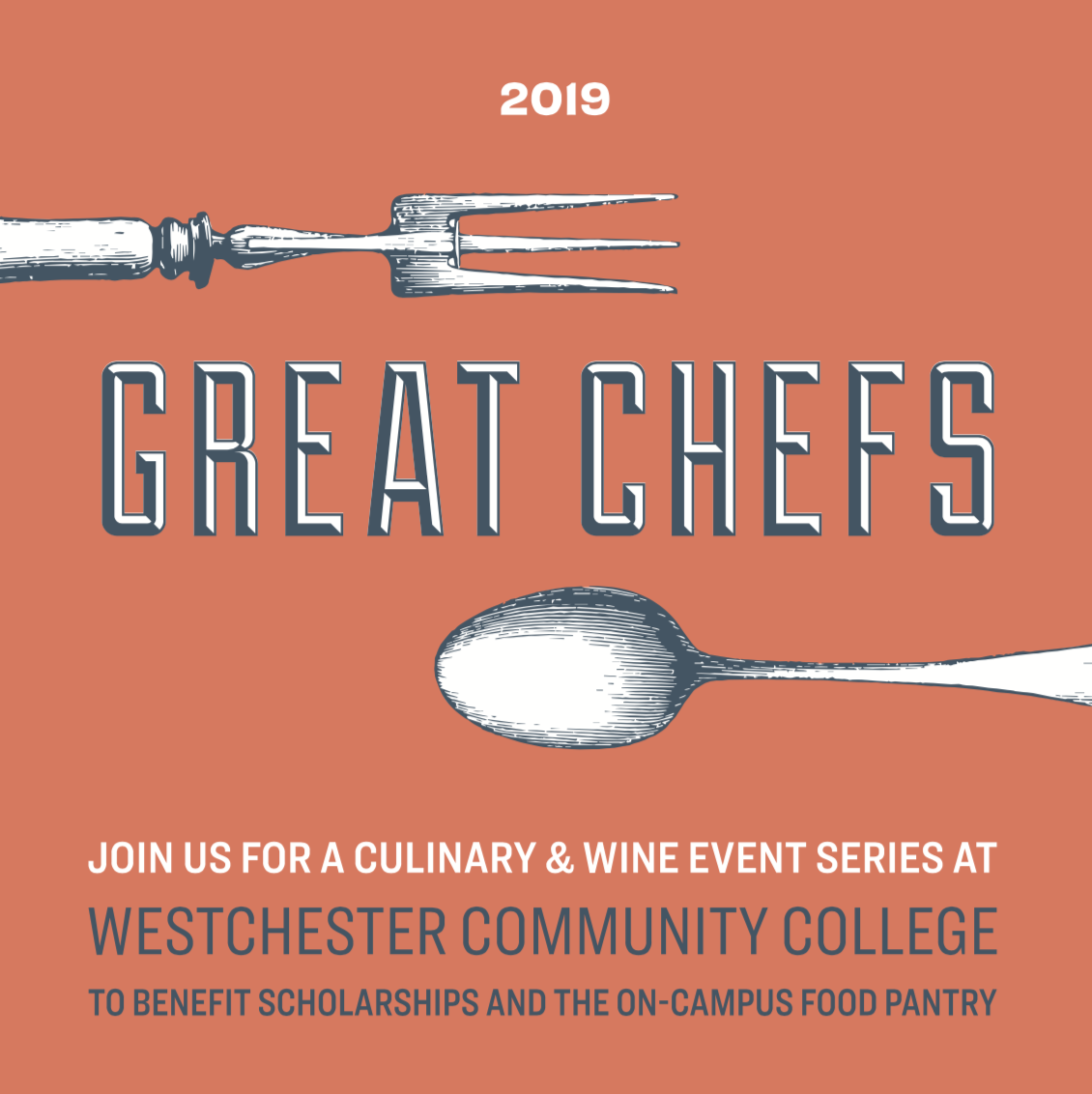 The Westchester Community College Foundation is presenting its annual Great Chefs Series of wine tastings, cooking demonstrations, and three-course dinners. These tantalizing events co-sponsored by DeCicco & Sons and Wine Enthusiast will be held in the college's state-of-the-art instructional kitchens and Culinary Dining Room on the Valhalla campus. 100% of funds raised from the Great Chefs series will benefit the Foundation's scholarship fund and the college's on-campus food pantry.
Host Chef Philip McGrath, Curriculum Chair of the college's Culinary Arts and Hospitality Management Program and former chef and owner of Iron Horse Grill, has assembled a stellar cast of local culinary celebrities who will create epicurean delights and teach you how to dazzle future dinner guests. The chefs will be assisted by the college's Culinary Arts and Hospitality Management students.
The evenings begin with an exclusive wine tasting reception with specialists from Wine Enthusiast. Chefs will then demonstrate the how-to's of each meal. Guests will enjoy the chefs' creations paired with an accompanying wine, beer, or cocktail. Each guest will leave with a goody bag, recipes for dinner, and beverage pairing information.
Attendance at the Great Chefs series will help support student scholarships and special programs that provide students with critical services. The Foundation raises resources to meet student and college needs not met by public funds and has awarded more than $25 million in scholarships to over 18,500 students since 1969. Support for tuition alone is not enough to help our students; for some, their everyday needs are not being met including food insecurity. The college's food pantry was established in 2014 and provides meals and non-perishable food items for more than 1,000 students and their families. In 2018, the Great Chefs series raised funds to distribute 250 Thanksgiving dinners to students in need.
Additional funds from this series created the "Great Chefs Scholarship," an annual award for culinary students of excellence. The Culinary Arts and Hospitality Management curriculum leads students to careers, not only in restaurants, but also in commercial, on-site, and institutional establishments. Course work includes culinary arts, business management, work experience, and a basic liberal arts core. Culinary Arts and Management graduate move into positions in the field or transfer to four-year colleges to continue their studies.
Monday, October 7 at 6:00 p.m. Sonora (of Port Chester). Restaurateur and author Chef Rafael Palomino is keenly aware of flavors people love and crave. Drawing from his childhood in Bogotá and many years in New York City and France, Chef Palomino will share techniques and recipes for cooking mouth-watering Latin inspired dishes. Beverage pairing provided by StilltheOne Distillery Two and Wine Enthusiast.
Monday, October 21 at 6:00 p.m. Farmer and the Fish (of Purdys, Sleepy Hollow, NYC). Chef/Owner/Farmer Michael Kaphan raised the bar on "farm-to-table" dining by sourcing their restaurants with produce from their own five-acre farm in North Salem. Chef Kaphan will show why using fresh and local has been one of the main ingredients for their success. Beverage pairing provided by the Croton Tapsmith and Wine Enthusiast.
Monday October 28 at 6:00 p.m. The Cookery (of Dobbs Ferry) and Eugene's Diner and Bar (of Port Chester). Known for his boundary-pushing style and thoughtfully creative dishes, Chef David DiBari will showcase courses from his various restaurants. Joining Chef DiBari will be Sajin Renae of The Cookery and Chef Iulia Mahu of Eugene's Diner & Bar who are the core strength behind the creativity, passion and kitchen operations at each restaurant. Beverage pairing provided by DeCicco & Sons and Wine Enthusiast.
Monday, November 4 at 6:00 p.m. X20 Xaviar's On the Hudson (of Yonkers). Join Chef Peter Kelly of the Xaviars Restaurant Group as he prepares a menu and cooking demonstration you can prepare at home for your next extravagant dinner party for family and friends. Beverage pairing provided by Midway Wine & Liquors and Wine Enthusiast.
Tickets for each event are $150. For details, please visit the college website. Contact Sue Mackey at sue.mackey@sunywcc.edu or 914-606-6558.