Letter to the Editor: Streets Around Greenacres School Are Not Safe for Pedestrians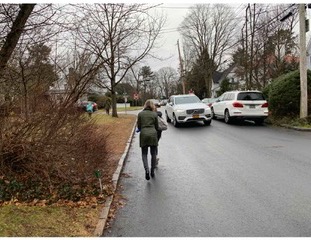 This letter was sent to Scarsdale10583 by Greenacres resident Gabriel Streche:
Since January I had the great opportunity to drop off my kids to Greenacres school and I was SO surprised about how bad the situation is. There are so many cars parked everywhere, in addition to all they cars trying to go through Sage Terrace and Putnam Road.
We live on Brewster Road, less than 2 blocks from the school and may times I drive because Sage Terrace and Putnam are not safe for pedestrians. The streets are so narrow, cars are parked on both sides of two-way streets and families with kids are attempting to walk. I can't even think how anyone is able to navigate this if you have to push a stroller. When we walk I have my kids cross over peoples' lawns as the street is too dangerous.
Many days there is a Scarsdale Police car stationed at the east corner of Sage and Brewster and one of the neighbors spoke to them. The Police Department is very aware and concerned about the situation as well and also asked my neighbor to raise the issue with the village.
There are a lot of parents that live close to school and are very concerned. Sidewalks on Sage Terrace Putnam Road and Brewster Road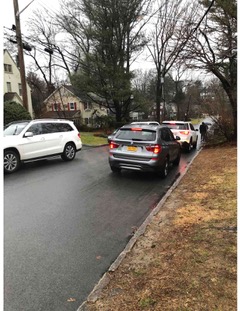 (at least from corner with Sage to Fenimore) are pretty much a must. The streets are simply too narrow to handle all the people and cars that need to do drop off and pick up.
The sidewalks on Sage and Putnam end where the school ends and need to be extended to the end of the street. People and kids have to walk on the grass to be able to reach those sidewalks currently.
Gabriele Streche
Brewster Road