Some Disappointed by SHS Plans for a Virtual Graduation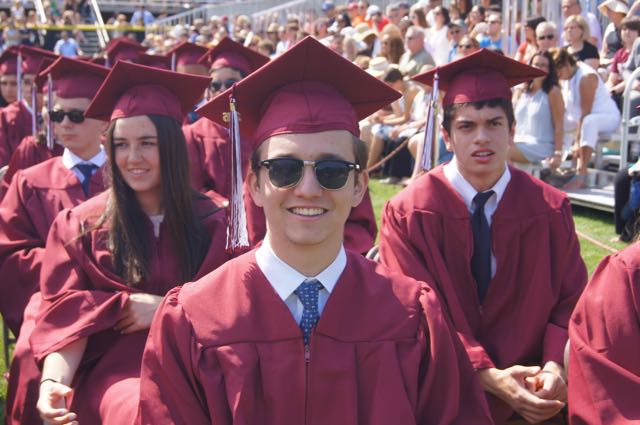 Graduation -- it's a rite of passage and a Scarsdale tradition that the SHS Class of 2020 will not experience -- at least not in the way they expected.
When the Scarsdale School District shut down suddenly in mid-March, most were taken by surprise. High school seniors left the school without the chance to even clear out their lockers. They did not have the opportunity to see their classmates or teachers and were left to wonder how they would complete their high school years. Would they get to say goodbye to friends, faculty and deans with whom they had forged long term relationships?
As the spring semester progressed, students speculated about what would become of all the end of year rituals…. senior options, senior transition day, the prom and graduation day. Would they be allowed to gather and celebrate their class and four years at the high school?
In May the school administration announced the formation of a Senior Events Committee, comprised of administrators, faculty and parent representatives to "create alternative senior experiences that captured the traditions of a Scarsdale High School graduation, while following the mandates and limitations of governing orders in place at this time." Seniors, parents and the community at large were invited to send their ideas to the committee for consideration.
The initial action of the committee thrilled the class. On May 7 a surprise faculty motorcade drove through the streets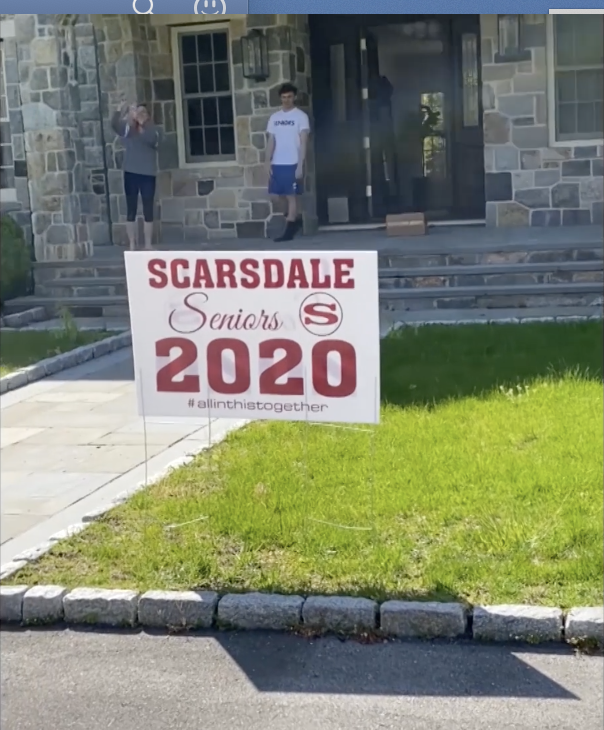 of Scarsdale to deliver large "Class of 2020" graduation lawn signs to the home of each graduating senior. Spirits were buoyed when students saw their teachers in front of their homes cheering on the grads. Though the balance of the graduation plans were a closely guarded secret, the class remained hopeful that the committee had carefully considered many of their ideas and would come up with a plan to recognize each senior, despite the limitations of the social distancing laws.
However on May 22, seniors and their families received an email outlining the outcome of the committee deliberations. In his email, SHS Principal Ken Bonamo says, "We believe this plan achieves the goal of a local, student-focused experience that celebrates individual seniors and the Class of 2020 as a whole."
The email said that prom was cancelled and outlined the procedure for students to drop off their text and library books and secure their graduation gowns, without leaving their cars. Students can have their graduation photos taken in cap and gown on appointed hours that were assigned by dean on June 11 and 12. The photo opportunity came with the following warnings:
Seniors should plan to arrive at the start of the assigned window (and no later than 15 minutes into the session).
● Parents and guests are NOT permitted to accompany seniors to the session.
● Seniors should arrive dressed in cap and gown, park in the track lot and enter through the athletic entrance.
● Seniors must wear masks except when their pictures are being taken.
● Seniors will form a socially distanced queue that leads to Gyms 3/4 and must wear a mask until it is their turn to be photographed.
● Once photographed, seniors must exit through the athletic entrance and leave campus immediately.
● It is recommended that caps and gowns are steamed or lightly ironed prior to the photography session.
● Seniors who cannot come at their assigned window can only be photographed during the make-up session.
● Photographs may be used by the school for other virtual events and will be mailed home with purchase opportunities for families.
If students wish to retrieve personal items from the school, they are required to make an appointment for a time between June 16-19 and wear masks and gloves when entering the school.
And what about the graduation ceremony? The memo said that it would be held virtually at 2:30 pm on June 23. Students and parents will be invited to view the ceremony online.
Following the ceremony, students and their families are invited to a car procession at Scarsdale High School where they would be cheered by faculty and staff at an appointed time. What about their diplomas? They will be mailed home. The high school yearbook, which is customarily distributed to seniors on Senior Transition Day in June will instead be mailed to seniors' homes in August. There will be no formal opportunity to for students to sign each other's yearbooks.
The reaction from some students and their parents was severe disappointment. They had suggested a wide range of creative ideas to the committee and wondered what had happened to their "out of the box" solutions. Had they even been considered? Who was on this committee, and were they really open to ideas? The graduation plans were primarily virtual and denied students the chance to walk in a processional, receive their diplomas and throw their mortarboards in the air. Was there no better way to celebrate their four years at Scarsdale High School?
One mom we spoke to questioned why the school had not surveyed the class to find out what elements of the graduation process were most important to them. If they had, she believes that most students would have asked the school to permit them to come to the school either individually or in small groups to be handed their diploma and photographed in the traditional setting. She said, that many other high schools in the tri-state area came up with creative ways to break the class down into smaller groups to carry on the usual ceremony over the course of several hours or days.
Another parent shared that one nearby district had postponed graduation and the prom until mid-July, in the hope that social distancing laws would be eased and the class could proceed with their celebrations, just a few weeks later.
Another pointed to a proposal from a Scarsdale parent who had located a large drive-in movie theater. The theater was holding the graduation date for the SHS Class of 2020 for a traditional ceremony, with students and their families watching from their cars, instead of the bleachers. However when the Senior Events Committee failed to respond, the facility was reserved by other high schools for their own graduations.
Parents are also cognizant of the fact that the laws are evolving daily, and what is illegal today might be permissible by late June. On Friday May 22, Governor Cuomo announced that groups of up to 10 people are now permitted to gather, and that Westchester County had met the criteria to begin Phase 1 of the re-opening this coming week. With the wheels in motion, what might be permitted in just a few weeks if the administration could wait to finalize their plans?
A group of parents of seniors are lobbying the school administration to use their critical thinking skills to come up with some more creative solutions. They say that a virtual graduation ceremony is no substitute for the real thing and are asking the school to reconsider.
However, there are as many views as there are people in Scarsdale. Yet another mother of a graduating senior defended the administration and the committee. She said, "I know the school has the best interest of my child in mind. They care about the kids and I am confident that the leadership did everything possible. I am sure they considered all the logistical and legal constraints and did what they could do given the situation. Perhaps they could have done a better job communicating their process, but I know they spent considerable time making these decisions. It is a disappointing time, but people shouldn't focus their disappointment on the school."