COVID on the Decline at the Scarsdale Schools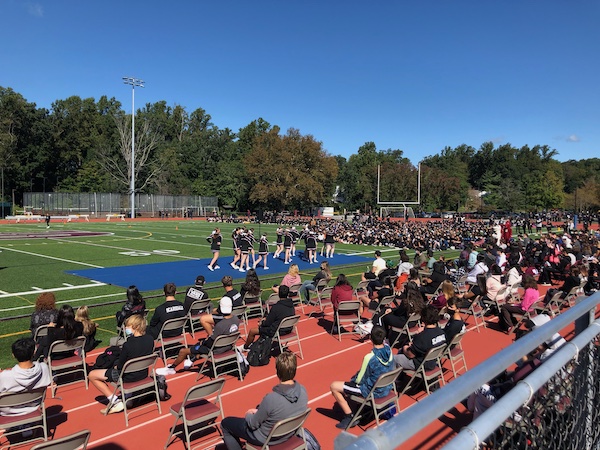 A Pep Rally and the Homecoming Game Drew a Crowd to Scarsdale High School on October 1st.COVID numbers are trending in the right direction at the Scarsdale Schools according to Assistant Schools Superintendent Eric Rauschenbach. At the Board of Education meeting on Monday evening October 4 he reported that the district's risk of spread has fallen from a designation of "high" to "substantial" and the positivity rate has fallen to 1.8.
Better yet, there have been a total of 22 cases reported since the opening of school, 14 students and 8 adults and most of the cases are breakthroughs. The majority of the student cases are among elementary and middle school students.
Quarantines have been greatly reduced since the county changed the regulations around "proximate contact," with 3-5 quarantines as a result of indoor lunch and another one or two from contact during outdoor lunch. Rauschenbach reported that these new protocols "seem to be working well."
The district had hoped to embark on bi-weekly testing of a sampling of the school population to assess COVID levels in the school population. To that end they sent out a survey to all district parents requesting consent to test students via self-administered saliva tests. Testing materials will be sent home and samples will be collected in drop boxes at the schools. However, only 28% of parents have consented to the testing. Why? Rauschenbach believes the reluctance is due to fear of being quarantined or receiving a false positive on the test.
Also on the COVID front, COVID booster shots were made available to the faculty staff and members of the Board of Education of the Scarsdale School District and many took advantage of the opportunity. Dr. Hagerman reported that he got his booster and had no issues or a reaction to the shot.
Athletics
In other encouraging news from the district, Athletic Director Ray Pappalardo reported that the high school is experiencing the highest participation in athletics in his tenure at the district.
He said, "about 600 students are on team rosters. We are at 40% participation, 45% female and 55% male."
However, they are "still experiencing some challenges," primarily in securing a pool on a regular basis for swim team practices."
He noted the "Incredible turnout " and "extraordinary energy" at the homecoming football game and pep rally on October 1 and was also pleased about the "incredible level of cooperation between the community and the district for our athletic programs."
Extracurriculars
About students who have interests outside athletics, Dr. Hagerman said, "We would like to open up all our clubs and activities…. We have 70 clubs at the high school in addition to the athletic teams. In the past, we have had 95% overall participation in extracurricular activities. At the middle school we have 23 clubs and 400 students have signed up already. "
Enrollment
Assistant Superintendent Drew Patrick followed up to a question about the number of students who transferred out of district last year. According to Patrick, during the 2020-21 school year, the district had almost double the number of transfers out of Scarsdale than in a normal year. While on average 260 students transfer out of Scarsdale to another district in NY State, to a private or parochial schools, move out of the country or make the decision to home school, last year 500 students transferred out of the district.
Patrick and Rachel Moseley provided some details and here is what they reported.
Of the 500 students who transferred, here is the breakdown of reasons:
-In an average year, 50 transfer to another public school in the state, but last year 135 transfers occurred to other public schools.
-In an average year 55 transfer to a NY private or parochial school, but last year the number was 154, almost triple.
-On average 75 students move outside the state, but last year 134 did so.
-Homeschooling stayed about the same as 12 opted for home schooling.
-And last year 66 left the country, which is on a par with the average of 65-70 who leave the country every year.
What differed is that 155 students transferred out last year and returned this year. Patrick said, "31% of the transfers came back. In a typical year only 7% come back."
Overall, the district is experiencing a decline in enrollment of more than 200 students from a high of 4,821 students in the district in 2014-5 to 4,608 for the 2020-2021 school year.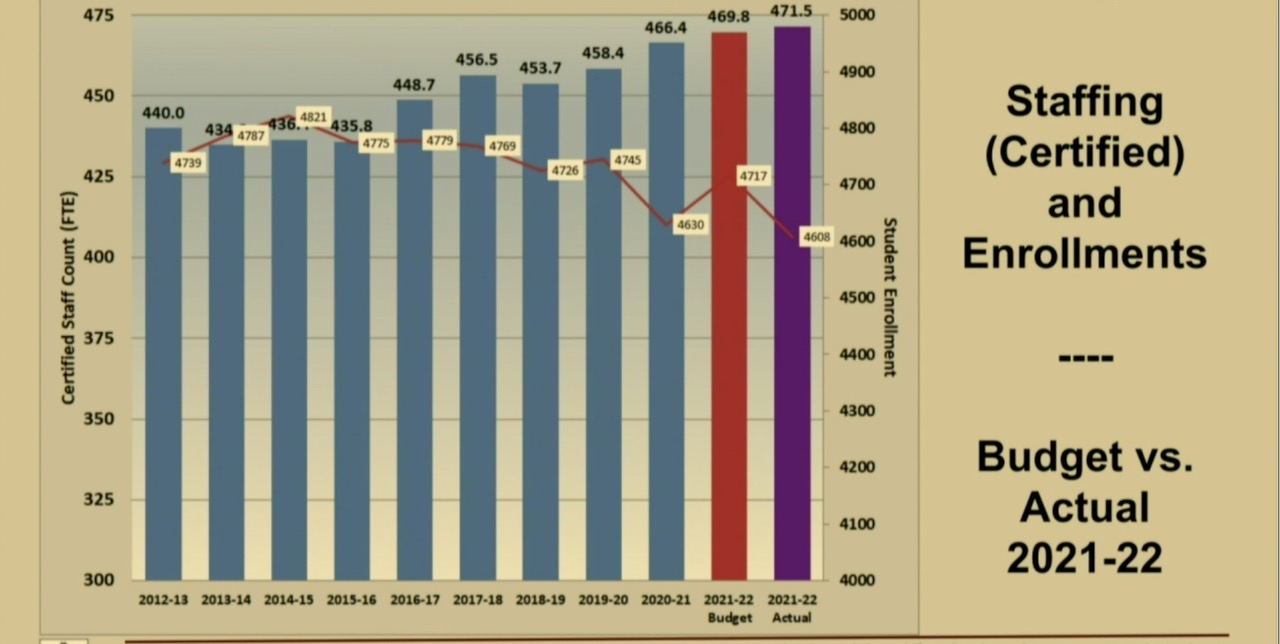 Public Comments
During the pandemic people were able to make public comments at Board of Education meetings virtually via Zoom. Many enjoyed the convenience of speaking from home and asked for this practice to continue. On September 2, Governor Kathy Hochul signed legislation extending virtual access to public meetings under New York State's Open Meetings Law, which allows New Yorkers to virtually participate in local government meetings during the COVID-19 pandemic
As a result, Board President Karen Ceske said that a subcommittee of the board comprised of herself, Jessica Resnick-Ault and Ron Schulhof met to discuss remote public participation. The meeting was inadvertently not recorded but meeting minutes are available on the school board website.
Until new policies are written, virtual public comments will continue to be permitted at Scarsdale School Board meetings. Public comments cannot be more than three minutes, the first public comments session cannot last more than 1.5 hours and those who are commenting will be asked to turn on their cameras when speaking.
However at the October 4 meeting, there were no virtual comments.
Scarsdale Middle School PTA President Leah Dembitzer announced a speaker event to be held virtually on Tuesday October 12 at 6:30 pm. The SMS PTA DEI Committee invites all SMS parents, students, teachers, and staff to hear keynote speaker, Dr. Edgar McIntosh, joined by SMS Principal Meghan Troy, on "Diversity, Equity, and Inclusion in the Scarsdale Middle School Community and Curriculum," on Tuesday, October 12 at 6:30 PM. There will be a Q & A portion at this event. You can register to attend the event here:
Diana Cohen of 1 Duck Pond Road followed up on the comments she made at the September 20, 2021 School Board Meeting. She expressed concern about the school's lunch and snack policy.
As the district does not permit young children to have snacks she said, "I am concerned that young children are not able to meet their nutritional requirements." The AAP recommends two to three snacks per day. About lunch she said that the school has been putting the television on during lunch time which discourages social interaction and distracts children from eating. She said, "My daughter does not eat her lunch because she is busy watching television. This is supposed to be a time for socialization." She continued, "My five year old son goes to Kids Base where he has a normal lunch and snacks. There has been no problem with COVID there. Kids need to talk and play." She asked the administration to look at the experience of other districts who are permitting snacks.
Eric Rauschenbach and Thomas Hagerman both responded to Cohen. Rauschenbach said, "We are encouraging the kids to speak to each other during lunch and to pull up their masks when they want to speak. We don't show movies often…. Any parent who believes their child cannot function without snack should speak to their teacher. We will revisit this as the year goes on."
Dr. Hagerman added, "Television is just one choice for kids – they can pick something else." He said "We will continue to revisit this decision. Parents who feel their students need a snack should speak to their teachers."
Girls Ice Hockey
In other business, the Board of Education accepted a gift of $10,000 to form a Section 1 girls ice hockey team from the Hudson Valley Girls High School Ice Hockey Booster Club. This team will include players from Scarsdale as well as other districts.
Watch the meeting in its entirety on the Scarsdale Schools website.