SHS Drama Club Performs Before a Live Audience for the First Time in Two Years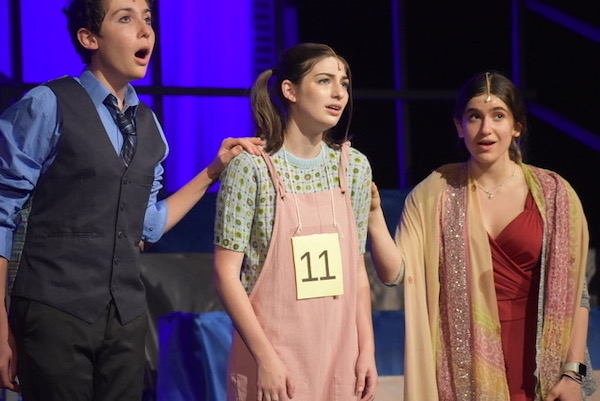 Charlie Milberg (Dad), Isabelle Haller (Olive Ostrovsky) and Taylor Levin (Mom) singing "The I Love You Song" Trio. Olive's parents are absent from the big Spelling Bee. Her father is at work and her mother is in India. Olive is imagining that they are standing next to her and proclaiming their support and love for her. The Scarsdale High School Drama Club was devastatingly impacted by COVID-19 restrictions. Meetings were difficult to organize and performing with masks on posed many problems. However, the biggest impact of COVID-19 was the inability to perform in front of a live audience.
From November 19-21 the club returned to the stage and gave a phenomenal rendition of The 25th Annual Putnam County Spelling Bee before hundreds of spectators. The musical scores were performed admirably; the costumes complemented each character's perfectly-acted roles and laughs from the audience never stopped thanks to the comedic nature of the play.
In an interactive twist, four audience members were selected at each show to sit among the spelling bee contestants on stage and test their spelling. The musical featured some great harmonizing and a slightly-crude solo at the end of intermission, which were a big hit with the audience. As fans waited for the actors to emerge after the show, they called the play "excellent," "fun," and "entertaining."
For the two hours, those actors - students from Scarsdale High School – became Broadway stars.
Star Spotlight: Janmariz Deguia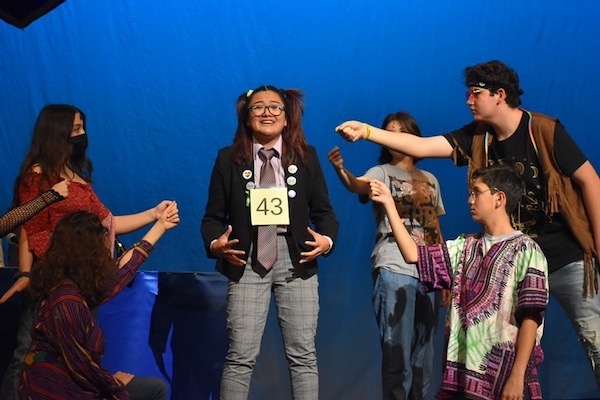 Scarsdale senior Janmariz Deguia in the role of Logainne SchwartzandGrubenierre.
Senior Janmariz Deguia had plenty to say about the performance after taking one of the play's star roles, Logainne SchwartzandGrubenierre (nope, that is not a typo).
Reflecting on her senior show as a whole, she said, "This show was the best way to say goodbye to high school theatre. This was my first in-person show with the drama club. Even though it's my first year doing theatre at school, I was still sobbing all three nights, both tears of sadness and joy! A last show is a big deal and I know I'll do theatre in college, but because performing is such a big part of my childhood and now, it feels like I'm saying goodbye to this chapter of my life which is very emotional and overwhelming."
Putting on a performance to be proud of, the presence of large crowds for all three shows gave Deguia extra hope about the future of one of her main passions. "It's refreshing [seeing such a large audience]; it's exciting; it gives me hope that people see the value of the arts. There's nothing like performing for me.
"Some people have sports, others have academics, and for me, it's singing and dancing like a maniac. It's great that I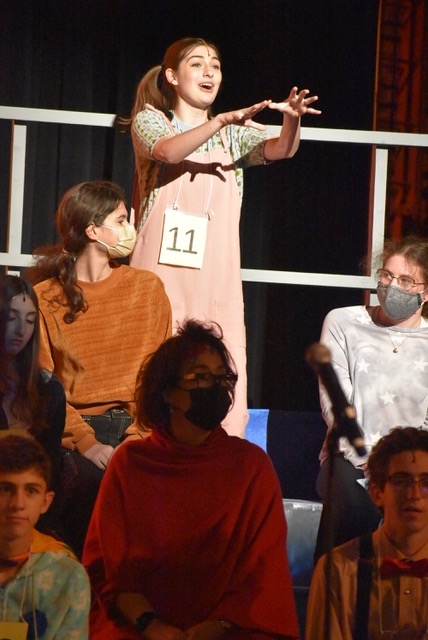 Isabelle Haller (Olive Ostrovsky) singing "My Friend the Dictionary" Olive is a lonely, shy girl who is singing about her best friend, her reliable dictionary.can express myself independently and alone but like most things, [without an audience], you miss the people and the connection. I am so grateful to have such a welcoming community here. The cast and crew, friends, and family have been so supportive. It was so fulfilling to have a live audience laugh at your jokes. Hearing the 'awhs' during my epilogue made me tear up each night!"

The awhs from the crowd came when Logainne revealed that she conquered one of her biggest character flaws later in life.
Acting as Logainne was no easy task. However, Deguia was more than up for the task. She even described how she felt related to the role she was playing in more ways than one, claiming, "I see so much of myself in her," making acting as Logainne more enjoyable. Deguia then joked, "Logainne is annoying and funny and loud and dramatic and same!" Even before roles were assigned, Deguia "always wanted to play her or Leaf."
Nonetheless, there were obstacles that came with the role. "The biggest challenge is that she has the fastest parts, so I had to slow down my song. Maintaining an annoying voice with a lisp that people can mostly understand [was also a challenge]."
Deguia's two favorite moments of the play were when she said, "I've been waiting for my word" right after "having an entire mental breakdown," as well as the epilogue (when she reveals that she overcame her lisp later in life.)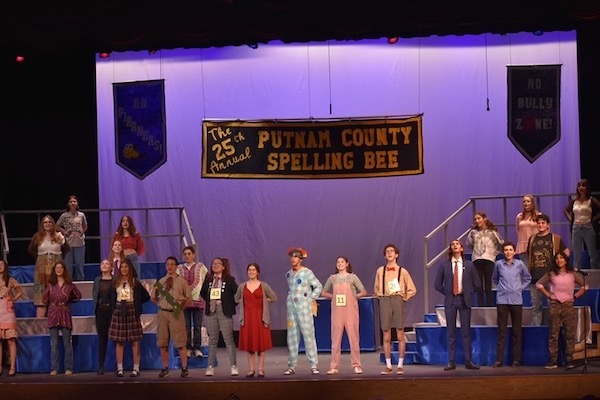 The Scarsdale High School Drama Club lines up to bow after a stellar performance of The 25th Annual Putnam County Spelling Bee. All those who went to the show will only have a world of favorable things to say about it, with many other Scarsdale High School students putting on admirable performances. Lead roles were performed by: Izzy Haller (Olive Ostrovsky), Mitchell Peran (William Barfee), Brooke Suzman (Marcy Park), Henry Nova (Chip Tolentino), Colin Dunsky (Leaf Coneybear), Taylor Levin (Rona Lisa Peretti), Jason Dickstein (Doug Panch), and Eve Rich (Michelle Mahoney).