School Board Hires Attorney to Investigate Tax Lien on the District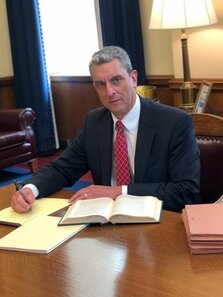 Anthony J. Brock has been hired to conduct an investigation of the Scarsdale School's tax issue.About 45 people waited over two hours on Zoom on the night of April 20 to hear the outcome of an executive session of the Scarsdale School Board. It was presumed that the Board was meeting to discuss the school district's tax issue with the IRS and the failure of the administration to report the problem to the Board for over nine months.
The meeting began at 6 pm and screens were black until 8:19 pm when the Board emerged to announce the outcome of the meeting which was to pass a resolution to retain an attorney to conduct an investigation.
The resolution read as follows:
RESOLVED, that the Board of Education of the Scarsdale Union Free School District appoints Anthony J. Brock, Esq. as special counsel/investigator to investigate matters related to the IRS tax lien; and
BE IT FURTHER RESOLVED, that the Board of Education approves the Investigative Services Agreement with Anthony J. Brock, dated April 20, 2022, and authorizes the President to execute such Agreement.
Explaining their decision in an email to the community on the morning of April 21, the Board said, "The Scarsdale Board of Education has appointed Anthony J. Brock, Esq. to conduct an investigation of the IRS payroll tax issue beginning Monday, April 25th. As part of his practice, Mr. Brock regularly conducts internal investigations on a wide variety of school related issues. His experience includes serving as labor relations and general counsel to school districts, labor relations specialist with Capital Region BOCES, and Senior Counsel at the NYSUT Office of General Counsel, in addition to serving as a litigator and hearing officer.
The Board is committed to confirming the facts of the IRS payroll tax matter and discovering any additional pertinent information. The scope of this investigation will focus on timeline and communication. This investigation will also assist the Board in determining appropriate next steps."
Several board members spoke before voting on the resolution.
Jessica Resnick-Ault said, "All of the members of the Board of Education are private citizens. I have been impressed with our diligence. There are no other six people that I would be prouder to work with …. I know some want us to address this issue with more alacrity. I have seen people working through vacation and around difficult jobs. The group has shown calm in the face of extraordinary circumstances…. We will address the facts that have resulted in the tax fines and penalties and we are determined to act with the utmost urgency to address the facts. Not everything can be done in the public eye. Some of the work will be done behind closed doors.
About the attorney she said, "Brock has never done business in the Scarsdale Schools and will recommend more robust actions that we can take. I have great confidence in him and I will vote for Mr. Brock's appointment."
Ron Schulhof said, "These last few weeks have been incredibly upsetting. There were financial issues as far back as 2020. The district received notice in 2021. We were not told. I share your frustration… We have been working very hard to address the issue from the moment we found out about it….I look forward to receiving the findings."
Bob Klein said, "The teamwork and diligence has been impressive – I feel confident with the direction we are taking. We have taken this incredibly seriously and are trying to be transparent under difficult circumstances."
Amber Yusuf said, "We are committed to the process outlined by this investigation with the ultimate goal in improving our district's processes."
Speaking remotely, Carl Finger said "In the 25 days since we learned about this, we have worked diligently so we can proceed with full information of what happened. Though it may feel like we are not taking action, we are not being hasty in taking action. This will allow us to take appropriate action if necessary. I hope people will give us time to do the proper job – and not the reactionary job. Our actions will be well informed because we exercised diligence and patience."
Karen Ceske said, "I support the appointment of an investigator and echo the sentiments of my fellow board members this evening."
Neither his contract or the timeline for the investigation are available as yet.
Here is information on Anthony J. Brock as shown on his website:
Anthony Brock began his career as a prosecutor in the Orange County District Attorney's Office from 1990-1994. In this role he gained extensive trial experience and earned a reputation as an aggressive prosecutor who zealously advocated for victims and held criminals accountable for their actions. From there, Anthony took a position with the civil litigation firm of Friedman, Hirschen, Miller, Coughlin and Campito, where he defended individuals and organizations in a wide variety of civil litigation matters.
In 1996 Anthony joined the Office of General Counsel for New York State United Teachers, where he would spend the next 22 years of his career representing individuals and unions in a wide array of labor law and education law matters. This included handling matters before State Courts (trial and appellate), Federal Courts (trial and appellate), the NYS Commissioner of Education, the NYS Public Employment Relations Board, and numerous arbitrators and hearing officers.
In March 2018 Anthony retired from NYSUT and took a position with Capital Region BOCES where he began his career representing school districts in labor relations matters. This has included collective bargaining, contract interpretation, grievance processing, investigating and prosecuting discipline and discharge cases, providing guidance and advice on labor and education law issues, and providing training to school district staff.
In July 2019 Anthony opened The Law Office of Anthony J. Brock with the goal of building a practice focused on high quality representation of employers while simultaneously building positive employer-employee relations. Zealous advocacy can and should be handled with respect and courtesy for your employees and labor partners. Maintaining a high degree of professionalism in all matters is a cornerstone of the practice.