56 Students Receive Academic Awards at SHS Ceremony
Tuesday, 09 May 2023 11:35
Last Updated: Tuesday, 09 May 2023 13:39
Published: Tuesday, 09 May 2023 11:35
Vivian Zweig
Hits: 1174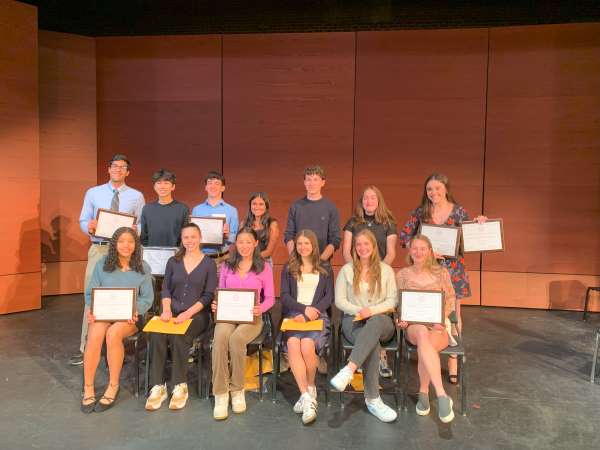 On Wednesday, May 3rd, the Scarsdale community was proud to celebrate students who have demonstrated exemplary achievements, academic excellence, and service to the community at the 2023 annual Scarsdale High School Awards Ceremony. Principal Kenneth Bonamo delivered the night's opening remarks and was delighted to honor and recognize students who have personified the school's motto, non sibi—not for oneself alone. The students selected to receive awards personify this motto for the leadership positions that they have assumed within the community and their efforts to make the world a better place.
Awards were distributed by the leaders of Scarsdale High School's academic departments in the following disciplines: English, Fine Arts, Mathematics, Music and Performing Arts, Science, Social Studies, and World Languages. Students were also recognized for demonstrating qualities valued by the Scarsdale community—kindness, compassion, and tenacity.
Dr. Karine Schaefer, the Department Chair of the English Department, was proud to distribute the Brown University, Harvard University, Princeton University, and Audrey McGinn Creative Writing awards to those who have not only demonstrated a love of literature but also the ability to synthesize and communicate complex ideas and analyses with a degree of sophistication beyond their years. Dr. Schaefer distributed the Audrey McGinn Created Writing Award to Abby Ruth Michaelis, a gifted writer, and poet, who commands the attention of her readers through a striking sense of voice and with breath-taking turns of phrase. Michaelis recently drew inspiration from Frankenstein to write a ghost story that rivals the works of Mary Shelley and Lord Byron, capturing the complexities and vulnerabilities of human behavior.
Next, Dina Hofstetter and Debra Asher-Zitrin distributed the Excellence in Visual Arts 2D, Excellence in Visual Arts 3D, Media, Friends of Music & the Arts Elisa Draper Art History, and the Friends of the Music & the Arts Permanent Collection awards to students gifted with special enthusiasm and talent for the Fine Arts. The Elisa Draper Art History Award celebrates the memory of Elisa Draper, a fifth-grade teacher at Quaker Ridge Elementary School who touched the lives of hundreds and who is remembered as a cherished member of our community. Tobey Rosewater was the proud recipient of this award for his scholarship and budding enthusiasm for art history.
Ms. Asher-Zitrin and Elisa Forte, the District Coordinator of Music & Performing Arts, were thrilled to distribute the Band, Chorus, Orchestra, Music & Performing Arts Department, Friends of Music & the Arts Drama awards to several young, skilled, and devoted musicians for their outstanding commitments to the Music & Performing Arts and the Scarsdale community. The Orchestra Awards was given to Andre Couto, the Master of the Concert and Chamber ensembles. Couto recently performed at Lincoln Center, and his contribution to our community's Music and Performing Arts programs has been inspiring.
Maureen Ellison-Connolly, the Department Chair of Mathematics, Computer Science, and STEAM, was delighted to recognize the achievements of the talented young men and women of this community who demonstrate tremendous creativity, superior problem-solving, and a deep appreciation for the beauty of mathematical thought. The Rensselaer Mathematics & Science, Technical Services, and Math Faculty awards were distributed to students who embodied these qualities. Leon Rhode received the Rensselaer Award for his participation in specialized quantum computing courses and outstanding performance at many mathematics competitions.
Nicole Pisano, the Department Chair of the Science Department, recognized the achievements of bright and creative students who demonstrated a commitment and passion to science and the ability to conduct cutting-edge research projects in their respective fields. Ms. Pisano awarded the Excellence in Science, Excellence in Research, Bausch & Lomb, and the Science Department Faculty awards to students who have exemplified these qualities and tirelessly strive to improve their understanding of the natural world. Cindy DeDianous was awarded the Excellence in Science award for not only her ability to think critically and draw connections between the realms of science but also for being our first finalist at Regeneron STS, a highly competitive and prestigious science research competition for her exemplary research on diabetic retinopathy, a condition that may result in vision loss and blindness in diabetic patients.
Following Ms. Pisano, Jen Maxwell, the Department Chair of the Social Studies department, awarded students who display a passion for social studies inside and outside of the classroom. Ms. Maxwell announced the Social Studies Achievement, Excellence in Social Studies, and Social Studies Faculty awards to diligent students, who bring perspectives and knowledge that enrich the learning experience of the classroom. Isabelle Goldban received the Social Studies Faculty award for her exemplary performance in multiple Social Studies electives, where she is always willing to take a contrarian position to challenge her peers to think critically.
Mary Leech, the Department Chair of the World Languages Department, distributed the French, Latin, Mandarin, Spanish Language, Spanish Literature, and World Languages Department awards to talented students who have demonstrated curiosity and mastery of language. These students not only rapidly engage with new content and synthesize eloquent and thought-provoking responses, but display a high regard for diversity, skills fundamental in today's world. Amanda Nudelman received the Spanish Language Award for her mastery of the language, both written and spoken. Thomas DiLorenzo was given the Latin Award, not only for his easy and effortless use of the language but also for using his skills to contribute to the community. DiLorenzo has spent countless hours tutoring young, often disadvantaged students, in Latin for several years.

Finally, students demonstrating tenacity, kindness, and resilience were recognized for their contributions to the school and local community by various members of the Counseling Department and other prominent members of our community. Dean Iosepovici, Counseling Department Chair, gave the Counseling Department Award to Oleksandr Romanenko. Romanenko's life was turned upside-down by the war in Ukraine, which forced him to flee his home and seek safety. He arrived alone at Scarsdale, where he is staying with family, and was recognized for his incredible strength, courage, and tenacity.
Mr. Bonamo closed the evening by recognizing two students who have offered great service to our community with diligence and distinction. Carly Gelles was the recipient of the Faculty Award for her thirst for knowledge and exemplary achievements, among them mastery of Spanish, Latin, Mandarin, and American Sign Language and outstanding performances in Speech and Debate. Over the summer, Gelles worked as a counselor at Gallaudet University, a private research university for the deaf and hard of hearing in Washington, D.C. There, she taught children American Sign Language, and even received her own sign name, "Eyelashes." Receiving a sign name is considered a gift and an honor and demonstrates acceptance into the Deaf community.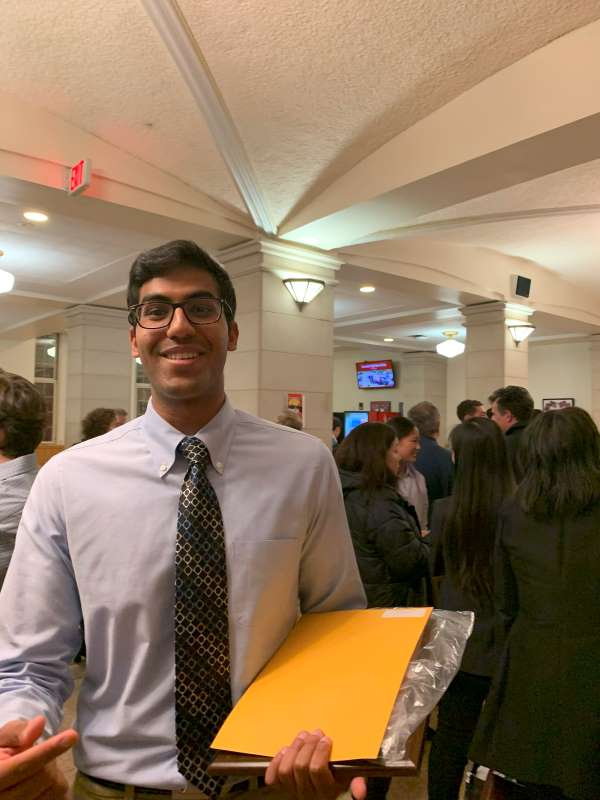 Varun Bansal, recipient of the Principal's Award Varun Bansal received the Principal's Award for his contributions to the school and local community during his time serving as School President. According to Bonamo, Bansal was "compassionate, analytical, and energetic." However, his reach extended far beyond the typical student leader role. Bansal pioneered the creation of the school's team for the Wharton High School Investment Competition, founded the DECA club, and volunteers at a local community center, helping residents file their tax returns.
Below is a comprehensive list of the evening's awards and recipients:
English
Brown University Award - Natasha Pereira
Harvard University Award - Sebastian A. Verrelli
Princeton University Award - Anna Mone
Audrey McGinn Creative Writing Award - Abby Ruth Michaelis
Fine Arts
Excellence in Visual Arts 2D Awards - Orly Iris Kornstein & Olivia Liu
Excellence in Visual Arts 3D Award - Anna L. Toscano
Media Award - Joseph M. DiMartino
Friends of Music & the Arts Elisa Draper Art History Award -Tobias Rosewater
Friends of Music & the Arts Permanent Collection Award - Leila E. M. Kerr
Mathematics
Rensselaer Mathematics & Science Award - Leon Rode
Technical Services Award - Andrew I. Lewis
Math Faculty Awards - Jackson Thomas Fielding & Matthew Zhao
Music & Performing Arts
Band Award - Isaac B. Wood
Chorus Award - Steven C. Su
Orchestra Award - Andre A. Tsou
Music & Performing Arts Department Award - Hyunjin Lee
Friends of Music & the Arts Drama Award - Eliot I. McClafferty
Science
Excellence in Science Award - Ali El Moselhy
Excellence in Research Award - Jaden V. Tepper
University of Rochester - Bausch & Lomb Award - Kevin Daniel
Science Department Faculty Awards - Cindy Y. DeDianous, Tyler H. Handler & Sebastian A. Verrelli
Social Studies
Social Studies Achievement Award - Ivanna O. Nwokeji
Excellence in Social Studies Awards - Jesse Green & Lana Weiser
Social Studies Faculty Awards - Isabelle J. Goldban & Daniel Rublin
World Languages
French Award - Hyunjin Lee
Latin Award - Thomas D. DiLorenzo
Mandarin Award - Estelle J. D'Alessio
Spanish Language Award - Amanda D. Nudelman
Spanish Literature Award - Mason Y. Lau
World Languages Department Award - Carly S. Gelles
School Wide Awards
Steve Corbin Academic Success Award - Nathaniel P. Lewis
Casey Ferrone Memorial Award - Elizabeth L. Wachs
Counseling Department Award - Oleksandr Romanenko
Junior Scholarship & Service Award - Maya Vora
Junior Academic Excellence Award - Nina Maor
Yale Book Award - Kyle Pidedjian
The Scarsdale Inquirer Awards - Jade D'Agostino & Irene Li
Judith E. Weil Kindness Award - Alexandra C. Schwartz
Scarsdale Rotary Club Awards - Jedd D. Frydman & Rose Kinoshita
Retired Scarsdale Teachers' Association Award - Daniel Rublin
Scarsdale Foundation Award - Matthew L. Barotz
Michael V. McGill Book Award - Anushka Kumar
NYS Comptroller's Student Achievement Award - Sophia M. Garcia
NYS Office of the Attorney General "Triple C" Awards - Riley E. Iasiello & Nicole Y. Zhou
Dartmouth College Award - Yuval Cherki
Halliday Clark, Sr. Memorial Award - Sebastian A. Verrelli
Billy Safian Humanitarian Award - Anna F. Feldstein
Scarsdale High School Faculty Award - Carly S. Gelles
Principal's Award - Varun Bansal