Scouts Earn Merit Badges and Travel to the U.N.
Monday, 20 November 2023 14:21
Last Updated: Monday, 20 November 2023 14:26
Published: Monday, 20 November 2023 14:21
Joanne Wallenstein
Hits: 557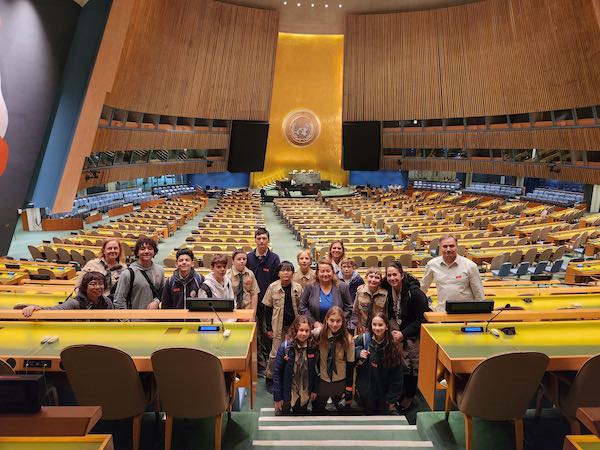 Scarsdale Troop 4 held a Court of Honor on Sunday to recognize Scouts' advancement in rank and earning merit badges. The Troop also honored Eagle Scout Zachary Weitzman for earning the Eagle Bronze Palm Award and Delfina Kirkendall-Rodríguez for earning the Shoot! Nova Award. The Bronze Palm is awarded to Eagle Scouts who have earned five additional merit badges beyond the 21 required for the Eagle Scout rank; Weitzman earned 30 merit badges in 4 years. Shoot! is the Scouts BSA Nova Award for investigating astronomy and projectile science. Kirkendall-Rodríguez attended a Scout camp where she researched and conducted experiments related to astronomy, space exploration and robotics. She also earned a merit badge in Space Exploration.
Twenty- seven Scouts earned a total of over 110 merit badges and awards in such diverse areas as the arts, citizenship, life skills, outdoor activities, sports, and STEM, The badges are American Cultures, Archery, Architecture, Art, Canoeing, Chess, Citizenship in the Nation Citizenship in Society, Citizenship in the World, Communication, Cooking, Disabilities Awareness, Emergency Preparedness, Engineering, Family Life, Fire Safety, First Aid, Fishing, Geocaching, Inventing, Kayaking, Leatherwork, Mammal Study, Mining in Society, Music, Personal Fitness, Personal Management, Robotics, Rifle Shooting, Search and Rescue, Safety, Space Exploration, Textile, Signs, Signals, and Codes, Swimming, Weather, and Wood Carving. Many scouts also earned the Totin' Chip, a certification that grants a Scout the right to carry and use wood tools after scouts demonstrate that they can properly handle, care for, and use a pocket knife, ax, and saw.
The recipients of the various badges and awards were: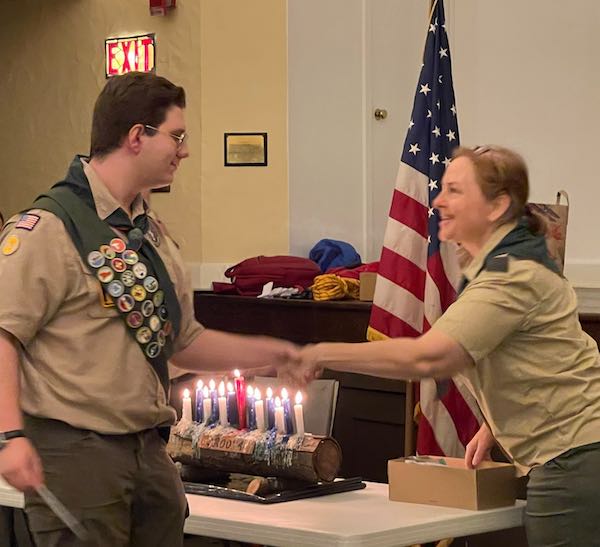 ZacharyFinkel and HeatherKolb
Stella Bowman
Aidan Copeland
Tian Dong
Michelle Fenyves
Zachary Finkel
Anthony Ge
Lucas Houpt
Kent Mazza
Delfina Kirkendall-Rodríguez
Christian Kirkendall-Rodríguez
Robert Kolb
Janghee Lee
Ibrahim Mansouri
Charles Morris
Henry Morris
Aarush Nagpal
Aidan Ostermiller
Dylan Ostermiller
Jason Ren
Kenneth Ren
Steven Ren
Tiago Rodríguez
Julia Ruiz Fraile
Matthew Teitscheid
Zachary Weitzman
Troy Wong
Harry Zheng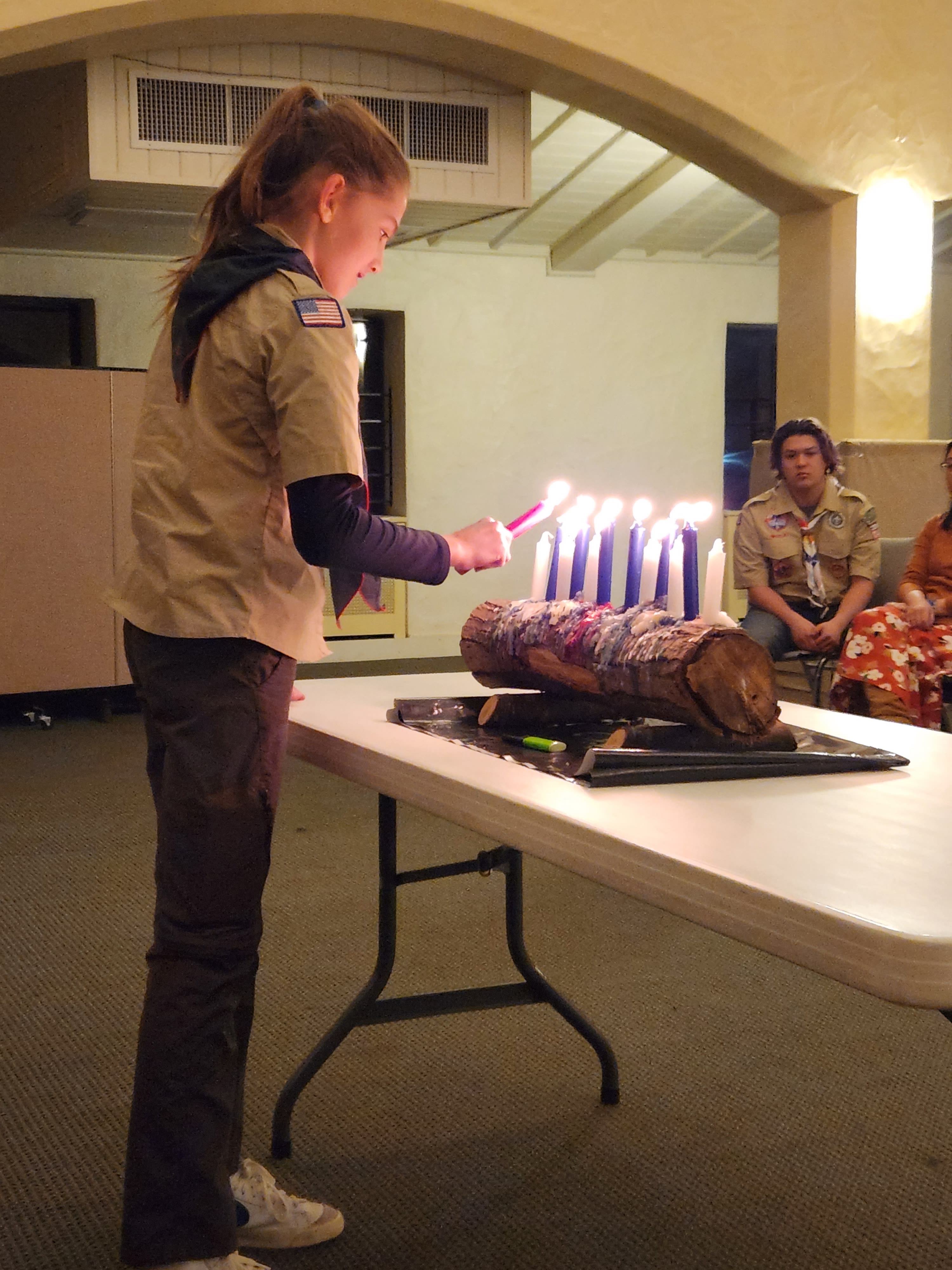 Julia Ruiz FraileLast week, eleven Scouts went on a tour of the United Nations to complete requirements for the Architecture, Art, Citizenship in Society, and Sustainability merit badges. The Scouts learned about the history and mission of the United Nations and were fortunate to see the General Assembly Hall and Security Council Chamber. In the art gallery, they viewed "Responsibility for Memory: The Role of Art in Holocaust Remembrance," an exhibit featuring the works of Holocaust survivor and educator, Yehuda Bacon. They also viewed the historical timeline exhibit "The Question of Palestine- Timeline of Events" and a tapestry by Belarusian artist Alexander Kishchenko, which commemorates the Chernobyl tragedy of 1986. Afterward, the scouts had two enlightening sessions with Senior French Interpreter and Scarsdale resident Laurence Viguier and Cecilia Naddeo, Chief of the Human Rights and Gender Section, United Nations Office of Counter Terrorism. The Scouts were able to ask questions about these two professionals' roles at the United Nations.

Troop 4 is a non-denominational troop that meets every Sunday at 6:00pm. Troop 4's Scouts develop character, civic mindedness, and physical fitness. The troop achieves these aims through camping, outdoor activities, and community service, all while having a lot of fun. Middle and high school-aged Scouts, with support from volunteer adult leaders, create and lead activities such as hikes, outdoor games, community service, and Science, Technology, Engineering, and Math (STEM) activities. Troop 4 embodies the values of inclusion, tolerance, and mutual respect for all people. Interested 11 - 17 year-olds may contact Scoutmasters Ted Mazza and Mayra Kirkendall-Rodríguez at ScarsdaleTroop4Scouts@Gmail.com.