Supporters Dress in Pink to Remember Marla Mehlman
Saturday, 11 May 2019 08:20
Last Updated: Saturday, 11 May 2019 08:26
Published: Saturday, 11 May 2019 08:20
Jamie Robelen
Hits: 3338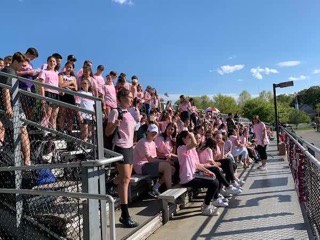 Fans dressed in pink on Wednesday May 8 to remember Scarsdale mom Marla Mehlman who lost a 10-year battle with cancer at the age 51 on December 19, 2018. She loved watching her daughter's games and this year, daughter Aliza is the senior captain of the SHS girls varsity lacrosse team,
On Wednesdaythe Scarsdale Varsity Girls Lacrosse team held their annual "pink game" in support of breast cancer research and awareness. This year the game had a special meaning, as it was played in honor of Marla. In the stands of the game, everyone on the Scarsdale side wore a pink t-shirt purchased to help support The Mehlman Family Research Fund at the Dana Farber Cancer Institute in Boston, Massachusetts. The girls played their hardest in a game that was neck and neck the whole way through.
In the end, White Plains beat Scarsdale 12-11. However, the pink game served its greater purpose to bring people together in memory of a courageous woman who will remain the hearts of so many in Scarsdale.