College Admissions in the Age of COVID: Reflections from SHS Director of Counseling Oren Iosepovici
Tuesday, 12 May 2020 08:01
Last Updated: Tuesday, 12 May 2020 08:24
Published: Tuesday, 12 May 2020 08:01
Joanne Wallenstein
Hits: 1440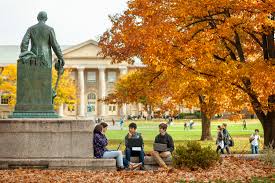 This year is anything but usual. Education continues but outside of the school buildings, and the business of college admissions moves on, even though college campuses are closed. The SHS Counseling Department is at work, helping seniors decide where to go to school next year and advsising juniors on where to apply. The landscape has shifted dramatically in just a matter of weeks. Many questions have arisen: Will juniors be able to take standardized tests? Will colleges even be open in the fall? These are just a few of the issues on the minds of students and parents.

Here are some observations from SHS Director of Counseling Oren Iosepovici on what he is seeing in the college admissions arena:
What, if any, differences have you noted about college admissions this year?
This national emergency has had an impact on every segment of society, and college admissions has been no exception. Much like our world has changed over the past two months, many of the assumptions that colleges and universities had are no longer valid.
International students that were due to arrive on their campus in September may no longer be able to. All across our nation, families that believed they could afford a specific institution have witnessed drastic changes to their employment and financial outlook. Institutions themselves have undergone a shock to their bottom line through lost revenue from unclaimed fees from students who are no longer on campus, a loss of endowment through the downturn of the stock market, and other economies they can usually count on. In the enrollment process, campus closures have prevented schools from marketing themselves to admitted students.
All these factors have combined to make this arguably the most challenging year for colleges in memory. We have heard from various institutions about the difficulties in predicting what their incoming class would look like, and this has obviously had an impact on the admission process. How that plays out in the coming weeks (and possibly months) will be interesting to follow and will ultimately answer the question of the true impact of this crisis on college admissions.
Are more students waitlisted than in past years and have you seen more students being admitted off wait-lists?
Given the incredible uncertainty colleges were facing, we did see colleges place a greater number of students on their "wait-list." Over the past few weeks, we have witnessed some schools admit students off their wait-lists quicker than in past years (we typically see movement after May 1st, but it did begin earlier this year). That said, while those trends are occurring at some institutions, many others have not yet shown a trend. Still, we do anticipate additional movement in the coming weeks.
What have you seen or read about the availability of financial aid?
We have seen no evidence that schools have reduced the amount of (need-based) financial aid offered to admitted students. Nevertheless, we do anticipate that the financial stress on institutions will have a future impact on their mission to provide access to students from a wide variety of economic backgrounds.
How have travel restrictions and the virus impacted college admissions and acceptances for foreign students?
While travel restrictions and the virus may not have impacted acceptances for foreign students, the pandemic will certainly have an impact on their ability to enroll. That is part of the reason that many schools increased the number of students they "wait-listed," as well as why we are seeing increased movement off that wait-list this year.
Due to the crisis, have more of your students been admitted to their first or top choice schools than in the past?
Past trends largely held during the Early Decision round (when students can essentially communicate to a school that is their first choice by applying under a binding plan), but that was well before things changed so dramatically. Starting in mid-March, however, we did see a slight uptick in surprising positive decisions, as well as an increase in the number of wait-list decisions. Some of those have now changed to acceptances. That said, we continue to emphasize to students, as we do every year, that one of the most important aspects of this process is to develop a well-balanced list of schools. When students apply to a balanced range of schools, we find that the vast majority are ultimately excited with their options, however respective schools "ranked" on their list of choices.
What are you hearing about ACT and SAT testing? Have the tests been cancelled? Can students take the tests online? Are more schools now saying standardized tests are not required?
Both the ACT and SAT cancelled their spring exams. Given the Governor's directive for schools in NY State to close through the end of the year, Scarsdale High School (and schools across our state and region) will not be able to offer the June exams as well. Both testing companies have indicated that additional testing dates will be offered in the coming months (as well as the possibility of offering online exams), and we will continue to update families as more information becomes available.
Prior to this crisis, approximately 1000 institutions were test-optional, meaning that they did not require standardized tests as part of their admission process. Over the past two months, dozens of additional schools have been added to this list, and it is likely that more institutions will consider the role of standardized tests in their process, especially if it becomes difficult for students to test during the summer and fall. On the SHS Counseling Department website, we offer a list of test-optional schools.
There is currently a move by students to make grading pass/fail at the high school for the final quarter of the year. How do you think that could impact college admissions for this year's junior class?
Though I recognize that some students have raised a concern with respect to the grading policy at SHS, I want to take the opportunity to highlight the incredible thoughtfulness that our administration and faculty have taken in considering what is best for all our stakeholders. As always, we are communicating with individual students who may experience particular difficulties or hardships during this time, and we will continue to support those individuals. That said, I do not anticipate any changes to our final quarter grading policy, and ultimately our transcripts will look the same as they have in past years. Students' final grades in respective classes are the only grades that appear on a transcript, and those will continue to appear as letter grades.
What are you hearing about colleges opening in the fall?
We are hearing that things are still in flux. A recent reputable survey indicated that approximately 75% of colleges and universities are planning for "in-person" openings this fall, while many others are still considering a variety of options (only 2% were planning to be completely online). Still, I wouldn't be surprised to see these numbers change significantly. There is so much remaining uncertainty, and I would anticipate we will know more definitive plans later this spring or summer.