Community Posts 250 Letters to Santa: See What's On Their Lists
Tuesday, 21 December 2021 14:21
Last Updated: Tuesday, 21 December 2021 14:27
Published: Tuesday, 21 December 2021 14:21
Joanne Wallenstein
Hits: 1150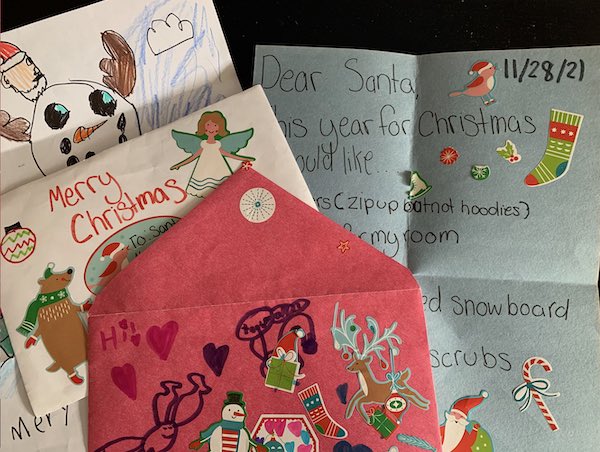 The Village of Scarsdale received 250 letters and drawings for Santa at special mailboxes around town this year. Many of the writers reported that they had behaved well this year - or at least tried to – and others wished Santa a merry merry, advised him against eating too many cookies and even invited him to stop by.
What items were popular this year? Take a look at excerpts from a few letters to Santa:
Violet wrote, "Was I notty? Maybe a little bit? Nevertheless she asked for "2000 littlest pet shops, Polly in my Pocket, a Big Wolf Stuffy, cute little puppy dress, the littlest pet shop cruise ship and lots more pet shoppe gifts.
Hania wanted only one gift: A big pink unicorn.
Alice put in a request for American Girl doll items, including a wellie wishers camping tent.
August, age 7, listed eight items includes Bowser's airship, slime and Pokemon stickers.
Also six years-old Elijah as for a small bow and arrow, a monkey costum(e) a school backpack skates for hockey, a hockey stick and t-shirt.
Elizabeth reported that she had been 'nice" this year and asked Santa to bring a swing for the doll house, dresses for the Barbie and a "real horse that talks."
Aidan asked for a toy grand piano.
Ava had high hopes for Christmas, with a long list that included a Ninja course to hang from the poles of her trampoline, a phone, a dog, a Brandy Melvin shopping spree, press on nails, make up and beauty face masks.
Ryan mused, "This year I've been working on self controlling on part of it was "no punishments" and I did very well. So any ways, I would want a F-35 that lights up and makes sound please.
Rhea reported, "I have been really good this year and requested a Nintendo switch, a hydroflask, an iPhone (if your feeling generous) and dangling earrings. She said, "That's all! But feel free to give whatever you think I'll like. Don't eat too many cookies."
Three year-old Shishi told Santa that she went to school all day and did not cry and therefore asked for a unicorn toy with a white and purple mane, who eats purple strawberries.
And it seems that children of all ages still have faith in Santa. 12 year-old Audrey told him, "This year I played games with my sister. And I helped my friends with anything they need. I can't wait to see our elves this year. She asked for sweaters (zip up but no hoodies), candles for her room, claw clips, a different colored snowboard helmet and tree hut sugar scrubs.
Six year-old Hudson sent Santa an invitation. He wrote, "Will you come to my house? We have a beautiful Christmas tree and a big chimney. I will get you cookies."
Last Jean, who is perhaps a parent or grandparent, sent out a plea for us all. She said, "First thank you for all the blessings in food, family, community and growth because I am so appreciative. My biggest request for a Christmas wish is for the safety of our kids, our future generation. May you keep them safe from harm's way and from evil doers and bring more faith and awareness to more people."