Boys Scouts Announces Troop for Girls
Thursday, 21 July 2022 11:53
Last Updated: Thursday, 21 July 2022 17:32
Published: Thursday, 21 July 2022 11:53
Mayra Kirkendall Rodriguez
Hits: 377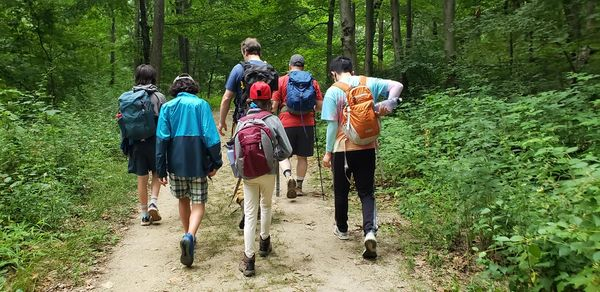 Scarsdale's Troop 4 is pleased to announce that this fall, it will have a girls' linked troop for the first time.

Nationwide, in 2019, Scouts BSA, formerly known as the Boy Scouts of America, opened membership to girls ages 11 - 17. Scouting develops character, civic mindedness, leadership and physical fitness. Middle and high school-aged Scouts, with guidance from adult leaders, create and lead activities such as hikes, outdoor games, community service, and Science, Technology, Engineering, and Math (STEM) activities.

Any interested girl from Westchester is encouraged to join the troop. Girls in Troop 4 will design and lead their own activities. Additionally, they will participate in some events with the boys in the troop. Troop 4's regular meetings are on Monday evenings. Troop 4 embodies the values of inclusion, tolerance, and mutual respect for all people.

A diverse set of parent leaders support Scouts in their goal to achieve the highest rank in Scouting, Eagle Scout. Each year, less than 7% of eligible Scouts have attained the rank of Eagle, since its inception in 1911. Due to its rigor, earning the Eagle Scout rank can offer lifelong academic, social, and professional networking benefits. Troop 4 is committed to supporting any youth wanting to earn the rank of Eagle Scout. The first cohort of female Eagle Scouts was recognized in 2020. In 2021, Rebecca Gilder, of White Plains, became the first female Eagle Scout in Westchester County.

Amongst other requirements, to attain the level of Eagle Scout, Scouts must earn a minimum of 21 merit badges. All Eagle Scouts earn badges in 14 required topics touching on issues of citizenship, the outdoors, personal responsibility and leadership. Other merit badges are electives. There are over 100, such as American Business, Animation, Archery, Art, Bird Study, Chemistry, Chess, Crime Prevention, Disability Awareness, Engineering, Entrepreneurship, Fingerprinting, Game Design, Gardening, Journalism, Kayaking, Moviemaking, Music, Sports, and Theater.

Together with Scarsdale's Cub Scout Pack 440, Troop 4 will host two recruiting events on Sept. 18 (outdoor games and sports) and Oct. 23 (pumpkin carving). Any rising sixth through 11th graders interested in joining Scarsdale's Troop 4 may contact Scoutmaster Ted Mazza. Please visit Troop 4's website and Facebook page.
Explaining why a troop for girls was needed, Mayra Kirkendall Rodriguez said, "Scouts started accepting girls nationwide in 2019, and one division has had girls since the 1970s.
In Scarsdale, Cub Scout Pack 440 started accepting girls in 2019. Some of those girls have now aged out of cub scouts and want to be in a Scout troop locally. Otherwise, girls who want to be in an integrated troop would have to go to Tuckahoe, for example, or White Plains to be in such a troop.
Being in Troop 4 allows girls to create and lead some activities just for themselves, and they can also have some meetings and events with the boys. Also, there are girls who want to achieve Eagle Scout, which has numerous, rigorous requirements involving community service, civic education, hiking, sports, the arts, and STEM."