Attention Parents: New Podcast Offers Answers to Tough Questions
Sunday, 24 July 2022 20:15
Last Updated: Sunday, 24 July 2022 20:17
Published: Sunday, 24 July 2022 20:15
Joanne Wallenstein
Hits: 451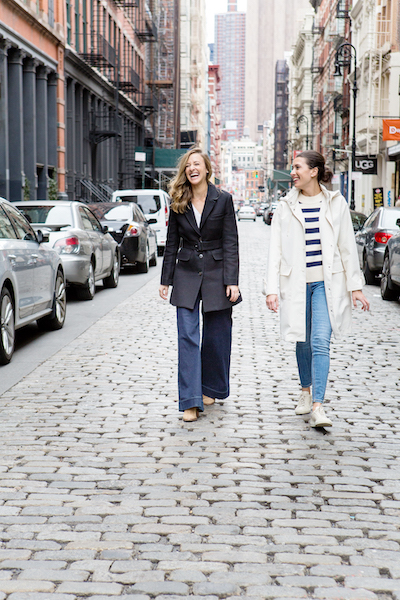 Danielle Freilich and Jordana Fruchter, Hosts of the Podcasat No Silly Questions for ParentsWhat is the difference between a progressive and traditional school? How much independence should I give my child? Should I teach my daughter her letters and numbers before Kindergarten? Is educational programming a good kind of "screen time?" My middle-schooler has a lot of homework. What is the optimal amount?

What is the trajectory for language development in babies? Maybe my teen should just drop out of school altogether and become an entrepreneur! Is higher education even valuable anymore? What does it mean when the teacher tells me my child needs help regulating his body?
Calling all parents! Do these questions sound familiar? They certainly do to us! As school leaders, we've been fielding these questions, and many more, for years from our friends- moms and dads looking for reliable information.
I'm Danielle Freilich. Born and raised in Scarsdale, where my parents Mark and Karen Hauser still reside, and where I got married about a year ago this time! For the last decade, I've worked in schools, as a teacher and principal, and currently support administrators across the country at an educational consulting firm.
My friend Jordana Fruchter, also a school leader and the director of a popular Preschool in Tribeca, and I noticed how often we were finding ourselves on long calls with friends, helping them pull up their local school reports online, supporting them in the process of navigating services for their child, or providing insight into developmental questions about their children. Throughout all these conversational threads, we aimed to keep the temperature down!
For our peers in Scarsdale- the decision of where to send their kids to school is made somewhat easier by the truly phenomenal public schooling. Scarsdale is heralded far and wide for its stellar educational programing. With test score proficiency and graduation rates in the high 90's, and a 13:1 student to teacher ratio, Scarsdale is helping set a national standard of achievement.
But for many others, the decision can feel daunting. No one explains to parents what the different pedagogies are, what to look for on a school tour, how to find the best fit for your child given their unique strengths and personality, and what to do when your child is experiencing learning challenges at school.
Parents have a significant amount of twists and turns to navigate on the path from Preschool through 12th grade. What behavioral and therapeutic services might be beneficial at school, if, and how, to assist with homework, and when to intervene or step back with respect to your child's digital life. You get the picture.
We could see there was a need to provide parents with answers they could trust, from true experts in the field and the most current research, and so our podcast "No Silly Questions," was born.
Our mission with this podcast is to lend our expertise in Preschool-12 schooling and curate credible and relatable conversations, so parents can make the best decisions for their families.
Our questions are sourced from you, the parents, and we cover anything and everything related to learning, education and development. You can listen to our episodes on Apple and Spotify, follow us on our instagram account @nosillyquestions, or submit a question of your own through our website nosillyquestionspodcast.com. After all, there is truly no such thing as a silly question!