Scarsdale Conservation Advisory Council Honored by NYLCV
Sunday, 24 November 2019 12:22
Last Updated: Sunday, 24 November 2019 12:22
Published: Sunday, 24 November 2019 12:22
Joanne Wallenstein
Hits: 1744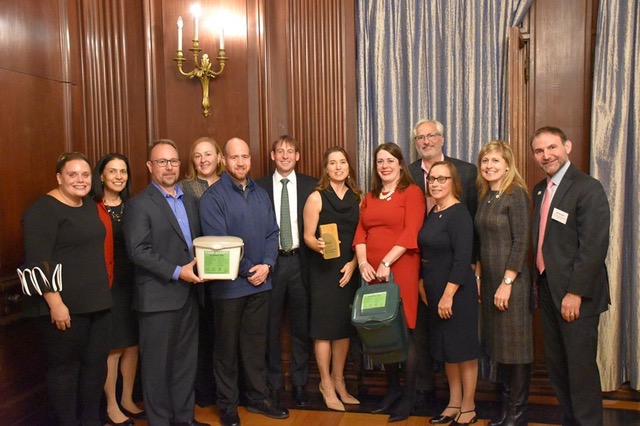 The New York League of Conservation Voters honored the Scarsdale Conservation Advisory Council (CAC) and the Village of Scarsdale at their annual cocktail party on November 13th. The honor is for the Village's food scrap recycling program - both for being the first in the County to start a food scrap recycling program and how our program has become a model for the other food scrap recycling programs that have started in our County and New York State.
Since its start in 2017 the Scarsdale food scrap recycling program has collected over 900,000 pounds of food scraps which have been returned to our earth as compost. Want in? Email composting@scarsdale.com to sign up! It's easy, neat,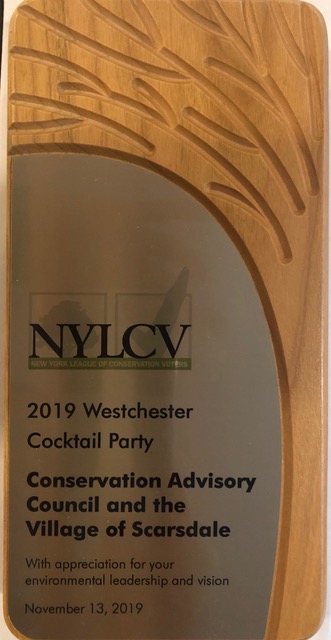 dramatically reduces your trash, and is a great way to help and preserve our environment!
Pictured above: From left to right: Jeanne-Marie Castiello, CAC member, Adie Shore, CAC member, Jeff Coleman, Scarsdale Superintendent of Public Works, Heather Kolb, CAC member, Tyler Seifert, Scarsdale Assistant Superintendent of Public Works, Ron Schulhof, CAC member, Michelle Sterling, CAC Chair, Julie Tighe, NY League of Conservation Voters, President, Jon Lewis, Scarsdale Board of Trustees, Lena Crandall, Scarsdale Board of Trustees, Jane Veron, Scarsdale Board of Trustees, Michael Bogin, NYLCV Board, Westchester County Chapter Chair.