Scarsdale Bowl Chair Says Thank You
Thursday, 01 October 2020 12:09
Last Updated: Thursday, 01 October 2020 12:13
Published: Thursday, 01 October 2020 12:09
Joanne Wallenstein
Hits: 697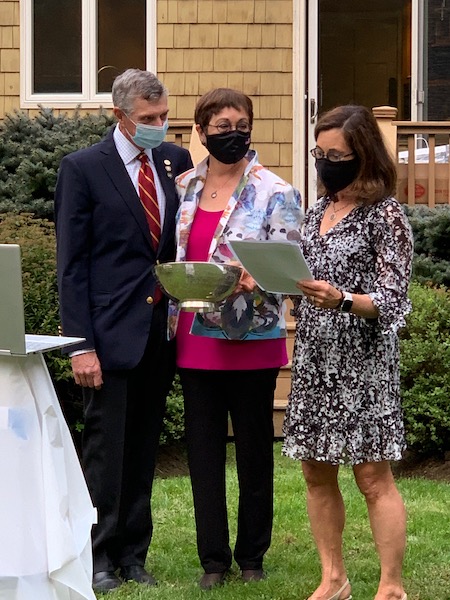 Dear Scarsdale Community,
Last Thursday evening, in the backyard of Scarsdale Foundation Chair Randy Guggenheimer and his wife Liz, the Scarsdale Bowl Committee and Foundation Board celebrated the extraordinary contributions that this year's honorees, BK Munguia and Jon Mark, have made to our community.
Volunteerism is the backbone of the Scarsdale community. This year's Bowl Celebration theme, Shine on Scarsdale, shed light on our strong belief in public service. BK and Jon have lived this mantra, and have been exemplary volunteers whom we are proud to honor and have as role models. Philanthropic giving, and the generous donation of time and expertise by volunteers like Jon and BK, combine to create the dynamic fuel that helps Scarsdale Shine On.
I was privileged to have worked with the members of this year's Bowl Committee, a terrific, fun, and knowledgeable group of volunteers who worked tirelessly on an event that didn't happen in the way it was anticipated, and therefore, have extended their tenure to ensure that this evening would be a memorable night for BK and Jon. The members of the 2020 Bowl Committee Graduating Class are Farley Baker, Karen Ceske, John Clapp, Dorothy Finger, Melpo Fite, Dara Gruenberg, and Bob Miller - thank you for your service; members of the 2021 Bowl Committee Class are Matt Martin, Dana Matsushita, Jeff Robelen, Andrea Seiden, Janice Starr, and Amber Yusuf. I am so glad this latter class is continuing and I look forward to working with you again.
Along with this group, our Fundraising Committee met weekly to come up with a plan for how to raise our formidable goal of $150,000 towards need-based college scholarships for Scarsdale students. This committee's members were Michelle Lichtenberg, Andrea Seiden, Suzanne Seiden, Janice Starr, and Abby Sroka. Our marketing gurus Grant Schneider and last year's Bowl honoree Jill Spieler were key in designing our logo, invitation, program, and publicity materials, and Diane Baylor, our webmaster, despite our ignorance, guided us in the right direction. Thank you all.
I'd like to especially acknowledge Scarsdale Bowl Secretary/Treasurer Abby Sroka, who is invaluable to our organization. Besides handling all financial matters, she is the manager of online sales, sends out Evites and eblasts, and is always willing to help.
Thank you to this year's corporate sponsors for your support: Partner ($5,000): Advantage Testing of Westchester and House of Flowers; Founder ($2,000 to $4,999): Coopersmith, Simon & Vogel, P.C.; Supporter (up to $1,999): Arthur Lange, Inc., Christie-Spencer Corp., Classic Pest Control Services, LLC, Cum Laude Group, Inc., Emerald Tree & Shrub Care, Landsberg Jewelers, Lucente Landscaping, Mercedes-Benz of White Plains, Outstanding Homes, Tzell and Protravel Foundation, Scarsdale Improvement Corp., Scarsdale Security Systems, Inc., and William Raveis.

BK Munguia and Jon Mark are an extraordinary couple, a shining example to us all. In the months that we have worked together, I have noticed appreciation, respect, responsiveness, flexibility, and thoughtfulness that pervades all that they do. As I was making their sign-in book which hopefully we'll use at the 2021 Bowl Dinner in April, I came across a saying that I thought aptly describes the two of them: Wisdom is knowing what to do next, virtue is doing it. To BK and Jon - thank you for your extraordinary virtue and culture of public service.

It was my incredible pleasure and distinct honor to present BK Munguia and Jon Mark with the 2020 Scarsdale Bowl Award for Outstanding Community Service. We look forward to honoring BK and Jon again at the 2021 Bowl Dinner on April 22, 2021 with all their friends and the Scarsdale Community present.

Nancy Michaels
Scarsdale Bowl Chair, 2020, 2021