Scarsdale Launches Paint Recycling Program
Wednesday, 02 November 2022 21:33
Last Updated: Wednesday, 02 November 2022 21:38
Published: Wednesday, 02 November 2022 21:33
Joanne Wallenstein
Hits: 724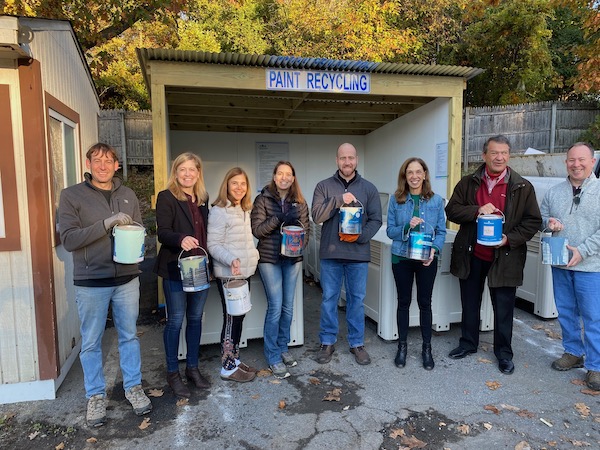 The Village of Scarsdale made history on Saturday, October 29th, with the launch of Westchester County's first town municipal paint recycling program, allowing residents to bring their leftover cans of latex and oil-based paint, stain and varnish to the Recycling Center at 110 Secor Road. From Monday to Saturday, 8am to 3pm paint can be deposited in bins next to the Food Scrap Recycling Drop-off Site.
On Opening Day (October 29th), resident volunteers including Michelle Sterling and Ron Schulhof were on hand, along with State Assemblywoman Amy Paulin, County Executive George Latimer, Scarsdale Mayor Jane Veron and Jeff Coleman and Tyler Seifert from Scarsdale's Public Works Department. A record number of residents came to the recycling center with open paint cans, grateful for a way to unload and recycle the remains.
Please note, residents no longer need to harden their paint. Just bring it to the Paint Recycling Area at the Scarsdale Recycling Center in its original container with the lid or cap on. No more kitty litter needed. The collected paint will be recycled into new paint, and the cans will be recycled into new metal.
Commenting on the launch of the program, Michelle Sterling said, "It was a long road for Ron Schulhof and me but we're so glad and excited for it finally to be happening. And we want to set an example so other towns make it part of their recycling programs too. The more convenient it is for people to recycle the more they will recycle!
ACCEPTED paint products include:
House paint and primers (latex and oil-based)
Deck coatings, floor paint (including elastomeric) and concrete sealers
Clear finish (e.g., varnish, shellac)
Interior and exterior architectural paint (latex and oil-based)
Field and lawn paints
Metal coatings, rust preventatives
Waterproofing concrete/masonry/wood sealers and repellents (No tar or bitumen-based allowed)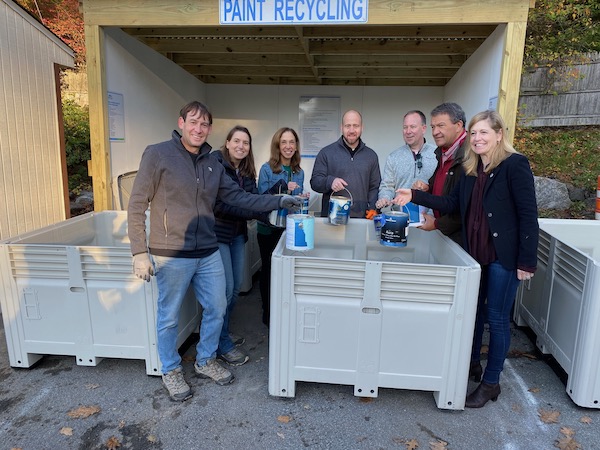 Ron Schulhof, Michelle Sterling, Amy Paulin, Tyler Seifert, Jeff Coleman, George Latimer and Jane Veron around Scarsdale's new paint recycling bins.