Culinary Jewels at the New Jewel of Himalaya
Tuesday, 13 December 2016 11:35
Last Updated: Tuesday, 20 December 2016 08:27
Published: Tuesday, 13 December 2016 11:35
Judie Dweck
Hits: 7607
Climbing the Himalayas has never been a goal of mine. However, discovering a top quality Himalayan restaurant close to home, sounded most appealing. With the recent opening of Jewel of Himalaya on Central Avenue in Scarsdale, we can now enjoy the culinary jewels of Himalayan cuisine in our own community. We were greeted by the gracious, soft spoken owner Nuru Sherpa and his pleasant staff. He explained that people were traveling all the way to Yorktown Heights to try Himalayan food since 2011 where he opened his first restaurant. To accommodate his lower Westchester diners, he and his wife recently opened Jewel of Himalaya right here in Scarsdale. The large space seats about 80 guests. The tables are nicely spaced for privacy, and the perimeter of the room has comfortable white tufted banquettes. Eventually low table traditional seating will be offered, as well. Pride in his Himalayan culture is represented in the décor. There is a large painting of The Himalayas on one wall. Ornate framed carpets used by the Nepalese king are on another wall. An artistic rendering of three wheels representing peace, love and compassion which must turn and spin around the world and a wall hanging of squares of white, gold, blue and red representing clouds, earth, sky and sun, as well as screens with travelogues of Himalayan culture complete the setting. The gentle sounds of the bamboo flute and the dramyang fill the air, and a sense of peace and well-being permeate the room. An additional plus is the parking lot behind the restaurant.

Nuru Sherpa came here as a teen. He worked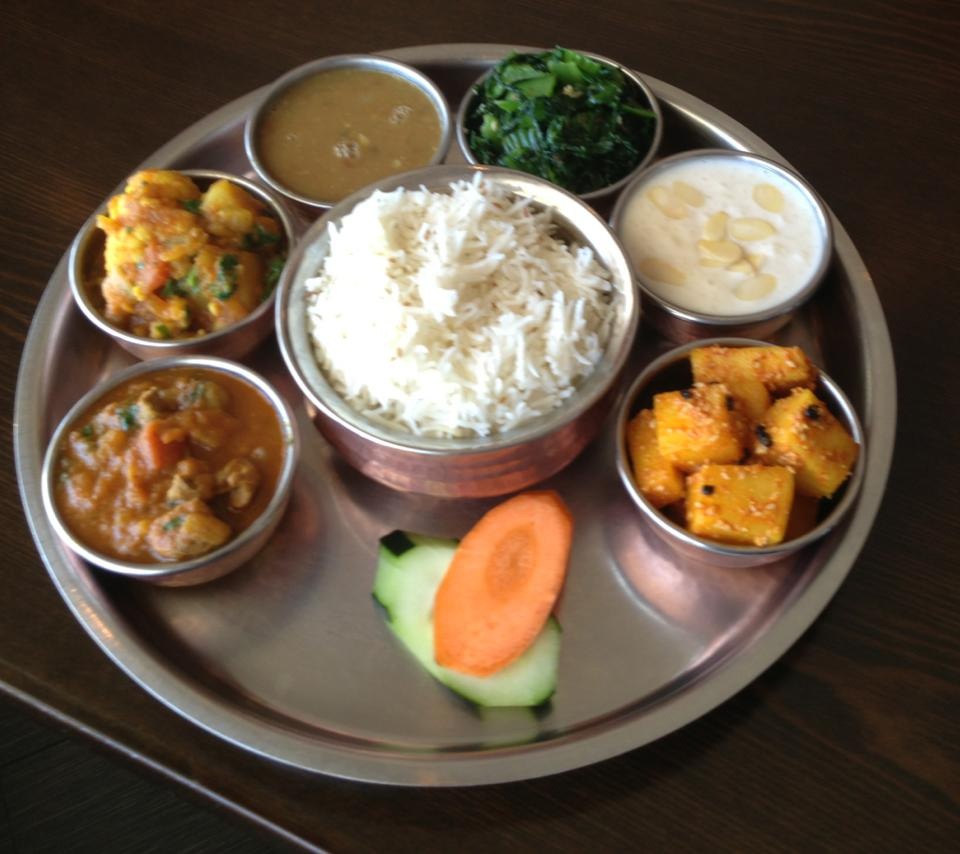 his way up in every aspect of the culinary field throughout the country. "My goal is to make people happy. I try to serve in the best way. If you prepare and serve food nicely from your heart, with love, people will appreciate it. Dining restores the whole body and you must relax and treat your body well. ." When asked whom he would like to serve he replied," I want to serve genuine human beings. The customer is most important," Nuru is a generous man. After the Nepal disaster he made donations to help rebuild the schools and hydro power facilities.

Influences of Chinese and Indian cooking are evident in the Himalayan cuisine. As we checked out the menu, we nibbled on complimentary papadam and chutney. A bamboo steamer arrived with assorted momo, traditional dumplings, homemade from dough to filling. I opted for the tomato, cilantro and fenugreek sauce but a cayenne infused hot sauce is offered, as well. I even got a lesson in how to eat the momo in the traditional way. We pick up the dumpling with our fingers and bite into the opposite corner. Pour some sauce into the opening and bite into this delicious treat. The vegetable, beef and chicken momo each had a distinctive shape and the thick dough paired well with the hearty fillings. You can also order them fried. Very tasty was sha phaley, an individual beef tart encrusted with flaky pastry. The rock shrimp appetizer arrived with many tail off small shrimp glazed and battered with a cornstarch and flour mix for a crisp golden result. A creative original appetizer was a crab cutlet. Mashed potato and crabmeat are mixed together and formed into two nice sized patties. It is Sherpa's own variation of a crab cake, and indeed very good. A variety of chilli with chicken, beef, lamb or pork are appetizers, as well. If you wish to begin your meal with soup, try the traditional thendup variety. My steaming bowl of thendup was thinly hand pulled homemade flat noodles, beef and fresh spinach in a rich beef broth. Thukpa with handmade noodles as well, Lentil soup and momo soup with dumplings are very popular, as well. As I write on a cold and rainy morning a bowl of thendup sounds very tempting. Several salads are available, as well. Himalayan salad with a ginger dressing was appealing.


Several entrees followed. Himalayan style tandoori dishes were amazing. A sizzling platter of on the bone chicken was garnished with sesame seeds. The marinade had the flavors of cinnamon, scallions, fenugreek, and yogurt. Onion, lemon and tomatoes shared this fragrant platter. The special tandoori sauce included chicken stock, ginger, honey, celery and carrots. Quite different in flavor than its Indian cousin and succulent and tender to the taste. Breads are an important part of the Himalayan meal. From the tandoor, clay oven we enjoyed the spinach nan. The dough was filled with fresh spinach and brushed with butter. Warm and inviting. Himalayan nan with a fruit and nut filling and a puffy Tibetan bread were appealing, as well. Among the entrees, we loved the lamb saag. Tender chunks of lamb mingled with subtly seasoned puree of spinach, resulting in a divine dish. Shrimp korma in a sauce of cashews and almonds was delicate and refined and coconut chicken was slowly simmered in a vegetable stock for a fine result. We have yet to try the many curry dishes. For the novice at this cuisine try a thali, a set menu with a variety of dishes on a platter. If you like noodles, do not miss the mixed stir fried noodles with vegetables, egg, beef and chicken. At Jewel of Himalaya they start with their house made noodles and add the freshest of ingredients. The results are mouthwatering. Their biryani dishes with basmati rice is a good choice, as well.

For dessert, we enjoyed a traditional ras malai Rice pudding and galub jaman are similar to those of their Indian neighbors. I look forward to sampling the house made mango, pistachio, cashew and almond dairy free ice cream soon.

Worthy of note, at Jewel of Himalaya cleanliness is of utmost importance. They have a freezer free kitchen where everything is prepared daily.

Jewel of Himalaya
751 Central Park Avenue
Scarsdale, NY 10583
(914) 874-5506

CHICKEN KORMA (Serves 4)

1 and ½ pounds boneless skinless chicken breast in 1 inch cubes
1 tsp. diced fresh ginger
1 clove garlic, finely chopped
A pinch each of cumin, turmeric and cardamom
1 cinnamon stick
2 ounces cashew nuts
2 ounces almonds
Enough water to add to the nuts to blend to a puree
1 medium tomato, chopped
4 ounces chopped onion
Salt and pepper to taste
2 Tbsps. vegetable oil
For the garnish, extra nuts and cinnamon
Additional spices if desired

Place almonds, cashews and 2 ounces of onion with enough water into blender container to form a puree. Set the puree aside. Place oil in skillet and heat. Add the remaining 2 ounces of onion and stir until golden. Add garlic and ginger and stir. Add chicken, tomato, cumin, turmeric cardamom and cinnamon stick and stir well for 5 minutes. When the chicken is browned and the tomato is glazed, add the puree and cook for about 10 minutes. Add additional spice if you wish. Garnish with nuts and cinnamon and serve. Remember to remove the cinnamon stick.
Contributor Judie Dweck has been writing about restaurants and food for many publications. She teaches creative cooking to children at Scarsdale elementary schools. Through the years, her articles have appeared in Jack and Jill Magazine, Spotlight, The Pleasure of Cooking and The Scarsdale Inquirer. She balances her restaurant tastings with daily ballet classes.