A Spectacular Parade Down the Red Carpet
Details

Written by

Joanne Wallenstein

Hits: 4031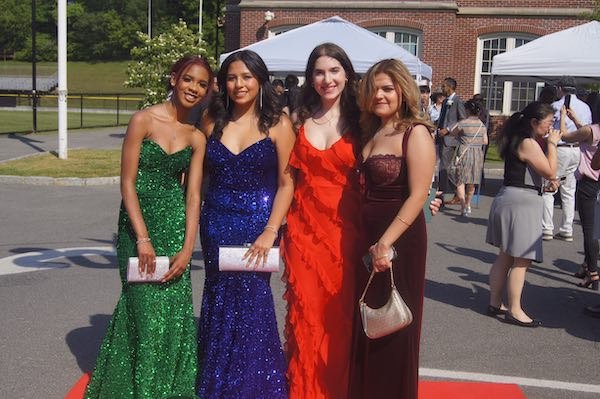 The SHS Class of 2023 had their trip to the red carpet on Thursday night June 1, on the warmest day of the year to date.
They glowed and shimmered in sparkles and jewel tones of vibrant red, blues and greens. The more traditional couples had bowties and pocket handkerchiefs to match their dates' dresses. Others took it to a new level – wearing costumes worthy of the Met Gala or the Emmy's. For the most part, senior girls wore long dresses while juniors sported short.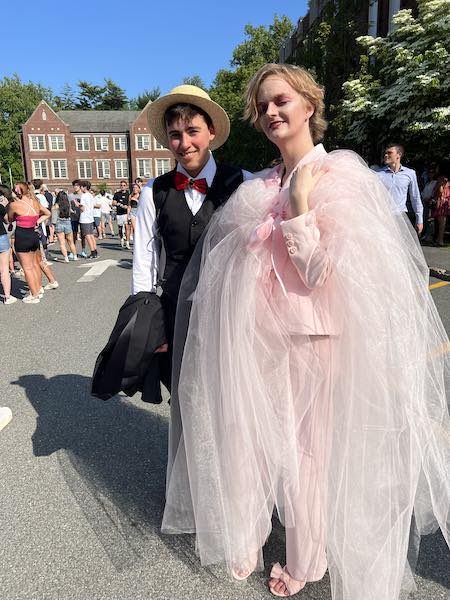 Make-up was also dazzling with lots of shine. Hair for the most part was worn loose and flowing and some chose to dye it in interesting hues.
Some had begun the festivities a few hours earlier at pre-prom gatherings at homes with professional photographers, making for a very long day of posing.
It was a highly entertaining parade for the hundreds of parents, teachers, administrators, friends and community members who came out to view the dazzling spectacle, which was launched in 2003 and has grown to be a prized annual event.

After about an hour of photos, screams and hugs, the class lined up, walked the red carpet and boarded the buses for their 2023 Prom at the Glen Island Harbor Club.
What happened after that will likely remain unreported. But we heard some students had plans to head to Blue Midown, a club in the city, for post-prom parties and then out to summer houses and the Hamptons for celebratory weekends.
Presenting the Class of 2023 in metallics....
In red
In blue
In green
In high fashion

And in all the colors of the rainbow
If you don't see your photo here, please email it to us at scarsdalecomments@gmail.com to add to the gallery.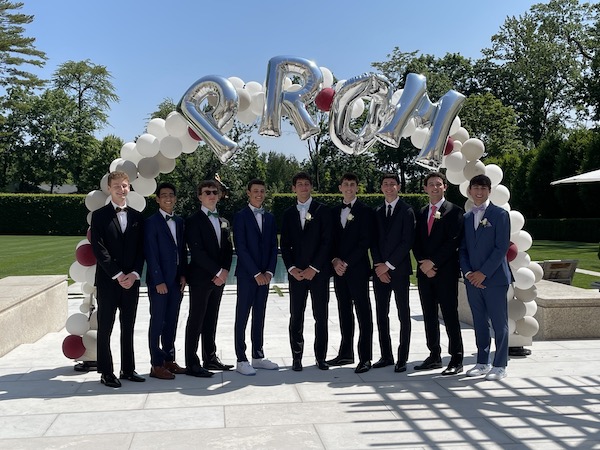 Promposals: Love is in the Air
Details

Written by

Vivian Zweig

Hits: 939
It may not be Valentine's Day, but love is still in the air for Scarsdale High School seniors. With this year's prom approaching quickly on June 1st, seniors are rushing to construct and execute elaborate "promposals." For those of you who may not know, a "promposal" is an elaborate way of asking someone to go to prom, usually involving bouquets of flowers and hand-crafted posters. This year, I saw fairy lights laid out in front of windows to spell "Prom?" and rooms decorated with balloons and candles. I even saw someone hire a mariachi band to serenade their to-be date! But among them, two particularly stood out to me.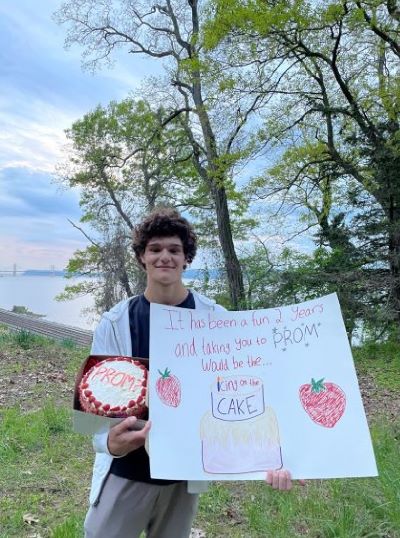 Alex V and Jadyn S are nearing their two-year anniversary and have been a couple since the end of their Sophomore year. The couple has a special spot where they regularly go to watch the sunset and have picnics, and Alex recognized that it was the perfect spot to stage his promposal. Alex gathered an array of food—bread, cheese, olives, crackers, shrimp, pasta, and more—for a candle-lit picnic. He picked Jadyn up and took her to the spot, where he told her to open an inconspicuous cardboard box. Inside it, Jadyn was shocked to find a homemade vanilla cake with the word "Prom?" on top. While Jadyn was opening the cake, Alex retrieved a handmade poster with the sentence: "It has been a fun 2 years and taking you to PROM would be the… icing on the cake!" The couple was then enjoying a romantic picnic when disaster struck… the weather turned dark and stormy. Refusing to let the incoming storm ruin their date turned promposal, they drove to Kensico Dam, where they opened the trunk, set up the picnic in the back, and enjoyed the candle-lit ambiance in the rain.

It's near-impossible to top that promposal, but Oliver D.F.A executed an equally elaborate and creative plan for his girlfriend, Alicia X. For the past few weeks, Oliver has been interning at one of the five elementary schools for his senior options. Alicia had been asking to meet his class, and Oliver decided to deliver. After hours, maybe even days, of brainstorming the perfect promposal, Oliver gathered 19 pieces of paper, pencils, erasers, paintbrushes, red paint, and a few friends. After a few hours, each piece of paper had a bright red letter on it.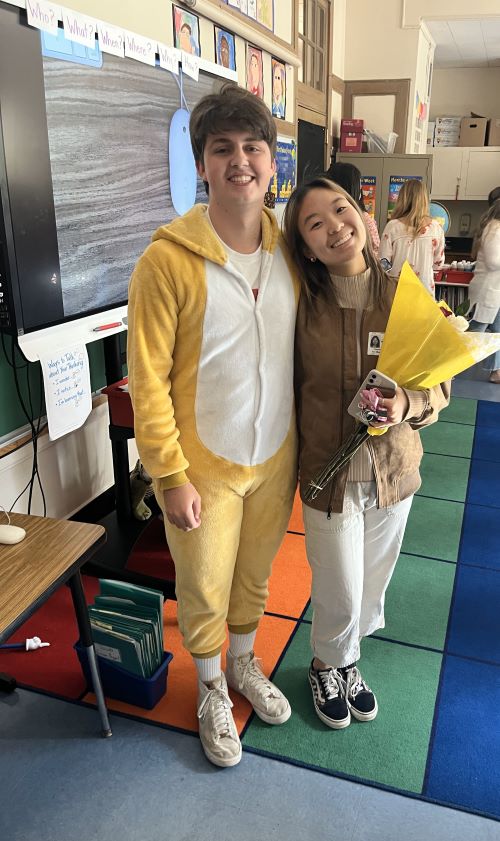 His recruitment for help executing his plan didn't stop there. After checking with the teacher in advance, Oliver handed each student in his class a letter and arranged them in a specific order. With Alicia on her way, Oliver stepped into a bear costume and retrieved a bouquet of flowers. Alicia was shocked to find her boyfriend, in a bear costume, with a bouquet of flowers, surrounded by students holding pieces of paper that spelled out, "Be the honey to my bear?" Oliver had decided to make his promposal a callback to the numerous teddy bears that he's gifted Alicia, and she was overjoyed by his elaborate idea.
With "promposal season" coming to a close, like every year, the juniors have big shoes to fill! This year, the prom will be held on the evening of June 1st at the Glen Island Harbour Club in New Rochelle. Pre-Prom festivities, such as the red-carpet ceremony, will begin at 4:00 PM in the Dean Field parking lot and are open to the public.
Latimer Reflects on the Possible Arrival of Asylum Seekers in Westchester County
Details

Written by

Joanne Wallenstein

Hits: 949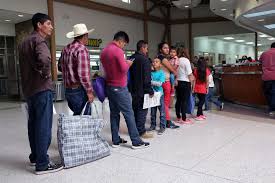 More than 60,000 immigrants from the southern border have been transported to New York City in the past few months. Strained for resources, NYC Mayor Eric Adams has run out of space in city shelters and is converting facilities like gyms into temporary housing. Last week it was revealed that NYC has leased space in two hotels in Rockland County to house 340 adult male migrants.
However, that move is being blocked by Rockland County Executive Ed Day. In response, he declared a "state of emergency," and said that any hotels who accepted the asylum seekers will be fined $2,000.
Though Westchester County has not received any specific information about housing asylum seekers here, County Executive George Latimer anticipated that a similar request would come and addressed the issue at his press conference on Monday May 8, 2023 when he said, "We are discussing the issue with relevant departments as to what Westchester's response should be. We have not received specific examples of a placement in Westchester County."
He looked at the issue in both practical terms and moral grounds, exploring what the county is obligated to do and what it might do to assist those in need.
He said, "We have had a problem at our Southern border for an extended period of time. Everyday life for the people who live in some countries south of the border is very problematic. We are an attractive place for people to come to. We do not have is a national policy that has been properly debated and implemented."
He looked back at the history of the issue, noting some recent transports of asylum seekers into the county along with the influx of immigrants in the early 1900's of his own ancestors.
He noted, "This is not the first time this has happened. In 2018 President Trump placed 1,000 immigrant children across Westchester County. We asked for directives and "HHS told us to "butt out", that the Federal Government was in charge.
He continued, "In 2021-22 the Biden administration scheduled relocation flights for immigrants and used Westchester County Airport as a portal to deliver immigrants and ferry them out to various locations."
He said, "There are 7,000 asylum seekers a day at our border. Some have been sent to New York and Martha's Vineyard. NYC has received 60,000 immigrants over the past few months from Texas and Florida. Some believe there should be a path to citizenship and some believe we should not let immigrants into the country. It falls to state and local governments to deal with it."
He looked back on the history of Irish and Italian immigrants who were not welcomed and were called WOPS (without papers) and Jews who fled pogroms to resettle here. These immigrants included Latimer's own great grandfather who came to the U.S. and had 13 children, one being Latimer's grandfather.
Latimer said, "There is a practical aspect to this. If immigrants come here, what is the legal basis and what is the cost? We need to know the timeline and for how long. What kind of services can be provided to undocumented aliens? I have a fiduciary responsible to the people of this county and to make sure people are protected."
"We will talk to colleagues in other counties, in NYC and from the federal government to get answers."
Referring to Rockland County Executive Ed Day's decision to declare a state of emergency, Latimer said he asked counsel for a legal decision on whether or not he can he declare a state of emergency? He was told, "No, that is not the law.'
Reflecting on the crisis, Latimer said, "Human compassion must be met with pragmatism…We cannot solve every problem but we cannot turn a blind eye either."
Quoting Matthew from the Bible Latimer espoused on our moral obligation to our fellow man.
For I was hungry and you gave me food, I was thirsty and you gave me drink, I was a stranger and you welcomed me, 36 I was naked and you clothed me, I was sick and you visited me, I was in prison and you came to me.' 37 Then the righteous will answer him, saying, 'Lord, when did we see you hungry and feed you, or thirsty and give you drink? 38 And when did we see you a stranger and welcome you, or naked and clothe you? 39 And when did we see you sick or in prison and visit you?' 40 And the King will answer them, 'Truly, I say to you, as you did it to one of the least of these my brothers,[a] you did it to me.'
Scarsdale/Edgemont Girl Scouts to Raise $25,000 for Betty Taubert Girl Scout House
Details

Written by

Jennifer Donohue

Hits: 421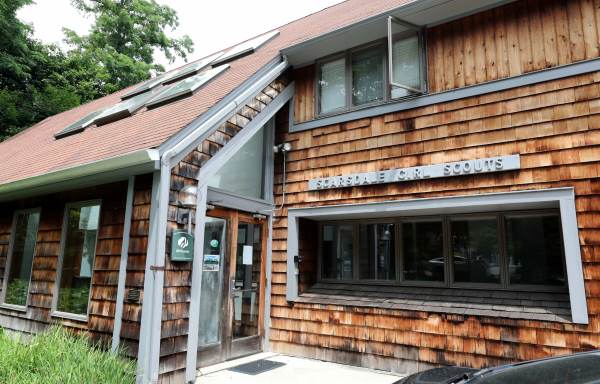 Jennifer Donohue, from the Girl Scouts Heart of Hudson, shared the following letter:
The Scarsdale/Edgemont Girl Scout community is working to raise $25,000 for capital improvements to the Betty Taubert Girl Scout House on Wayside Lane. The Village of Scarsdale received a NYS Community Development Block Grant of $120,000 that is to be matched through contributions from the Scarsdale/Edgemont Girl Scout (SEGS) Service Unit, Girl Scouts Heart of the Hudson, Inc. (GSHH), and the Village of Scarsdale (the Village).
The Betty's House Campaign is chaired by adult members of the Scarsdale/Edgemont Girl Scouts, Donna Marie Caro, and BK Munguia. To date, the campaign has raised nearly $8,000, and SEGS is reaching out to the community to help raise the additional $17,000. The funds will go toward a number of repairs at the Betty Taubert Girl Scout house, including adding an air-handling ventilation system and air purification units, installing a new roof, replacing the exterior doors and windows, as well as upgrades to the kitchens, flooring and HVAC system.
There has been a Girl Scouts House in Scarsdale for over 80 years. The Betty Taubert Girl Scout House has stood for over forty years after being rebuilt after a fire destroyed the original house. The grant, and matching funds raised, will help ensure that Girl Scouts in the Scarsdale/Edgemont community, a service unit of Girl Scouts Heart of the Hudson, will continue to have a dedicated place to hold troop meetings, community activities, and continue programs that help girls develop friendships, discover hidden talents, and become the leaders of tomorrow. A number of other community groups use the building as well.
One Cadette (Grade 6-8) Girl Scout said: "Betty's Girl Scout House is important to me. Some of my favorite Girl Scout memories have taken place there – where we've celebrated with other Girl Scouts. Since I was a Daisy in kindergarten, the house is where we've held Halloween parties, holiday parties, sleepovers, bridging ceremonies and more. It's been a great place to meet with younger scouts to teach them what we've learned as older scouts. I want it to be here for many years for more Scouts to come."
Donations can be made online at www.girlscoutshh.org/BettysHouse. Contact Kari Willis, GSHH Chief Philanthropy Officer at kwillis@girlscoutshh.org or 845-236-6002 ext. 748 with any questions.
Girl Scouts Heart of the Hudson (GSHH) serves over 14,000 girls and 8,000 adult members throughout Westchester, Rockland, Putnam, Orange, Dutchess, Sullivan, and Ulster Counties. At GSHH, they are part of a community of girls and women looking to serve the community through individual and group service projects as they discover new skills and interests and experience new challenges. GSHH offers every girl a chance to practice a lifetime of leadership, adventure, and success.
50 High School Girls Learn How to Engage in the Political Process
Details

Written by

Leah Dembitzer

Hits: 931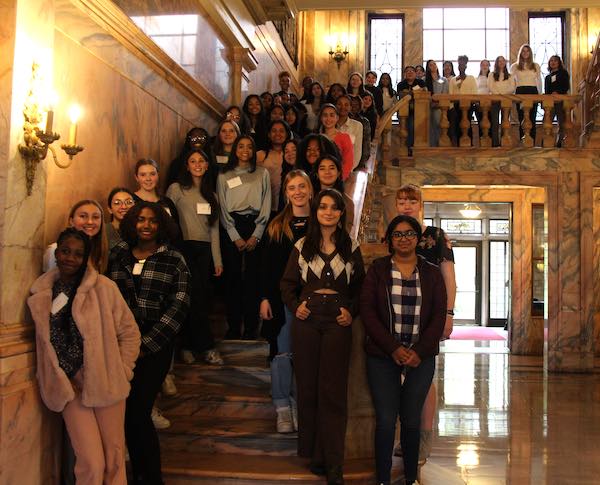 On Thursday, April 27, the League of Women Voters Westchester hosted its annual Running and Winning workshop at Reid Castle at Manhattanville College. Forty *female elected officials from throughout Westchester met with 50 *female high school students from our county.
Running and Winning is a unique and inspirational workshop, the purpose of which is to inspire and encourage young women to run for political office. In addition to supporting the students' aspirations to serve in public office and develop their leadership potential, another purpose of the program is to help our government institutions increase gender parity.
Elissa Ruback and Leah Dembitzer chaired the event for a second year. Dembitzer commented: "Running and Winning is a unique and meaningful opportunity meant to inspire and educate young women with interests in politics and advocacy. A connective theme highlighted by many of our attending elected officials was to encourage young women to use their voices and to be change-makers. We are so proud to bring this special event to students and grateful to elected officials who told their stories to inspire the next generation of leaders."
The young *women who participated (the League employs an inclusive definition of "woman" and "female" and welcomes all people who identify as such) were selected by their school administrators and faculty to participate in this program. The program agenda included both learning from elected officials' experiences and practical applications of public policy.
After a welcome and breakfast, the students and elected officials heard brief remarks from several elected officials from different levels of government, including: NYS Senator Shelley Mayer; County Legislator, Margaret Cunzio; Mount Vernon City Council President, Danielle Browne; White Plains City Councilmember, Jenn Puja; Yonkers Councilmember, Shanae Williams; County Legislator, Catherine Parker; County Legislator, Jewel Williams Johnson; Yonkers City Council President, Lakisha Collins-Bellamy; and Tuckahoe Mayor, Omayra Andino.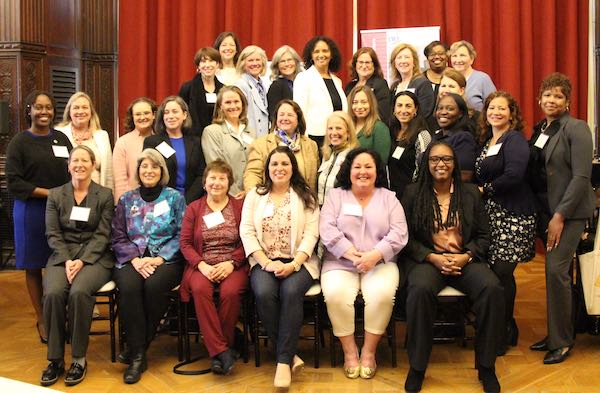 In these remarks, the officials spoke of their journey to elected office. Senator Mayer spoke about spending many years working in low-visibility positions to support elected officials and the importance of being the leader of public policy campaigns. She encouraged the students to make change by being the person whose voice is heard, emphasizing that when you're the elected official, you are the one who truly influences change.
Legislator Cunzio said that she was privileged to speak to the students and emphasized that for many years, she had been working in the background of a male-dominated field. Cunzio connected her career in politics to her experience as a volunteer firefighter. Although she is the sole woman among her male coworkers, she runs into burning buildings to provide a critical service to her community. The whole room broke into applause upon hearing her story. Cunzio also spoke of the importance of being true to your own voice, and that sometimes you may be the only one in the room on one side of an issue.
Councilmember Puja told a story about her childhood and a 5th-grade teacher who told her that "girls like you give other girls a bad name," since she asked so many questions. Now, she is the youngest council member elected to White Plains City Council and she is the advocate and voice for the Westchester-Putnam Central Labor Body, where she serves as its director.
Councilmember Williams spoke about her road to elected office and all the people who underestimated her and told her "No." She persevered, even when those with more power discouraged her, and is now the first Jamaican-born American elected to the Yonkers City Council and currently the youngest council member. Both she and Yonkers City Council President, Lakisha Collins-Bellamy, spoke about the importance of the candidate petition to get onto the ballot – to get more signatures than you need since signatures may be challenged.
Collins-Bellamy also spoke about the importance of education in opening doors for young women. She was born in Yonkers to teenage parents; people told her parents that she would be a statistic and that she wouldn't graduate from high school. Collins-Bellamy went on to college, the first in her family, and then onto law school. She is the first woman of color to be elected as President of the Yonkers City Council.
Mayor Andino spoke about getting pregnant at the age of 18 as she was about to follow her brother to Cornell. She said her mother told her, "Don't let this define you." Andino spoke of her journey to elected office as a woman of color in a community that is primarily white. When she was first elected to the Tuckahoe Board of Trustees, she was the only woman of color on an all-white, all-male Board of Trustees. Now, she says, there are five women serving on the Tuckahoe Board.
Following the speeches, the students participated in three rounds of casual interviews with various elected officials who rotated throughout the room. After the morning sessions, the students worked on mock campaigns, with each student in a given group taking part as either: a candidate, campaign manager, speechwriter, publicity/communications chair, or fundraising/development chair. Potential issues offered by the League for campaign platforms included: organizing a Mental Health Community Center, organizing an Immigrant Support and Resources Center, and supporting a Plastics Ban. The majority of student groups chose to run with the Mental Health Community Center as their issue, discussing the prevalence of mental health issues for young people. The students' campaigns conveyed that the collective mental health of women/girls in their generation has been influenced by many factors including pandemic isolation, frequent school shootings, and challenges to a woman's right to choose. Some groups also shared their support for an Immigrant Center, citing their own experiences as first or second-generation immigrants and the need to support and value immigrants in our communities.
Here are some comments from the students who participated in the program: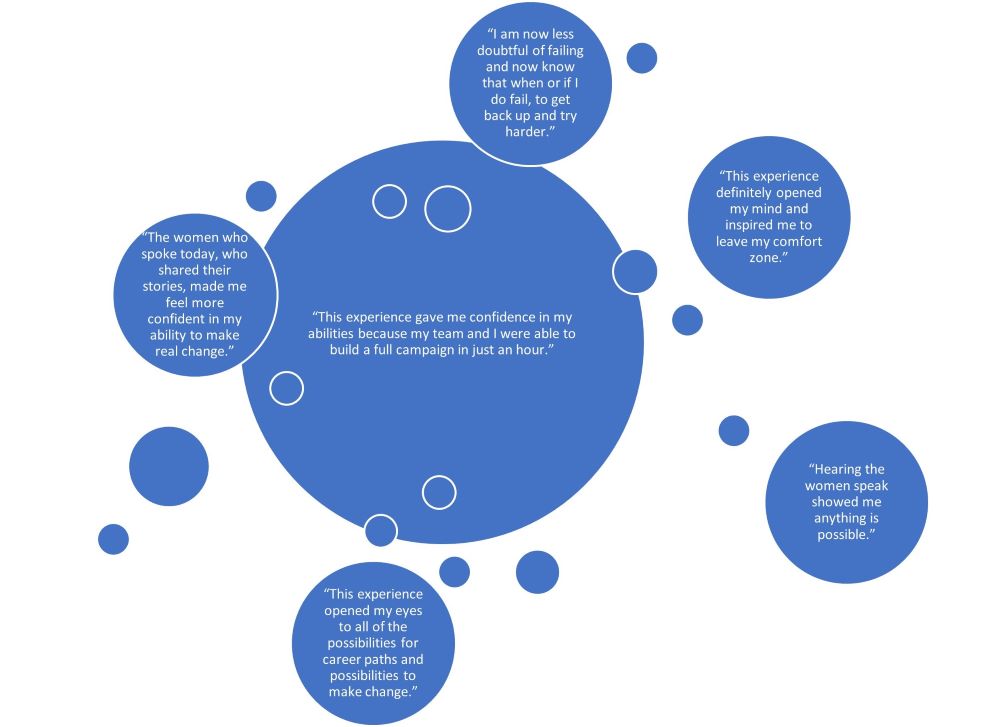 Running and Winning 2023 was sponsored by the League of Women Voters Education Fund, the Westchester Community Foundation, the Westchester Black Women's Political Caucus, the Westchester Library System, the Business Council of Westchester, Manhattanville College, and the American Association of University Women.
*LWVW uses an inclusive definition of female.