Seniors Say Goodbye to Trainer Tim, Nordic Edge Opens in the Village
Thursday, 07 June 2018 12:52
Last Updated: Thursday, 07 June 2018 13:51
Published: Thursday, 07 June 2018 12:52
Hits: 3866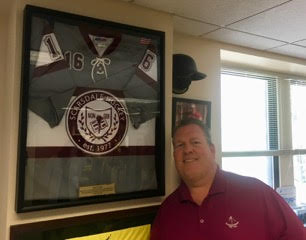 On May 7, 2018, Senior members of the Scarsdale High School Varsity Ice Hockey team presented long time trainer Tim Tyler with a custom hockey jersey to commemorate his final season with the team. Since 1999, Trainer Tim has been a Trainer, Mentor, and Coach to hundreds of Scarsdale high school varsity ice hockey players and has been a big reason for the program's long time success.

When told about the presentation of the jersey to his long time team trainer and friend, Jim Mancuso, Scarsdale High School's long time varsity ice hockey coach had this to say, "Tim was All In from day one. When he first stepped on the ice with us to his last day with me he was 100% contributing to the betterment of our players and our team. Tim has no halfway effort in him. He was a very passionate guy for our team and always gave his best for our players both for their athletic improvement and for their health issues. He was often times so involved his voice would jump up a few octaves when he yelled encouragement to our players from our bench."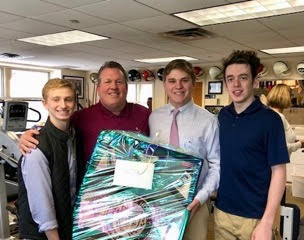 Seniors Sam Seltzer, Anthony D'Ambrosio, and Mike Schur representing the entire 2018 Scarsdale High School Varsity Ice Hockey team, presenting Tim Tyler with his custom jersey.This past season marked Mr. Tyler's final season with the ice hockey program. He will be sorely missed.
Nordic Edge Grand Opening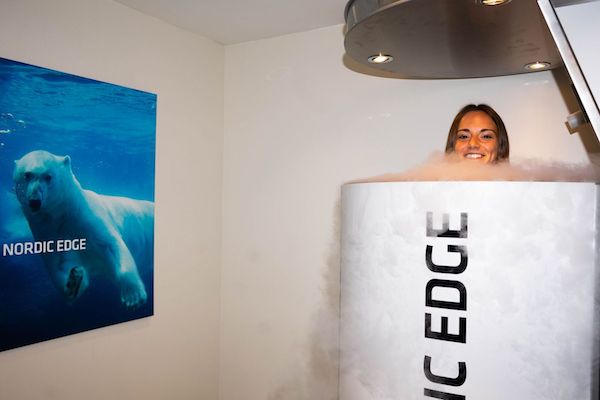 A demonstration of Nordic Edge's whole-body cryotherapy machineNordic Edge, a premier modern health and wellness center, celebrated its official grand opening in Scarsdale, NY (58A Christie Place) on Thursday, May 31, 2018, marking the third location for the growing company. Nordic Edge also has stores in Eastchester, NY and New Canaan, CT.
Nordic Edge offers a variety of cutting-edge health treatments, including whole-body and localized cryotherapy; infrared heat therapy; compression therapy; salt therapy; vibroacoustic therapy and the Nordic Facial. It offers the latest advances in cryotherapy and innovative solutions to help individuals achieve their wellness goals.

"Nordic Edge is thrilled to join the Scarsdale community," said Dr. Marie O'Connor, President of Nordic Edge. "We are excited to provide our modern health and wellness treatments to help people look and feel their very best."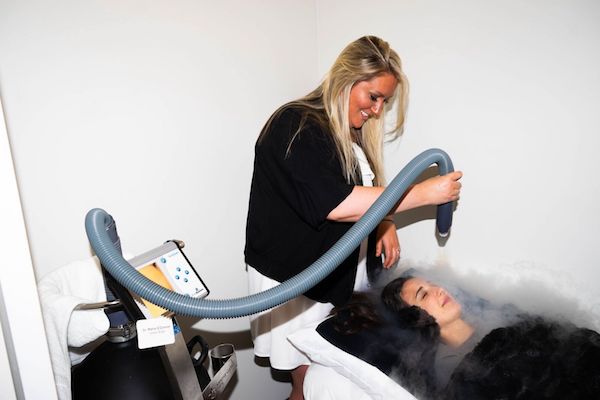 Dr. Marie O'Connor provides a Nordic Facial"One of our treatments is cryotherapy, a rapidly growing and advanced therapy that's become very popular with top athletes and celebrities. We are now making it more accessible for everyone to enjoy its many benefits – such as reducing pain and inflammation, improved blood circulation, boosting metabolism and energy, reducing stress and anxiety, tightening skin tone and much more," added O'Connor.

Nordic Edge offers its signature "Freeze Parties" – which includes services for groups to reserve and enjoy together. It also provides "On The Go" wellness programs for businesses seeking to have a healthier, happier and more productive workforce.
For additional information about Nordic Edge, please visit: www.thenordicedge.com.