Neighborhood Notes: Scarsdale Foundation Offers Scholarships, Greenacres Neighborhood Association Calls for Board Members
Thursday, 16 May 2019 13:00
Last Updated: Thursday, 30 May 2019 18:53
Published: Thursday, 16 May 2019 13:00
Joanne Wallenstein
Hits: 2717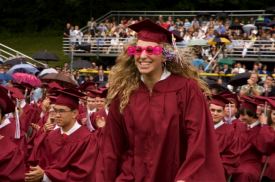 Students who graduated from Scarsdale High School or lived in Scarsdale during high school and who have completed their first, second, or third years of college are invited to apply to the Scarsdale Foundation for tuition assistance. For the 2018-2019 academic year, the Foundation awarded need-based grants totaling $130,500 to students attending private and state-supported colleges and universities.
Applications for the 2019-2020 academic year should be submitted online from the Scarsdale Foundation's website: www.scarsdalefoundation.org (click on the College Scholarships link). Completed applications must be submitted by Monday, June 3, 2019. You may contact Scholarship Committee Co-Chairs Anne Lyons or BK Munguia at: scarsdalefoundationscholarship@gmail.com. Please note "Scarsdale Foundation Scholarship Inquiry" in the subject line of your email.
The Foundation welcomes contributions from the community to augment the funds available for distribution each year. Contributions may be donated to a specially earmarked Scholarship Fund of the Scarsdale Foundation, enabling the Foundation to carry on the tradition of helping our students in need pursue a college education. Donations may be made online by visiting the Foundation's website or mailed to the Scarsdale Foundation at P.O. Box 542, Scarsdale, NY 10583.
For more information regarding the work of the Foundation, please visit our website: www.scarsdalefoundation.org.
CONTACTS:
Anne Lyons
aulyons@gmail.com
914-725-9810
BK Munguia
Beeks58@aol.com
914-472-4053

Greenacres Neighborhood Association Calls for Board Members
The Greenacres Neighborhood Association (GNA) is looking for neighborhood residents who are interested in joining its Board. The GNA is the largest neighborhood association in Scarsdale and represents the entire area serving Greenacres Elementary School. The GNA produces number of social and informational events including our June 1st Spring Fling. Anyone living in Greenacres, who is interested in joining the Board, should contact either Kathy Steves at steves10583@gmail.com or Mona Longman at mlongman5@gmail.com for more information.