College Students: Pay It Forward!
Tuesday, 11 June 2019 10:56
Last Updated: Wednesday, 12 June 2019 13:03
Published: Tuesday, 11 June 2019 10:56
Joanne Wallenstein
Hits: 2666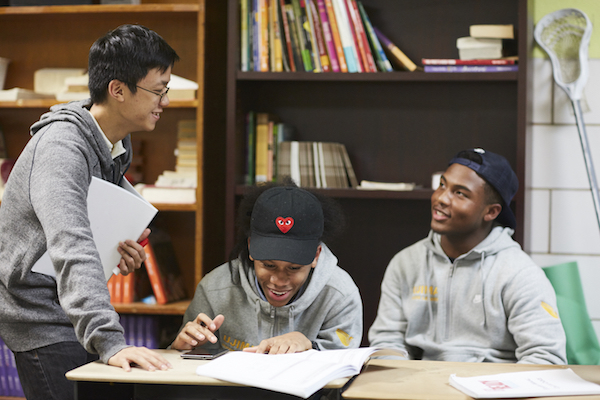 Let's Get Ready, a nonprofit founded by Scarsdale alumni to level the playing field in college access, is recruiting college students (or '19 high school or college grads) to volunteer 1-2 evening per week this summer as College Coaches, providing FREE SAT prep and college application advising to low income high school students in Mount Vernon, White Plains New Rochelle, Stamford, and NYC.

-Volunteers teach either Math or Reading/Writing sections of the SAT 1-2 evenings per week and are provided with training, curricula, and support.

- Volunteers must attend training on June 18 or 21 and be available to teach one evening per week from June 19-Aug. 8. (Great to do after work or internship!)
Let's Get Ready responds to a crisis in access to college and opportunity. A student from a low-income family with an A average in high school is only as likely to go to college as a child with a C- average from an upper-income family, and nationally, only 16% of low-income students who enroll in college actually graduate. This leads to persistent intergenerational inequality and poverty as a person who graduates from college will earn more than $1million more over their lifetime than someone with just a high school degree and their children are twice as likely to go to college.
Let's Get Ready is a nonprofit founded by seven SHS alums who were in college and home for the summer in 1998. They realized that they were near experts in college admissions having invested tremendous time in their applications and SAT prep, and that while that knowledge was now useless to them, it could benefit younger students who could not afford costly SAT prep or who didn't have parents who went to college and were familiar with the process. They pooled their knowledge and and began teaching a group of 30 students SAT prep and offering college application help in a Mount Vernon church basement. Let's Get Ready continued and evolved and now through year-round campus-community partnerships from Maine to Philadelphia offers help for students applying to college and also support and mentoring once they are in college to help ensure that they graduate. The organization is celebrating its 20th Anniversary and has helped 33,000 deserving high school students get to college with great results. 92% of LGR students enroll in college after high school and they graduate at 5x the rate of low-income students overall.
Melika Forbes, a student that first summer who got into Syracuse University in part thanks to raising her SAT scores 200 points in the program went on to join Teach For America. She then went to law school and is now General Counsel for the charter school network Achievement First "Let's Get Ready opened opportunity for me and has influenced nearly all my life choices," Melika wrote.
The impact on many of Let's Get Ready's volunteer College Coaches has also been profound as many go on to careers in education or public service and often cite Let's Get Ready as the experience that ignited their passion.
For information and to apply to volunteer: www.letsgetready.org/coach