Scarsdale Residents and Students To Raise Money for Alzheimer's Research
Tuesday, 03 September 2019 11:21
Last Updated: Tuesday, 03 September 2019 11:32
Published: Tuesday, 03 September 2019 11:21
Joanne Wallenstein
Hits: 2124
Rhonda Hunt of Barrys Bootcamp warming up the crowd at last year's walkOver 1,500 people are expected to participate in The Westchester Walk to End Alzheimer's on Sunday, September 29th at SUNY Purchase. The Walk is a very moving event where people come together, honor their loved ones and raise funds with the hope of finding a cure for this disease. The crowd will include babies, Alzheimer's patients, caregivers and a lot of dogs! The funds raised at the Walk support the research as well as the chapter's care efforts in the local communities. To donate, register or join a local team, please visit www.westchesterwalk.org.
Over 20 years ago the first Westchester Walk to End Alzheimer's was held at White Plains High School. Scarsdale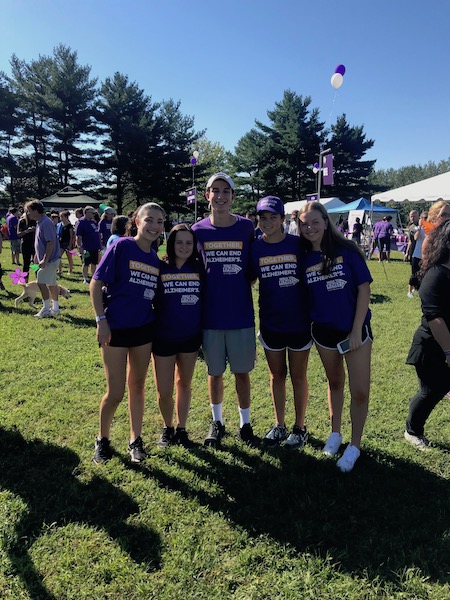 The Scarsdale High School team at the 2018 walkresidents Abby Salzman, Barry Meiselman, Eileen and Claire Hogdgon were among the earliest walkers. To this day, they continue their fight to find a cure for this disease. They remain active as volunteers and walk in memory of someone they have lost to Alzheimer's. Alzheimer's is relentless, has no cure and unfortunately almost every person has a relative or friend that has been impacted by this disease.
In 2017, Abby Fehrenbaker, a Senior at SHS founded the Scarsdale Club for Alzheimer's Awareness Research and Services, SCAARS. Its mission is "to spread awareness about Alzheimer's Disease, provide a resource to students going through a dementia related situation and to promote personal outreach and involvement with patients and caregivers." Team SCAARS plans on walking with several students this year in an effort to raise funds for a cure for this disease.
Several other residents walk and/or volunteer as individuals, with their families, with local residences, churches and temples, including Westchester Reform Temple Jewish Learning Lab. "The Westchester Reform Temple (WRT) community is proud to be a part of the Walk to End Alzheimer's again this year," said Felicia Block, Assistant Director of Jewish Learning Lab. "It is a wonderful way for our children and families to start the Jewish New Year, thinking about helping others and supporting the research and services to those living with and fighting to find a cure for Alzheimer's. We can't think of a better way to spend our day."
Julie and Dana Salzman