Expert Panelists Answer Sensitive Issues About Womens' Health
Monday, 28 October 2019 17:30
Last Updated: Monday, 28 October 2019 17:37
Published: Monday, 28 October 2019 17:30
Joanne Wallenstein
Hits: 4525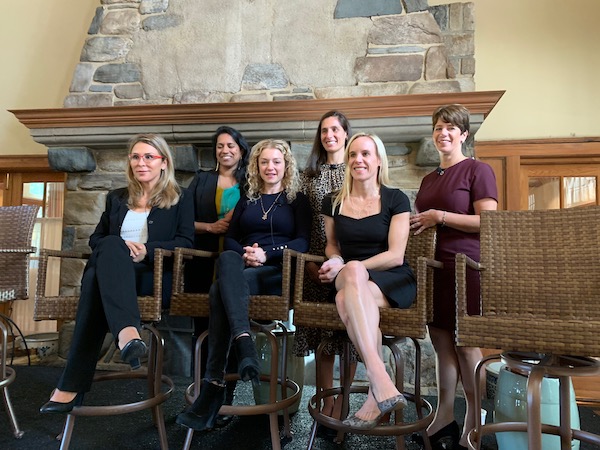 "Many things get better as we get older – but many get worse," admitted Dr. Kay Lovig, with a laugh. But then the endocrinologist from White Plains Hospital went on to offer numerous valuable suggestions and solutions for women confronting health issues as they age. This was the topic at a panel discussion on Thursday October 24th at Sunningdale Country Club that featured four physicians and a family nurse practitioner, all ready to address women's concerns about "What the Heck is Happening to My Body?!" Sponsored by White Plains Hospital, the breakfast event drew a crowd of almost 200 women. The panelists demystified many problems that women experience and are often hesitant to discuss whether it is with their friends or their doctors.

The discussion was hosted by Dara Gruenberg, a member of the White Plains Hospital Foundation Board, whose idea it was to create this safe forum for dialogue. Gruenberg opened the discussion by saying that "the impetus for the event is that I feel women deserve to have conversations about what is happening to our bodies as we age out in the open, in the light of day." She organized questions by topic, eliciting frank answers from the experts by allowing attendees to submit their queries anonymously before the event. As the discussion went on, audience members could ask direct questions themselves or send up a card with a written questions too. The audience was on the edge of their seats, eager to hear real answers to questions that many never had the courage to ask. Gruenberg did a great job of keeping the conversation going and focusing on information the audience wanted to hear. One attendee said, "At times, a doctor would speak scientifically, but Dara gently interjected, asking her to repeat her answer using less technical language. I got so much out of this."

Topics included hormonal health, sleep issues, changes in aging skin, preventive care, breast health, sexual health and myth busting. No topic was off limits, including those that got a laugh, like hair growth in new places and hair loss in others; to those met with knowing concern, like facing treatment for breast cancer. The message from all the panel members was one of empathy, empowerment and self-advocacy. Melissa Ferrara, a family nurse practitioner from Maze Women's Sexual Health, suggested, "If one option doesn't work for you, go back. Ask for another approach."

Since October is Breast Cancer Awareness Month, breast cancer was top of mind. Breast surgeon, Dr. Ananthakrishnan, was asked what women could do to prevent breast cancer and if there was any link between breast cancer and soy consumption. She said, "There's no magic to preventing breast cancer. Eat green leafy vegetables, whole grains and food in its natural state. Stay away from fatty fried foods. Limit drinks to 4-7 per week, take vitamin D and get 40 minutes of exercise at least three times a week." About soy, she said, "soy is okay in moderation…. It would be hard to eat enough soy to bump your estrogen level."

Preventative health was top of mind for all of the panelists, who all considered lifestyle choices an important part of health management. Of course, no one offered a magic fountain of youth, not even dermatologist, Dr. Athena Kaporis, who made some welcome suggestions for reducing the effects of aging on the skin. When asked about the value of Collagen powder she debunked the myth that its actually effective because the powder gets broken down through the digestive system.

What else happened? Well, as the saying goes, what happens at a women's health panel discussion stays at a women's health panel discussion! But I can share that the main take away from the event was to seek help from a doctor if issues arise and to know that resources are available. This was stressed several times throughout event, including providing follow up information for all of the panelists. After the event, an attendee offered, "It's good to know I am not alone."

Kudos to the panelists and White Plains Hospital for presenting so many manageable options to treat the often ignored effects of aging for women.