Volunteer Profile: Tim Foley, "Ut Prosim --That I May Serve"
Thursday, 14 November 2019 08:02
Last Updated: Thursday, 14 November 2019 16:18
Published: Thursday, 14 November 2019 08:02
Joanne Wallenstein
Hits: 3268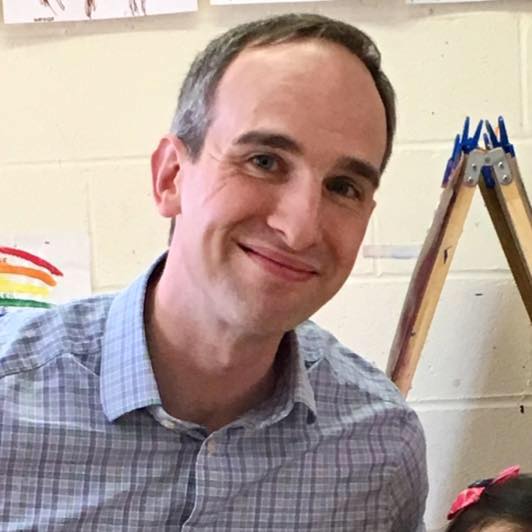 Continuing our series of interviews with volunteers who give so much of themselves to Scarsdale, this week we profile Tim Foley, the current President of the Scarsdale Forum, along with many other roles. He only moved to town six years ago -- and has developed a remarkable volunteer resume in a very short time. Here is his story:

How did you first become interested in civic engagement? What in your background and experience led you on this path?
The notion that being part of a community meant investing your time, your energy, and your talents into it to help it grow, make it better for your neighbors and for future generations influenced my outlook and my sense of self from my earliest days. Community engagement and public service are my family's motto – quite literally! The Foley coat of arms has the inscription, "Ut Prosim," meaning "That I May Serve." I was fortunate enough to attend a Catholic high school in Massachusetts that also drilled into us that we were charged not just to excel in faith and reason, but to "Give what you've been given." My parents reflected that in their career paths: my dad is a retired Boston Police Office and my stepmom recently retired as a public school teacher in Boston.
Living on the Upper West Side of Manhattan, I was constantly finding new ways to be of service, from a few years as an Auxiliary Police Officer in the 24 Precinct to serving on the Parish Council for my neighborhood Catholic Church. Since 2005, my career focused more and more – and ultimately exclusively – on politics and government, so I've been fortunate enough to dovetail the mission of my work and the motivation of my volunteer activities around a common theme of making progress on behalf of my neighbors and our community.

How long have you lived in Scarsdale? Why did you decide to move here and what are some of the reasons you like to live in town?

My family moved to Scarsdale 6 and a half years ago. I had never lived outside of a city, but my wife had grown up in Hartsdale and was far more familiar with the area than I was. I had spent a lot of time over a number of years presenting at educational forums and living room gatherings throughout Westchester County as a subject matter expert on the issue of health care reform. Ironically, Scarsdale was one of the locations I'd never come to, but I knew great volunteers and activists here, like Myra Saul and Jeff Levin, and that gave me some hope that I'd fall in with a good crowd.
Like most families that continue to move to Scarsdale year after year, we came for the schools. The quality of education certainly has not disappointed. I have thrilled to see my son's academic progress under superb teachers each and every year. With multiple teachers in my family, and with some personal experience dealing with the complex policy issues of financially struggling municipal governments and school districts, I have even more appreciation for the wealth of resources and the incredible inspiration, creativity, and love of learning the teachers and the school district work so hard to impart.
Scarsdale's nickname of "A Village in a Park" is also very well deserved. On a crisp autumn afternoon, driving around town continues to be a breathtaking experience, and there's nothing my daughter loves more than to spend some free time at the playground at Hyatt Field.
But by far my favorite part of living here are the people I've met. Scarsdalians are likely to be highly educated with very high standards for themselves and their community. But I've also found that most are very warm, people who put their families first, and have a real sense of pride in how our community continues to grow and change. I have friends whose families go back multiple generations in Scarsdale, friends who made their own journey here from New York City or elsewhere less than a year ago, and neighbors who have only been in the United States for a few months, but the common sense of purpose among all of them is palpable.
What were some of your initial volunteer activities here? Did anyone you met encourage you to get involved?

I knew I wanted to join the Scarsdale Democratic Town Committee (which I did and was ultimately voted in as Third Vice Chair) but was unsure how else to navigate Scarsdale's very busy volunteer scene. At the time I moved here from the Upper West Side, I had been elected twice as President of the local Democratic Club which counted Assemblymember Linda Rosenthal among its members. When she found out I was moving here, she was only too happy to connect me to her good friend and colleague, Scarsdale's own Assemblymember Amy Paulin. Amy, in turn, was very generous in meeting me for coffee. She recommended either joining the League of Women Voters of Scarsdale, which is how she got started in her own community service here, or the Scarsdale Forum. It was difficult for me to make the League's scheduled meetings, so I walked into the very next Forum meeting. This wound up being superb advice, as years later, I'm now serving as the President of the Scarsdale Forum!
(And in a similar vein, listening to Amy continues to be among the smartest things I do nearly every day, as she ultimately hired me as the Communications Director in her office.)
What have been some of your biggest volunteer commitments?
I've been extremely fortunate to be part of several successful group efforts with other engaged volunteers that have not only were fun and intellectually rewarding, but beneficial to Scarsdale and its traditions. Lena Crandall nudged me toward chairing the Scarsdale Electoral Policy Committee of the Scarsdale Forum when she was President, and the experience of working with that committee gave me an excuse for an intensive deep dive on the traditions and intentions of Scarsdale's somewhat unique non-partisan system for selecting candidates for village office. The thoughtful discussions we had about ways to improve the system to make it more democratic, more self-governing, and remove some old and questionable reliance on support from outside organizations like the Town and Village Civic Club that might seem odd to newcomers helped pave the way for me to serve under Chair Madelaine Eppenstein of the Procedure Committee in an effort to amend the Non-Partisan Resolution to put those reforms into action.
For the past 18 months I've served on the Planning Board, which has been a huge educational experience for me, as my knowledge of land use issues had been somewhat perfunctory before. Inspired by the "no stone unturned" approach of fellow Planning Board members like Linda Doucette-Ashman, I've rolled up my sleeves to truly understand the village's comprehensive plan, the need to give both homeowners and potentially impacted neighbors an honest hearing, the responsibility of civic oversight by volunteer boards, and the need to constantly be questioning whether the Village Code and regulations are continuing to yield the kind of community we want to live in.
But of course, the Scarsdale Forum has been the bedrock of my volunteer commitment, with its well-balanced mix of committees that overflow with reasoned research and debate around the public policy questions that most directly affect life in the village, well organized programs with interesting speakers designed to better inform and engage the community on all aspects of civic life, and a surprisingly fun and social environment. I've learned so much from my fellow Forum members throughout the years that it's been hard – indeed impossible – when asked to take on more responsibility as a Board of Directors member, committee chair, last year's Vice President and this year's President. I've found that the Forum is perhaps the best group of volunteers in town at shining a spotlight on an issue that's of growing importance to our community and its way of life, from the discussions and frustrations that gave rise to the Downtown Revitalization Committee, to the ongoing work of the Municipal Services Committee around traffic safety, to the many successful village initiates that took a number of insistent reports, advocacy and elbow grease from the Sustainabilty Committee to get off the ground. I'm hopeful that this year's Special Committee on Climate Resilience will be similarly successful and help focus the minds of decision makers and residents on what we practical steps we can take to reduce our own greenhouse gas emissions and prepare our community for the increased number of extreme weather events, neighborhood disruption, and public health concerns that we can anticipate over the next few decades.
Did you ever bite off more than you could chew - or meet unexpected obstacles in your volunteer assignments?
Oh, you better believe it! My family motto is much closer to "How else can I help" than it is to "Know your limits."
It had been recommended to me that I ought to find a way to be more involved in my neighborhood association. Unfortunately, the Bramlee Heights Neighborhood Association had more or less been in neutral for a few years. I soon realized this wouldn't just be a "turnkey" move into a new community role; it would be a true fixer-upper to rebuild the organization. Honestly, recruiting some neighbors to help rebuild the association has languished on my to-do list. (If anyone's reading this on Brown Rd, Brambach Rd, Lee Rd, or Potter Place – email me! Let's talk!)
I've also been a volunteer basketball coach for Fox Meadow through the Rec Department, to the endless shock, surprise, and bemusement of anyone who saw me play sports in middle school or high school. To say that's been a stretch for me personally – sometimes physically so! – would be an understatement! Thankfully I've had a secret weapon. My sister is an elementary school physical education teacher in Massachusetts, and she's been sending sage advice, helpful tips, and do's and don't from across the miles.
What do you say to newcomers you meet about getting acclimated and volunterring?

First and foremost, do what you love and you're interested in. We all lead such busy lives these days that your ability to give back consistently will have some natural limits – particularly when it comes to time and energy. Whether you care about the PTA and the school system, or the parks and conservation, local questions of politics and policy, or national questions like gun violence prevention or social justice, guaranteed there's an organization in Scarsdale itself or Westchester County working on it, and they'd all benefit from another pair of hands! Find the thing that you're most passionate about, or that will connect you to the kinds of people you find most interesting or easy which which to work, since that will help keep you motivated to find that extra time to make a connection or make a difference.
And always feel like you can ask questions about how else you can get involved!
What do you think are some of the biggest challenges Scarsdale faces today?
So much of our civic infrastructure comes from volunteerism and an expectation of community engagement, but volunteerism across the board has been on a downward slope for decades in many communities, not just Scarsdale. Some of this is driven by demographics, the changing demands of the workforce, the increasingly challenging environment for raising children in the modern world, and how incredibly busy we've all become. That's not even mentioning that most of us carry a perpetual distraction machine in our pockets at all hours of the day. Luckily, many of the opportunities for community engagement and service in the village recognize that volunteers have become harder and harder to come by and are experimenting with new ways to make their organizations relevant and mission-driven.
The good news is that, no matter whether we're facing economic headwinds or real estate uncertainty, year after year, families are always trying to find a way to make their home here in Scarsdale. That means our community is always renewing itself with new faces, new talent, new ideas, new enthusiasm, and new opportunity. In my short time here, I've found so many fiercely intelligent and kind-hearted people who have been willing to roll up their sleeves and be as willing to do what it takes to improve the community's values as much as they would their own property values. As long as we rise to the challenge of giving these talented volunteers a reason to invest their time and energy in Scarsdale, our future will always be bright.