Online Enrichment for Tots and Adults
Thursday, 02 April 2020 09:17
Last Updated: Thursday, 02 April 2020 09:33
Published: Thursday, 02 April 2020 09:17
Joanne Wallenstein
Hits: 1257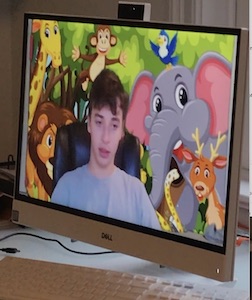 William Reed and Sam Siegel offer storytime to kids on Zoom.Zoom Storytime for Young Children: SHS sophomores Will Reed and Sam Siegel are offering a "Storytime" group on Zoom every Monday, Wednesday, and Friday, at 4 PM when they read to young kids for around 30 minutes. The group is now up to around 25 families (some have multiple kids). For Reed and Siegel it as a fun way to give back to the community and get young kids involved. It also gives the parents a break.
More kids are welcome! To join them, click on the following link on Mondays, Wednesdays, and Fridays at 4 PM: https://zoom.us/j/646743551
Online Classes from the Scarsdale Adult School Begin on Monday, April 6, 2020

Registration is now open for the first SAS online classes using the Zoom meeting platform. Many of these courses will begin next week. Please check back regularly to browse the catalog as they expand online offerings.
Online classes are currently displayed near the top of the ALL CLASSES page. There are options in all major categories and more will be added each day:
-Humanities
-Recreation
-Skill Development and Enhancement
-Personal and Professional Growth
Before attending an online class using Zoom, students should familiarize themselves with the audio and video settings on the computer, laptop, or mobile device that they intend to use for class. The Zoom Help Center offers a number of tutorials designed to introduce you to that app, including this informative video about how to join a Zoom meeting as a participant.
For this week's free edutainment, please enjoy an author visit with Dani Shapiro from June 11, 2019 and Tales from the 'Dale and Beyond from March 14, 2019, two of our special events that had been recorded, thanks to the A/V department of the Scarsdale School District.
If you have an idea for a new e-class or instructor, please email Executive Director Jill Serling.