Jamaal Bowman Defeats 16 Term Congressman Eliot Engel in the Democratic Primary
Tuesday, 21 July 2020 21:51
Last Updated: Tuesday, 21 July 2020 21:55
Published: Tuesday, 21 July 2020 21:51
Joanne Wallenstein
Hits: 849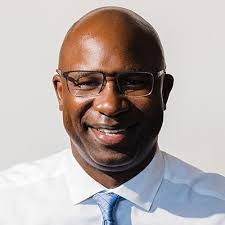 Jamaal Bowman, a 44 year-old middle school principal from the Baychester section of the Bronx, defeated16 term incumbent Eliot Engel in the Democratic primary for the 16th congressional district which includes Scarsdale. Bowman lives in Yonkers with his wife and their three children.

Though all the absentee ballots have not yet been counted, Bowman was declared the winner with a 13,000 vote lead over Engel.

Commenting on the victory, Bowman said, "I'm a Black man who was raised by a single mother in a housing project. That story doesn't usually end in Congress. But today, that 11-year old boy who was beaten by police is about to be your next Representative.

"From the very beginning, we anchored our campaign in the fight for racial and economic justice. We spoke the truth -- about the police, about systemic racism, about inequality -- and it resonated in every part of the district.
"We brought people together across race, across class, across religion, across gender, to fight for justice, to fight for equality, and to fight to create a country that works for all of us. We didn't let them divide us. And we did it all without accepting a dime from corporate PACs or lobbyists.

"The world has changed. Congress needs to change too. But if we can take on entrenched power and wealthy interests here in Westchester and the Bronx, then we can do it all across this country."

"I'm ready to get to work. I cannot wait to get to Washington and cause problems for the people maintaining the status quo."

I another press release, Bowman commented on President Trump's threat to cut off aid from school districts that do not reopen in September. He said, "The federal government has completely failed our children and our families throughout this entire pandemic. Now, as Donald Trump aims his fire at school districts that won't haphazardly reopen, we don't have to keep accepting his failures as the best we can do. Just because he is too incompetent to lead, doesn't mean the rest of us can't. In fact, the wellbeing of our kids, the health of our families, and the rehabilitation of our economy depend on it."

"First and foremost, you can't plan for a safe reopening when you can't pay for a safe reopening. So, where the hell is the money schools need? Congress needs to pass the HEROES Act with funding for school districts. Republicans in Congress have wasted months of time and billions of dollars, instead of creating safe solutions for our children. Not only do Republicans in Congress lack imagination, they lack compassion."

"As a public middle school principal, I know our schools are intimate communities within our greater communities. Reopening schools should not fall on just the shoulders of teachers and administrators. We need to have collaborative conversations with teachers, administrators, parents, students, physicians and all stakeholders. We need to create a plan for addressing and healing the collective traumas that our students and their families have faced during this unprecedented pandemic. Reopening will be a disaster, unless we come together now to create a cooperative plan that best meets everyone's needs."

"It is the safety, health, and futures of our children, and our country, at stake here, and we can't wait for Republicans to do their jobs. Our schools could be part of the problem, but I say let's make them part of the solution. Let's fight for funding to install proper ventilation systems to limit spreading the virus, and for supplies to keep our classrooms clean and safe. Let's do as much COVID-19 testing, symptom monitoring, and contact tracing in our schools as possible. Let's provide our students, teachers, and school workers with masks, that they can also use at home and in public. Let's be prepared to listen to public health experts and keep our class sizes as small as possible as we use creative solutions, like keeping windows and doors open, or educating in larger spaces like theaters."

"Let's reopen schools, but let's do it safely. Despite what our failing president says, the two are not mutually exclusive. Our children deserve an education, and they deserve to be healthy and safe. Period. Let's make it happen."

Bowman is favored to win the seat in November as there is no Republican candidate and only one other challenger from the Conservative Party.