Recycle Your Pumpkins and Plastic Bags
Wednesday, 28 October 2020 09:45
Last Updated: Wednesday, 28 October 2020 09:52
Published: Wednesday, 28 October 2020 09:45
Joanne Wallenstein
Hits: 1029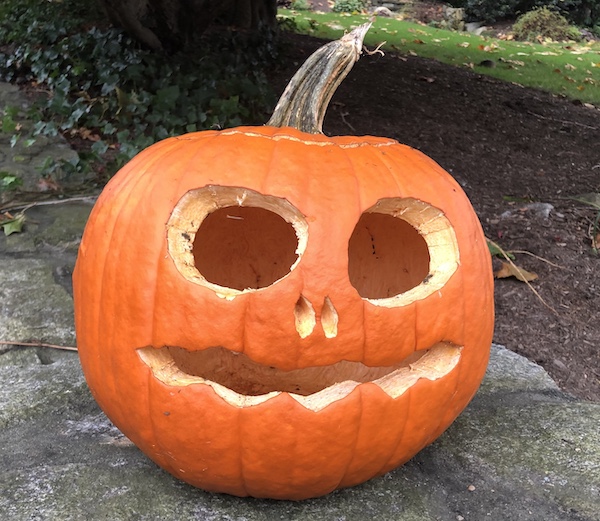 All the pumpkins and gourds that have been sitting on your front steps or that will decorate your Thanksgiving table can have another valuable use after the holidays--being turned into compost! There are several easy ways Scarsdale residents can recycle pumpkins and gourds:
Place them in or next to your food scrap recycling bin (Need one? Email composting@scarsdale.com or register here.
Bring them directly to the Food Scrap Drop-off Site at the Recycling Center, 110 Secor Road (Please put them on or in front of the wall behind the food scrap collection bins.)
Place them with your yard waste or leaf pile

By sending our pumpkins and gourds to be composted, we are helping nature recycle her bounty and returning nutrients to our earth!
Plastic Bag Recycling Has Arrived In Scarsdale!
The Village of Scarsdale now has a plastic bag recycling program! Scarsdale residents can bring plastic bags and other plastic film items to the Recycling Center at 110 Secor Road for recycling. The plastic bag recycling bin (pictured) is located next to the Furniture Donation bin (which is reopening Nov. 2) and is open during regular Recycling Center hours (Monday through Saturday, 8am to 3pm).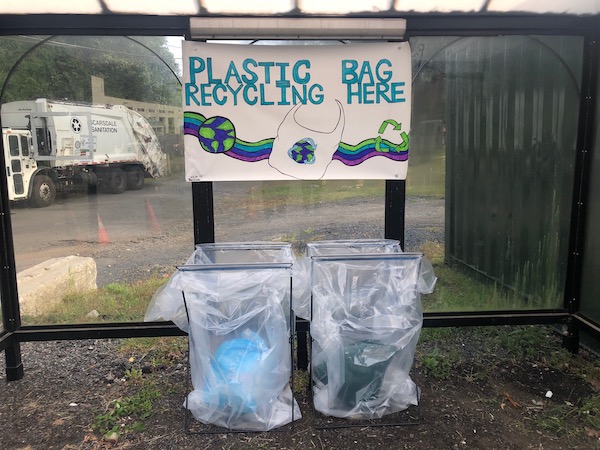 All plastic bags and plastic film must be clean and dry. Following is a list of the plastic items which are accepted:

• Produce Bags
• Store Bags
• Ice Bags
• Ziploc/Recloseable Bags
• Cereal Box Liners
• Case Overwrap
• Bread Bags
• Newspaper Sleeves
• Dry Cleaning Bags
• Bubble Wrap & Air-filled Packing/Pillows
• Plastic Mailers/Envelopes
• Soda can rings
Scarsdale is the first municipality in Westchester County to collect and recycle plastic bags and film as part of a municipal recycling program. The collected plastic bags and plastic film will be brought to a recycling program where it will be fully recycled into plastic decking and railings made by Trex. Additional information on the program is available on the Sanitation page of the Scarsdale website.
Additional items that can be recycled at the Recycling Center include:

• Plastic Bags and Plastic Film (NEW)
• Electronics
• Textiles
• Scrap Metal
• Tennis Balls
• Furniture (temporarily closed – Reopening Nov. 2)
• Take it or Leave it Shed (temporarily closed)
• Food Scraps
• Commingled Recycling (glass, plastic, metal, cartons)
• Paper and Cardboard
Please visit the Sanitation page on the Scarsdale website or review the Recycling Guide.