LWVS Celebrates their Centennial with Letitia James, Amy Paulin, Andrea Stewart Cousins and Mimi Rocah
Monday, 25 January 2021 17:49
Last Updated: Monday, 25 January 2021 17:55
Published: Monday, 25 January 2021 17:49
Joanne Wallenstein
Hits: 1734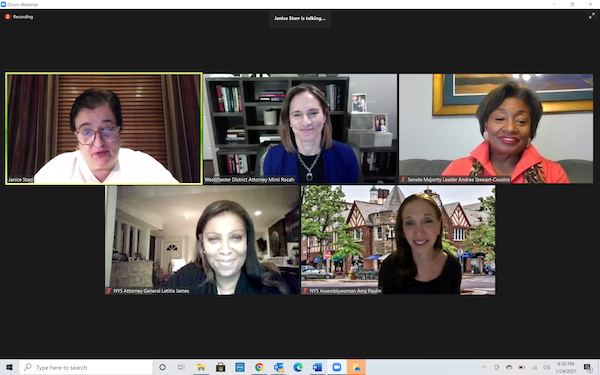 Janice Starr moderated an online discussion with Mimi Rocah, Andrea Stewart Cousins, Letitia James and Amy PaulinOn Sunday, January 24, the League of Women Voters of Scarsdale kicked-off its celebration of its 100th anniversary year by welcoming New York State Attorney General Letitia James; New York State Senate Majority Leader Andrea Stewart-Cousins; New York State Assemblywoman Amy Paulin and Westchester District Attorney Mimi Rocah. The conversation was moderated by former League President Janice Starr and over 100 households attended via Zoom.
The evening began with an introduction by League President, Leah Dembitzer, who said, "Over the last election cycle, I thought a lot about the courage of our fellow citizens, activists and leaders -- who throughout the generations, fight to protect and expand the vote… 100 years after the ratification of the 19th amendment, voter suppression and intimidation still occur… For 100 years, the LWVS has been fighting to protect and expand the vote. For 100 years, our organization has been involved in issue advocacy and civic engagement on the national, state, county and local level."
At the start of the panel discussion, the elected officials spoke about what motivates them and what they would tell someone who is considering running for office. In response, Assemblywoman Paulin said, "Do it… Run for office," and "I'm motivated to make my community better." DA Rocah said that she was initially motivated to run when she saw elected officials, even at the national level, with an "inability to look beyond their own political power… it made me realize, I think I can do this better." AG James said "... for a woman, it can take 3, 4, 5 individuals telling you to run for office." She said "find your passion, for me it was about representing individuals whose voices were not heard… I say to women, young ladies, run, run like never before because your democracy needs you."
Then they moved onto a discussion of the historical moment -- namely the global pandemic and domestic extremism as well as a discussion about voting. When talking about systemic racism, Rocah said "we need diversity in positions of leadership… I'm changing the face of leadership in the Westchester DA's office." AG James said that a "number of practices of the police have a disparate impact on communities of color. We unfortunately have made poverty and mental illness a crime in our society." Majority Leader Stewart-Cousins noted the serious inequities in criminal justice, housing, healthcare, and education which exist but also expressed her hope that, with the current government leadership and "with the help of community, with the help of conscious people, with the help of education," we can achieve "the dream of America." The panelists discussed current initiatives and legislation aimed at meeting that goal.
It was a truly inspiring evening to see the four leaders' dedication to the people they serve and their commitment to advancing our democracy.
To view the full event video:
Here is the LWVS updated They Represent You (TRY) Brochure for the Scarsdale community.