Congressional Candidate Catherine Parker is Confident She Can Unseat Bowman
Wednesday, 20 July 2022 09:21
Last Updated: Wednesday, 20 July 2022 09:28
Published: Wednesday, 20 July 2022 09:21
Joanne Wallenstein
Hits: 1114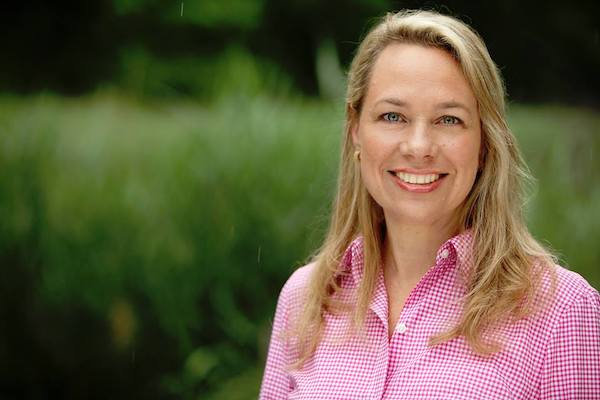 Catherine Parker, a recent entrant into the race to represent Congressional District 16, is no newcomer to government service. Elected to the Westchester County Board of Legislators in 2013, she was the Majority Leader and currently serves on many committees of the board. A fourth generation Westchester resident who was raised by a single mom, Parker understands what it means to live and work in Westchester.
Learn more about Parker below:
-Please introduce yourself to our readers and tell us something about your background, your family and professional and political careers to date.

I was raised by a single mother in Westchester who was a sixth grade teacher in White Plains. Money was very tight, and starting from when I was thirteen years old, I have worked. I wouldn't change a thing about my childhood. It tested me, showed me that I am resilient, and it instilled in me a good work ethic. I also have empathy for those that struggle. I'm a graduate of Providence College. My professional life has been spent primarily as a small business owner, and my store, Parkers, in Rye was a staple of the community for twenty-two years. My husband, David Walker, and I have two kids - Julia who is 21 years old and Aidan who is fourteen years old. We live in Rye, where I served six years on the city council before I was elected to the Board of Legislators in 2013. I served as Majority Leader after George Latimer was elected as County Executive and currently serve as Chair of the Human Services, Human Rights & Equity Committee. I also serve on the Budget & Appropriations, Economic Development, Environment, Energy & Climate, Housing, Law & Major Contracts, Parks & Recreation, Public Works & Transportation Committees.
-You decided to enter the congressional race rather late. What persuaded you to make a bid for the seat?

The congressional race had the reset button hit by the Appellate Court and the Special Master whose new map was accepted by the court at almost midnight on May 20th. Had Mondaire Jones stayed in Westchester I would have supported him, but on the morning of May 21st the New York Times announced that he was running for CD10. I recognized we were without a strong challenger to Mr. Bowman.
-What is your view on the redistricting of the Congressional map and the change in primary date? How did that affect your decision to run, and what impact might it have on the outcome?

I think the map makes sense. It is a solidly Southern Westchester district and has four relatively straightforward natural borders - the Hudson River to Long Island Sound, and from 287 to the Bronx border with just a small part of the Bronx. While redistricting generally favors an incumbent, I see a clear path. I represent over 62,000 in CD16, and have been elected and reelected by my constituents many times. As someone who has a deep record of passing pragmatic progressive legislation even in areas of Westchester where I haven't represented the local community, many people still recognize me as a leader for environmental policy, good fiscal governance, women's reproductive health and sensible gun policy.
-Incumbent Congressman Jamaal Bowman hails from Yonkers and publicly stated that with the new district map he was disappointed he would no longer serve many of his Bronx constituents. Why do you believe you would better represent Westchester residents in Washington?

I'm a fourth generation Westchester resident. Truly, Westchester is in my blood. It is why I was drawn to serve as a county legislator. I have had the better experience of representing Westchester already for nearly nine years. Here's what Westchester wants - someone who understands that in every community people struggle. Someone who is looking to restore our SALT deduction. Someone who knows that every municipality including more affluent ones have a real need for federal dollars to help pay for infrastructure, who understands the cost of climate change and the need for flood mitigation. That's me!
-Given that Bowman is the incumbent and has received many endorsements from organizations and unions, do you think it will be possible to unseat him?

Most of his endorsements were given before the lines changed. He has since lost the endorsement of the Mayor of Mamaroneck, and other endorsers have shared that if they had known how things were going to change they would have waited. The most important endorsements in running for office are that of the voters, and I feel confident we can unseat him.
-How do you distinguish your platform from Bowman's?

My platform in this election has to include fixing what has been egregiously missing from the incumbent - responsiveness to residents and local elected officials. I will work with the local communities to fund necessary infrastructure, provide comprehensive constituent services so people don't fall into crisis because no one returns a phone call, and lastly, but not least importantly - representing the district with my votes. Congressman Bowman has forgotten us on many occasions, whether by his no vote on infrastructure, withdrawal of his support of the Abraham Accords for Israel and other Middle East nations, no to aid for Ukraine, and no for NATO.
-Some claim that your entrance into the race will ensure a win for Bowman by taking votes away from challenger Vedat Gashi. How would you respond to that charge?

So the woman who has seven times the elected experience of that challenger, who actually lives in the district and represents a large chunk of likely voters is the spoiler? No. This isn't a deli line. There may be a spoiler, but it's not me.
-What achievements are you most proud of during your five terms of service on the Westchester County Board of Legislators?

When I was Majority Leader, in that two year term we passed more legislation than at any other time, before or after. These were good policy decisions that we sorely need in Washington - paid sick leave, tax parity, and sensible gun legislation.
-What do you hope to do in Congress to benefit Westchester residents? Is there any chance of reinstating our SALT deductions?

I have a long to do list, representing many projects that municipalities need. Every bit of money that comes in from Washington, reduces the burden on your property taxes. Speaking of, I do think there is a good chance to reinstating our SALT deduction.
-With a polarized Congress and a divided country, give us your views on how the two sides can reach consensus to pass legislation on climate change, gun control, voting rights and women's rights?

I am the only candidate that has ever passed legislation while being in the minority party of government. The way to be successful is through language. When I had a bill to create the position of Energy Director for Westchester and the Office of Sustainability, I spoke not in terms of climate change and carbon footprint, but in terms of millions of dollars saved by taxpayers because of energy efficiency. My bill passed. Language matters!