A School Students Step into the Work World
Monday, 06 February 2023 12:07
Last Updated: Monday, 06 February 2023 12:15
Published: Monday, 06 February 2023 12:07
Tyler Hughson
Hits: 569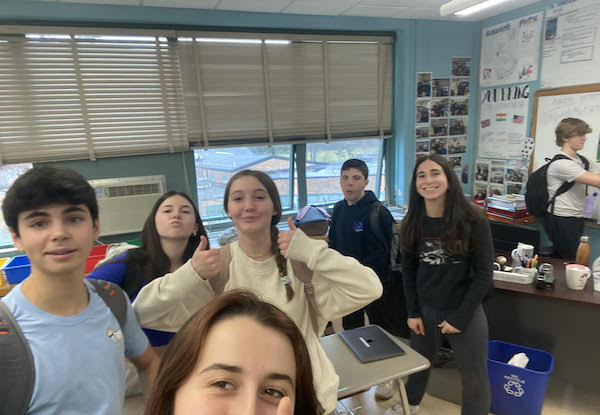 Anna Cavalluzzi worked in an English class at Scarsdale Middle SchoolA hallmark of the Scarsdale Alternative School (A-School) curriculum is its annual January internship program. All of the A-School's 80 students can participate and learn in various jobs, businesses and disciplines, ranging from law firms to television shows. They have the chance to pursue their passions or explore future job opportunities or just try something new.
Here's what a few A-School students did this January:
Annie Cavalluzzi, a Senior in the A-School, chose to work at the Scarsdale Middle School under her eighth-grade English teacher, Ms. Hiller. Annie assisted Ms. Hiller to help lighten her workload and teach a new generation of students. Although Annie does not expect to pursue a career in education, she enjoyed the experience. Annie remarked that the best part of the internship was: "Getting to go back and work with a teacher who truly changed my outlook on a subject I once did not hold much interest in, as well as going back to the middle school and reminiscing about what I remember life being like Pre-Covid and how I truly was able to live such a different childhood than the students are living now."
Junior, Cole Liebowitz interned at the Foreign Policy Association (FPA), a private, nonprofit organization that aims to inform the public about current global events -- something Cole believes to be critical in an ever-changing world. He helped draft updates for the FPA's book, Great Decisions, where he wrote about topics such as the ongoing Russia-Ukrainian conflict, political trends in Latin America, Energy Security, and Iranian protests. "I think the best part of my internship was that it was all virtual. I could work in a comfortable environment while also being (somewhat) flexible with my schedule." Cole stated. "However, having a flexible schedule is not always a good thing. Sometimes I would hold off my work until the last minute and have to power through it in one sitting."
Junior, Dani Goldman interned under interior designer, Cheryl Bunzel, at her business CB Studio Design. Dani enjoyed selecting furniture for people in order to help them design a certain space. She noted the experience as "so cool because it was like, omg, I'm really helping somebody design their house." Though she doesn't plan to do anything related to this in a future career, she remarks this internship as "an amazing experience and good just to try it out."
Junior, Alex Wang worked in the Scarsdale High School library and assisted with shelving, scanning and buying books, updating and editing the library website/database and organizing past Maroon magazines. He learned about the background of both the building and parts of the school. "The librarians assigned me to organize past Maroon magazines/newspapers, and it went all the way back to the 1940s. It was really cool to see how the school was back then and read stories of what was happening. Like, did you know that SHS used to have a smoking lounge for students, and there was a rifle team?" Alex recounted. He also built a better relationship with the staff and said, "it was great knowing how much I was helping them out."
Junior Irene Li worked at the Renaissance Bakery in the village, helping customers at the front, making pastries, stacking boxes, and more. She had this to say about the experience: "The best part of my internship was how chill it was. I liked interacting with the customers. I met a lot of wonderful people. The staff was super nice and easy to talk to if I ever needed help with anything." Though she doesn't expect to pursue anything similar in the future, she was "grateful for both the experience and opportunity to see how a small bakery functions."
Brady Silberfein, a Junior, interned virtually for the booking team for Good Morning America, the morning television program that features news, weather forecasts, special interest stories, and popular culture. Brady helped her employer obtain interviewees for the special interest stories portion of the show. She commented that "The best part of my internship was the research I was doing and knowing that it helped my sponsor." Though Brady is unsure of her future career, she can see herself doing something in TV production. In the end, she said that her time in internship was a good experience in teaching her what to expect in this field.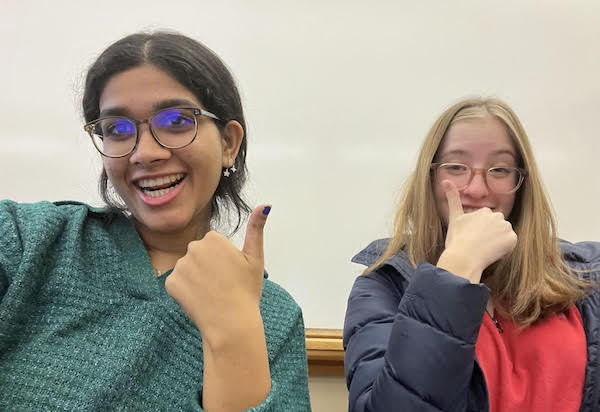 Janani Vittal and Maya KatcherJunior, Maya Katcher, worked as an intern for a freelance designer, involving different projects in animation, VFX, and more. Maya was given the opportunity to learn new software, including Adobe Photoshop and Illustrator, combined with her previous knowledge of Adobe After Effects. Though Maya worked virtually, she believed that was a positive for her, as she was "not on as strict of a schedule as someone working in person would be, which works really well for the way (her) brain operates." Maya noted that her internship was a great experience for her in learning more about this particular field. She stated that it "was a great eye opener as (she) saw how pursuing this job would shape (her) future financially." She added, "My sponsor showed me his college path and really gave me a clear outline of how he got to where he is today. All of this information made this internship feel so real, which just excites me even more for my potential future in this field!"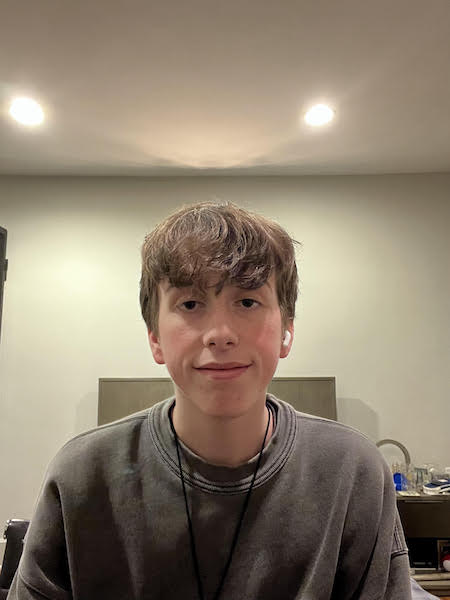 Tyler HughsonThe Internship program continues to provide students with a meaningful experience and help them discover or understand their different fields of interest. Who knows what these kids will be doing in the years to come!
Author Tyler Hughson, worked here at Scarsdale 10583, writing and researching articles for Joanne Wallenstein. About the internship he said, "Although I don't want to continue in a field like this, I definitely think this was a worthwhile internship that taught me about the functions of the journalism industry and recent news in Scarsdale. I leave this internship with thankfulness to Joanne for this great opportunity and an appreciation for how much I was able to learn."