An Interim Principal For Edgewood Elementary School, Succession Plans for the BOE and an Outdoor Classroom at Fox Meadow
Wednesday, 24 May 2023 17:30
Last Updated: Wednesday, 24 May 2023 17:35
Published: Wednesday, 24 May 2023 17:30
Vivian Zweig
Hits: 655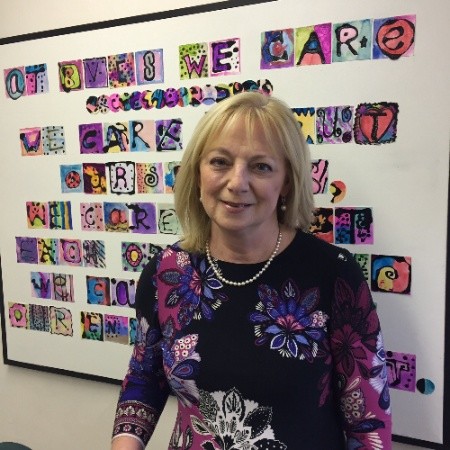 Karen Eldon will be the interim School Principal at Edgewood Elementary SchoolOn the evening of May 22, 2023, the Scarsdale Board of Education (BOE) convened to discuss a variety of topics, ranging from a review of the district-wide Safety and Emergency Management Plan (SEMP) to the Gift Proposals to Fox Meadow Elementary.

Emergency Response
The Board reviewed the SEMP in response to an incident on April 24th, when Heathcoat and Quaker Ridge initiated lockout protocols due to police activity and reports of a suspected fugitive who abandoned his car on the Hutchinson River Parkway. School staff quickly recovered students and secured the perimeters, while activities proceeded as usual inside. The decision to put school into a lockout was made with the police department, who later felt the area was secure enough to allow students to walk home and bussing to resume.

The board discussed afternoon sports, coordination with the village and bussing. Several important questions were raised. Why were parents informed of the events via text messages rather than email? Why were seemingly contradictory communications sent to the community? A member of the Board stated that there is no official protocol dictating when information should be sent by text or email and that all channels of communication are used when the information is timely and urgent. Regarding the second question, another member claimed that it is imperative to inform the community of official channels of information. The Board went on to announce that a summary of the April 24th events will be sent later this week in a community letter.

Interim Principal for Edgewood Elementary School

Following a review of the SEMP, Superintendent Dr. Drew Patrick announced new faculty that will be joining the district this year, including Edgewood's interim principal, Karen Eldon. She served as the Principal of Bedford Elementary School for 11 years, interim principal at Coman Hill Elementary School, and then as interim principal at Fox Meadow in 2017-2018. Dr. Patrick was pleased to welcome her back into the district as Edgewood's interim principal.

Public Comments

The night continued as Ray Dotoratos shared his concerns about the prevalence of e-learning, specifically the effect of tablets on academic performance. He stated that children today are consumed by electronics, which are designed to be addictive, and that there is no balance of usage among children. He saw the detrimental effect of e-learning on his child's performance and asked that his child switch to paper-based learning. After the switch, he observed an immediate improvement in his child's performance. Ultimately, he claimed that Scarsdale parents must have a right to choose between e-learning and paper-based learning, and that the school's must be transparent in offering this decision. He started a petition on this subject that was signed by over 700 residents.

Board Succession Plan

Board President Amber Yusuf announced information on the Board leadership's succession planning. Ron Schulhof has indicated that he is willing to serve as President, and Suzie Hahn Pascutti as Vice President. Other nominations for president and vice president will be announced and voted on at a later meeting.

Budget and Bond Vote

The Board went on to accept the May 16, 2023, Budget/Bond Vote, board election and results of voting, and the results of the High School Auditorium Bond Proposition. The bond resolution authorizing the construction of alterations and improvements to the high school auditorium was adopted for an estimated cost of $4,750,000.

Gift for Fox Meadow School

The acceptance of gift proposals to Fox Meadow Elementary School did not go nearly as smoothly. Three gifts totaling $48,215 for the construction of an outdoor classroom and student space were proposed by the Fox Meadow Elementary School PTA.

The letter from the PTA explains the rationale of giving funds for "an outdoor space to learn and play. Aside from the many educational benefits of outdoor learning, we believe that for health reasons outdoor learning spaces are more valuable than ever as we come out of a pandemic. Further, as the size of our student body continues to grow, an additional learning space would certainly be useful. This proposal will also revitalize an area of our school that is underutilized. This space is currently unused by students or faculty and it has great potential to provide an additional space for our students to congregate."

The Board's gift policy #1800 provides that the Board approve all gifts, but board member Colleen Brown voiced her concerns. She pointed out that all gifts total close to $50,000, giving Fox Meadow a significantly larger gift for renovations than the other elementary schools.

Another member of the Board pointed out that although the gift is larger, more money might be needed by Fox Meadow Elementary to construct a space that is equitable. Ms. Brown agreed and suggested that equitable outdoor spaces must be designed first, then a price tag should be put on it. Moreover, she and other Board members questioned how the decision to endorse the capital renovations with PTA money will affect the PTA's role in our community. Historically, the job of the PTA has not been to fundraise, and she saw capital improvement as a gift concerning. Ultimately, gifts were approved, but the board decided to revisit the gift policy under new leadership.