Sports News: Four Honored at Section 1 Football Awards Dinner, Hockey Team Donates Gifts for Kids
Monday, 16 December 2019 17:08
Last Updated: Monday, 30 December 2019 11:58
Published: Monday, 16 December 2019 17:08
Joanne Wallenstein
Hits: 1998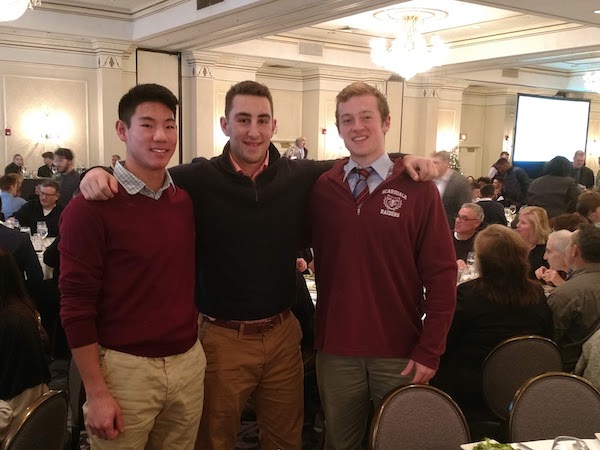 Four Scarsdale High School football's players were feted at the 2019 New York State High School Section 1 Football awards dinner on Sunday December 15 at the Pearl River Hilton. The section includes 70 high schools. Scarsdale's Sam Feldman, Dean Mancini, Chris Saenger, and Harry Song were given their awards as "all conference" or "all section" players. Sam Feldman was also awarded league player of the year as offensive lineman. The players were acknowledged as the leaders of a team that posted a great season record of 5 wins and 2 losses, with the losses against the two finalists in the state playoffs.
Pictured Above: Harry Song, Sam Feldman, Chris Saenger (not pictured: Dean Mancini)
Hockey Team Donates Gifts to Hospital
On December 14, the Scarsdale Varsity Ice Hockey team donated over $1,000 in gifts to the Maria Fareri children's hospital in Valhalla.
High School Physical Education teacher James Synowiez, who coaches the team, reported: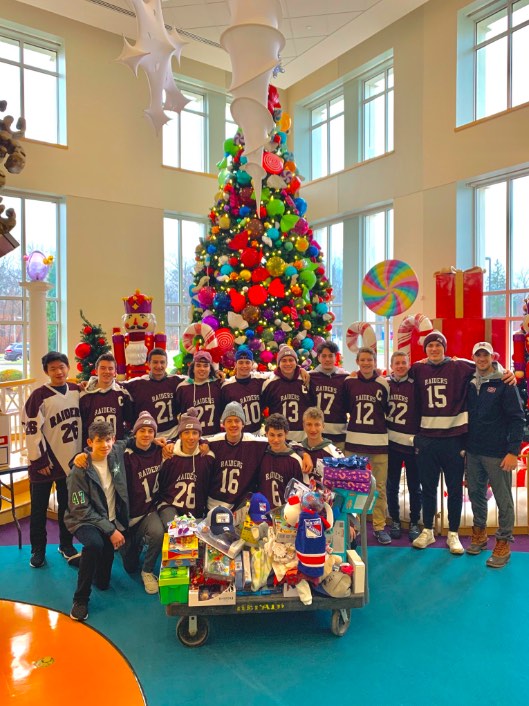 "This season the Varsity Ice Hockey team was interested in donating or helping out a local charity. We decided that purchasing gifts to help make the holiday season brighter for children who are not able to be home with their families would be a great way to give back to the community. Each student-athlete was responsible for bringing at least one gift to the hospital on the donating day last Saturday morning, prior to our game. As a coach I was impressed with the selflessness our boys displayed and the amount of gifts that they showed up with. We look forward to making this an annual tradition!"