Girls Basketball Still Trying To Find Its Rhythm
Monday, 06 January 2020 18:58
Last Updated: Thursday, 09 January 2020 10:54
Published: Monday, 06 January 2020 18:58
Ray Cooper
Hits: 1321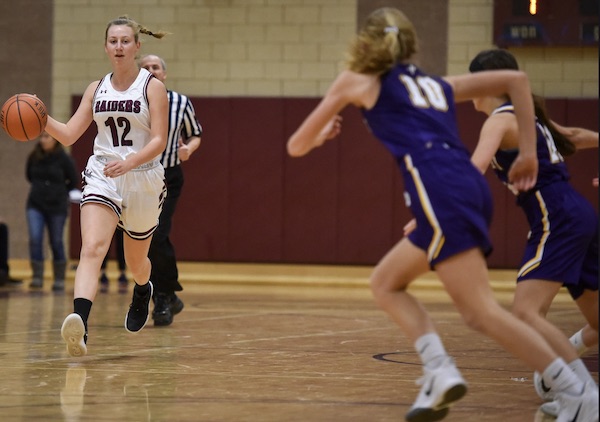 Kayla Maroney drives on John Jay.The Scarsdale girls' basketball team hosted its first game of 2020 on Saturday January 3 against the highly touted Arlington Admirals. The Raiders were looking for their first win of the season, while the Admirals came into the event 3-1 with recent blowout wins against Fox Lane and Clarkstown North – and their only loss of the year against perennial powerhouse Ursuline.
Prior to the game, a moment of silence was observed in memory of recently departed Scarsdale resident and former NBA Commissioner David Stern. Raiders' co-captain Jessica Solodar was back in action as Scarsdale came out for the opening tip.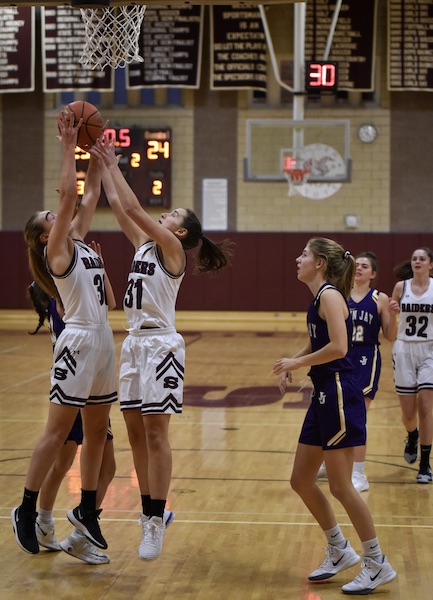 Meghan Quirk and Phoebe Shearer grab a rebound.The first quarter started fairly evenly as teams traded early baskets. Halfway through the quarter, Arlington star player and co-captain Molly Stephens went on a scoring spurt – hitting two three pointers and adding a few free throws in a short period of time. Scarsdale had trouble controlling the ball early and had multiple turnovers on each end of the court. Despite the five points contributed by senior co-captain Kayla Maroney, the quarter ended with the Raiders trailing 19-10.
Scarsdale's struggles continued in the second quarter as the Admirals continued a combination of strong defense and solid shooting. Point guard Mia Castillo added to her five first quarter points with eight more, including several bombs from outside. The Raiders began substituting liberally – trying to find the right combination. Maeve Jacobson provided much needed defensive help along with Moira Conlan and Isabelle Goldban. While the Admirals equaled their first quarter production, Scarsdale only added six points and the half ended with the Raiders trailing 38-16.
The second half saw the Raiders tighten its game considerably. While the offense still struggled to convert on opportunities, the defense clamped down and held the Admirals at bay. Co-captain Meghan Quirk hit a three pointer mid way through the third quarter and Maroney added eight points. The teams played quite evenly and the end of third quarter saw the Admirals lead stand at 24 points.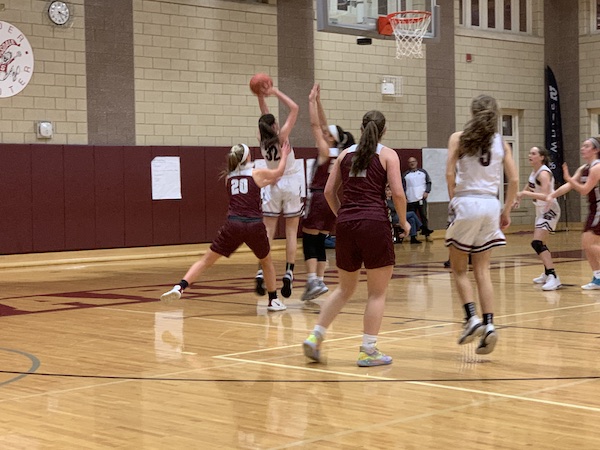 Moira Conlan about to score.
The final quarter saw the Raiders continue to improve. Goldban poured in 7 points while center Abby Talish found the mark and added four points. Maroney also added a three pointer late bringing her total to a Raider-game high 17 points, and Scarsdale outscored Arlington 16-14 in the fourth quarter. The Admirals' Stephens and Castillo tallied 14 and 19 points respectively as Arlington prevailed 64-42.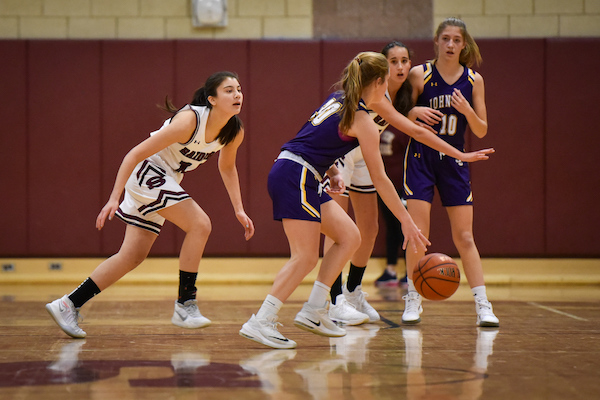 Raiders on the Defense
Scarsdale continues its campaign with two more tough opponents: On January 7th the lady Raiders travel to New Rochelle and the following week host Mt. Vernon. Photos by Jon Thaler. See more here.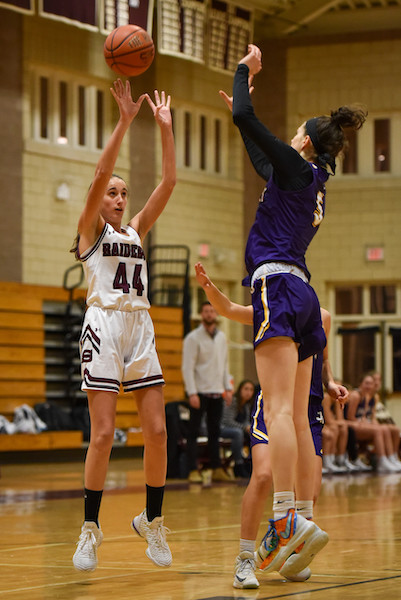 Abby Talish takes a jumper.