30 Granted Tenure, School Vets Alternative Ways to Celebrate the Class of 2020
Tuesday, 12 May 2020 15:09
Last Updated: Tuesday, 12 May 2020 15:15
Published: Tuesday, 12 May 2020 15:09
Joanne Wallenstein
Hits: 1232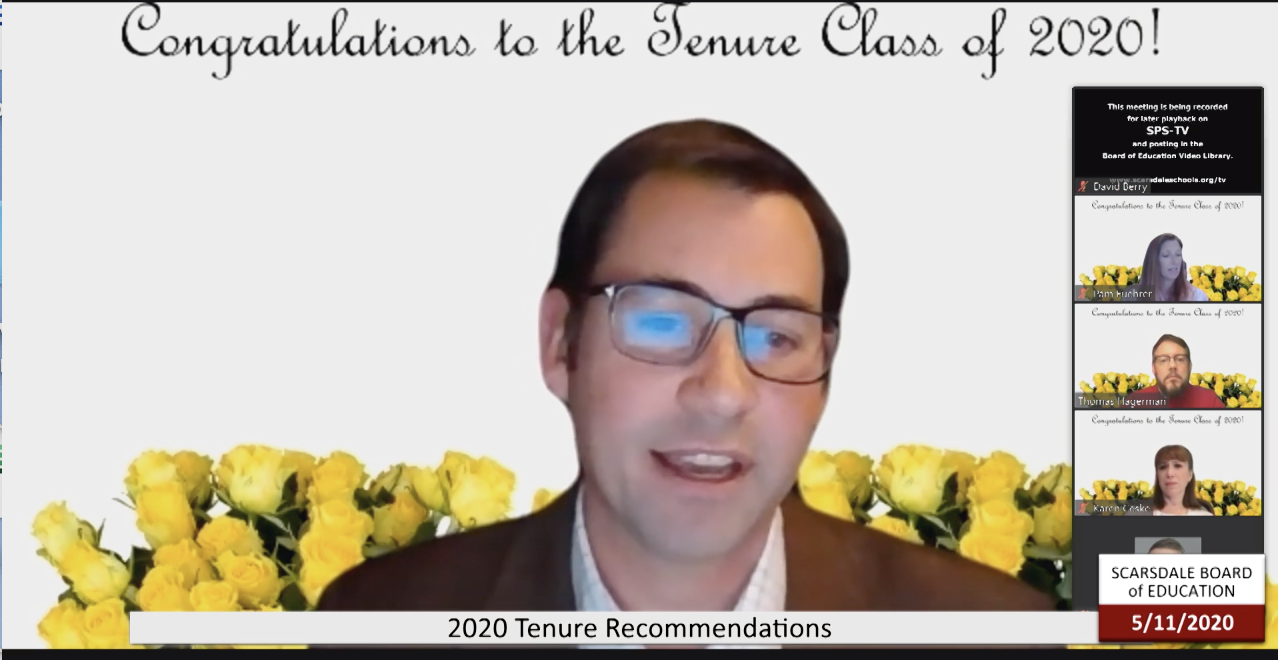 Assistant Superintendent Andrew Patrick with a Zoom background of yellow rosesThe Scarsdale School administration sought to add an air of celebration to the Zoom announcement of tenure for 28 faculty members and two school administrators by appearing before a background of yellow roses at their May 11 meeting.
Traditionally, tenure is granted at a May meeting attended by colleagues and families and each awardee is given a rose. As this year's ceremony was held online, the administration sought to personalize it with a photo gallery of the faculty and administrators, in the absence of kisses and hugs.
Before the ceremony began, Dr. Thomas Hagerman called for a moment of silence to commemorate the loss of Karen Marcus, a beloved aid at Quaker Ridge, and others who have passed away during this crisis.
He recognized district faculty during Teacher Appreciation Week and gave a formal thank you on behalf of the community, saying that during this pandemic, "Scarsdale teachers have risen to every challenge, just as they always do."
A total of 30 district employees, including 28 teachers and 2 administrators were celebrated on the attainment of tenure. Dr. Hagerman said, "We wholeheartedly believe in you and celebrate your attainment of tenure"
Assistant Superintendent Andrew Patrick, who himself was granted tenure, commented, "Achieving tenure is a significant accomplishment in the career of an educator ….. this cannot happen before a teacher or an administrator successfully completes a probationary period of performance…. Our appraisal system relies on a wide variety of inputs to inform a decision regarding tenure including observations, written reports, ratings, all conducted by supervisors. …. Formal and informal mentoring, a year-end conference, written appraisals, assessment of progress and rating annually, a portfolio of artifacts documenting professional accomplishments, feedback from parents and an administrative review panel attended by district administrators, building administrators, supervisors, and board of education members annually. We believe that the rigors of the tenure process are commensurate with the importance of the achievement."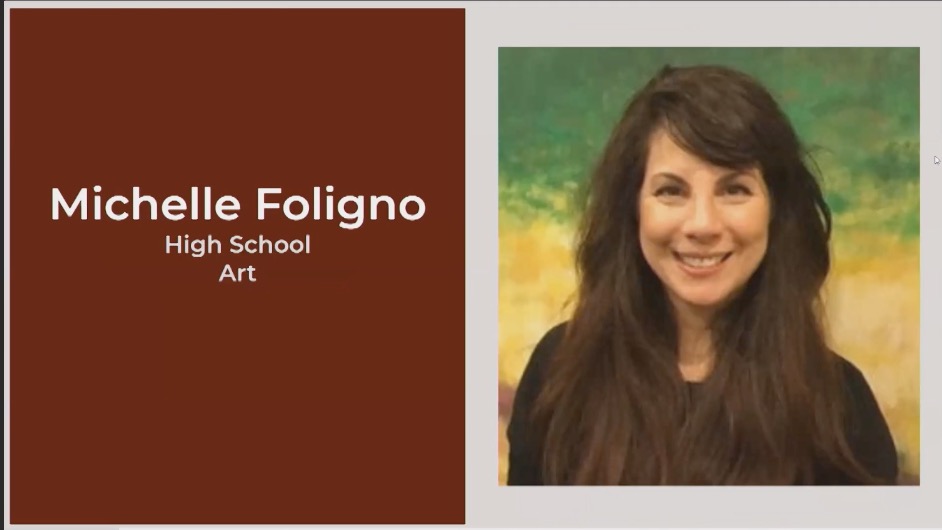 Patrick read a few reflections from portfolios of the tenure candidates.
Here are a few responses to the questions, "Why Do I Teach?"
"I teach because of my students. The students that I have the pleasure of sharing a year full of laughs, friendships, invigorating discussions, acceptances and rejections from college, hardships and accomplishments. I am reminded at the end of each year that their persistent dedication and willingness to put themselves out there in a subject so many express a dislike for, is the reason that I went into teaching in the first place."
Another said, inspiration without implementation is a waste. This quote is now posted in my lesson planning binder that I look at all the time. I feel inspired by my colleagues, my students, teachers from all over the world and posts I see on Pinterest and Twitter. Being inspired is wonderful. But the difference is taking that inspiration and bringing it into the classroom and doing something with it before the feeling dissipates. I teach because I have a passion not just for my content area but for my profession."
Dr. Patrick then displayed a photo gallery of the newly tenured faculty members and administrators:
Here they are: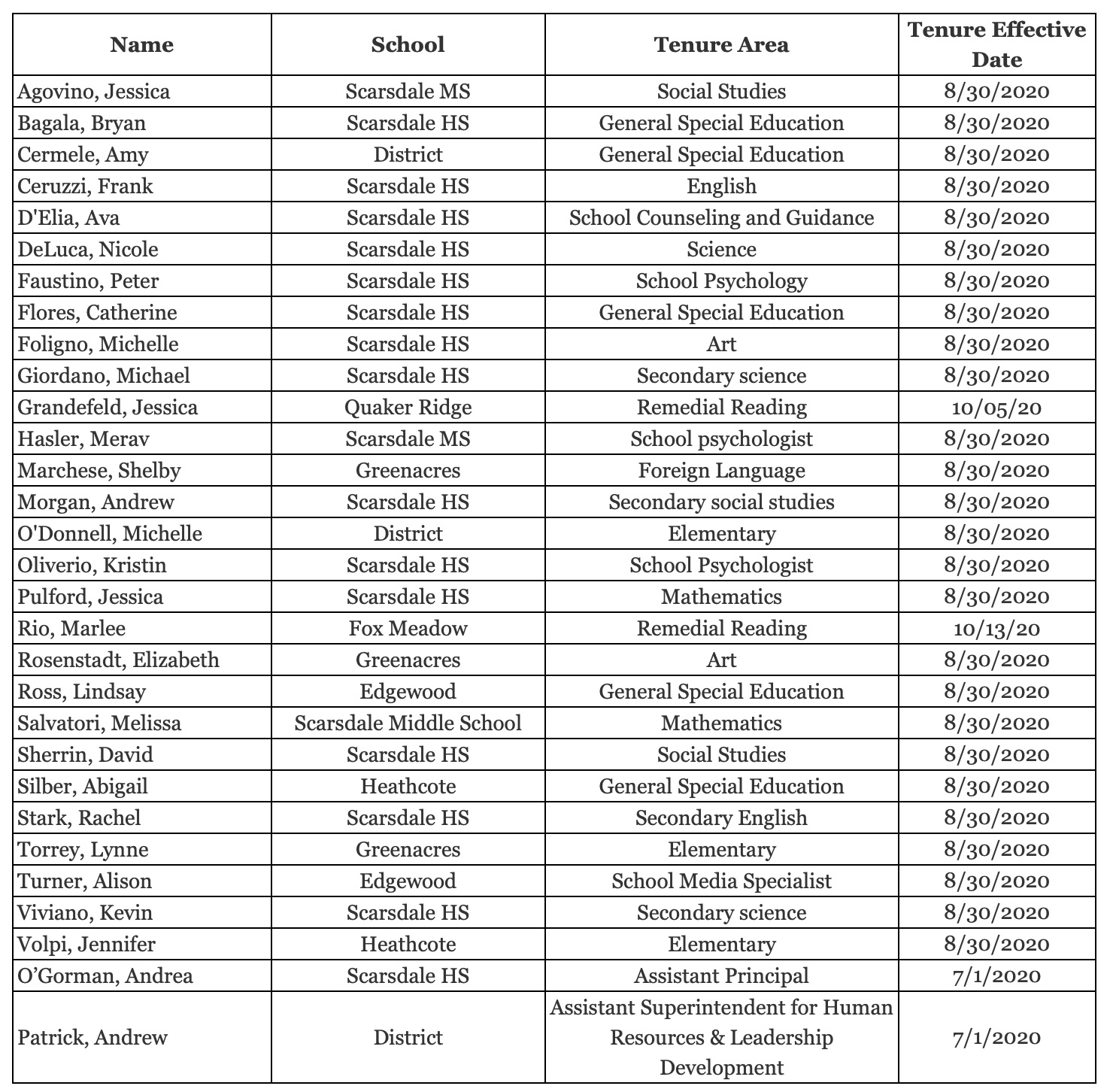 Following the announcement the board gave the group a virtual clap and Board Vice President Alison Singer thanked them for "enriching the lives of their students."
Celebrating the Class of 2020
Board President Pam Fuehrer outlined some work on behalf of the high school administration, teachers, parents and the PTA to identify ways to celebrate the senior class, who will miss important milestone events such as the prom and their graduation. SHS Principal Kenneth Bonamo has assembled a Senior Events Committee to vet alternate ideas to traditional end of year events.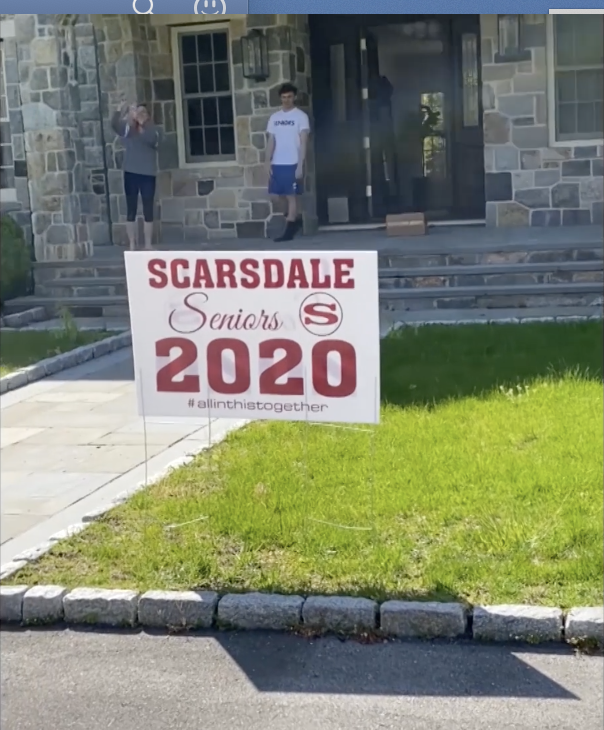 Students have been asked to reach out to their senior class advisors with ideas and parents can share their suggestions with SHS PTA President Deb Morel. These events can include social media connections and virtual events. Spring coaches are planning activities to recognize spring athletes. This past Thursday caravans of masked teachers drove through town and distributed Class of 2020 signs to the entire graduating class of 2020.