SHS Class of 2020 Graduates in an Era of Uncertainty
Saturday, 27 June 2020 20:30
Last Updated: Monday, 29 June 2020 14:48
Published: Saturday, 27 June 2020 20:30
Joanne Wallenstein
Hits: 1781
Last minute changes to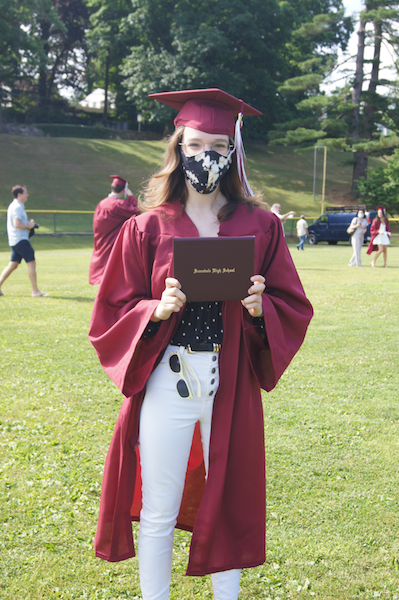 Governor's orders allowed for a graduation ceremony, in a fashion, for the 376 members of the Scarsdale High School Senior Class. Following a joyous car parade on Tuesday June 23, the week closed with nine graduation ceremonies, on Friday June 26, beginning a 8 am and ending before 7 pm, on Dean Field.
The ceremonies were unusual, unique and designed to conform to a host of regulations. Student were divided into groups of 50-60 students and given instructions to arrive at a designated time. Each student was permitted two guests and sat with their families at a distance from one another. The grass underneath the tent had been painted with six-foot squares to ensure that graduates and their families stayed far apart. Everyone wore a mask making the event look like a scene from a "dystopian novel," as suggested by SHS Principal Ken Bonamo.
Students marched in accompanied by a recorded rendition of pomp and circumstance, dressed in their hat and gowns. Many wore sweat socks and sneakers on their feet instead of dress shoes. After the national anthem, Principal Kenneth Bonamo gave a short but solemn speech, crediting the students with showing resilience, "through this pandemic that has turned our world into some version of a distressing dystopian novel and that changed your senior year in ways none of us could have imagined just four months ago."
Bonamo continued, "The uncertainty of the present moment is unlike anything many of us has seen, with a global pandemic and social unrest of truly historic proportions. At this moment, what college will look like for you in the fall is an open question. Also unknown is what our society, our economy, even our way of living will look like on the other side of this pandemic and the calls for social justice."
However, he concluded, "We are confident that your years in Scarsdale have given you the knowledge and skills to lead us forward as well as the value of non sibi to remember to use those talents for the betterment of all members of our society."
He read the following poem written by Lynn Unger:
On the Other Side
Through the looking glass,
down the rabbit hole,
into the wardrobe and out
into the enchanted forest
where animals talk
and danger lurks and nothing
works quite the way it did before,
you have fallen into a new story.
It is possible that you
are much bigger—or smaller—
than you thought.
It is possible to drown
in the ocean of your own tears.
It is possible that mysterious friends
have armed you with magical weapons
you don't yet understand,
but which you will need
to save your own life and the world.
Everything here is foreign.
Nothing quite makes sense.
That's how it works.
Do not confuse the beginning
of the story with the end.
At a virtual graduation ceremony on Tuesday June 23, 2020, School Board President Pam Fuehrer delivered the following remarks:
"It is with great excitement that I take this opportunity to congratulate you, Scarsdale's Class of 2020. I know this class relatively well; I've known many of you since kindergarten, and I'm truly proud of you all. You are simply an amazing and very special class. Yes, you're leaving the Scarsdale Schools in a way never experienced before, but you've also represented your class, and in fact all our high school students, in a very different way. I've been on the Board of Education for five years, and over that time I've clearly observed an increase in student voice and participation in school and district matters. You've stepped up, shared your thoughts, and made significant improvements to Scarsdale High School and also to district functions overall. You've made an impact, and while I recognize that our school and district administrators have encouraged that to happen, it really takes strong, capable kids to rise to that opportunity. You've each made the most of that chance. So, well done.
Your years in Scarsdale have given you an outstanding foundation. This senior class has shown us on small and large scales that you know how to be good citizens: to live comfortably with those who are different from you, to be respectful, compassionate, and to care about your neighbors; to assess, ideate, and refine; to work together; and to take care of yourselves when things get tough. Use this knowledge, trust in these fundamentals as you now go forward and take some risks.
The next eighteen years will (mostly) be all yours. Take advantage of them. I hope that you embrace your freedom, be curious, and explore new things. Your favorite teachers, coaches, and advisors quite likely had many moments of "should I, or shouldn't I." I'm not talking about the road less taken necessarily; I'm asking you to be brave, and say yes, when you aren't so sure. Consider joining a club, volunteering, taking an internship or class, in something outside of your comfort zone, As the late, great lyricist Robert Hunter wrote, "once in a while you get shown the light in the strangest of places, if you look at it right."
As you know. "20/20" means "perfect vision." Do not expect or even care about perfect vision. Please allow for mistakes. I hope by now, you've learned that mistakes are good things. They're one of the best learning tools we have, and you will never stop making them. So please, welcome them and use them.
Putting this all together, Hindsight is 20/20 means that you can easily tell what you should have done in the past, but it's harder to decide what to do in the future. I am sure you will continue to rise to the occasion and make the most of opportunity. Embrace your freedom, allow for mistakes, and make the most of your next eighteen years. Make them fully and completely yours. Good luck to you all Class of 2020, and once again, congratulations!"
To add your graduation photo to our gallery: email us at scarsdalecomments@gmail.com.