Paulin Honors Heathcote as a Blue Ribbon School
Tuesday, 19 January 2021 08:41
Last Updated: Tuesday, 19 January 2021 08:44
Published: Tuesday, 19 January 2021 08:41
Joanne Wallenstein
Hits: 1741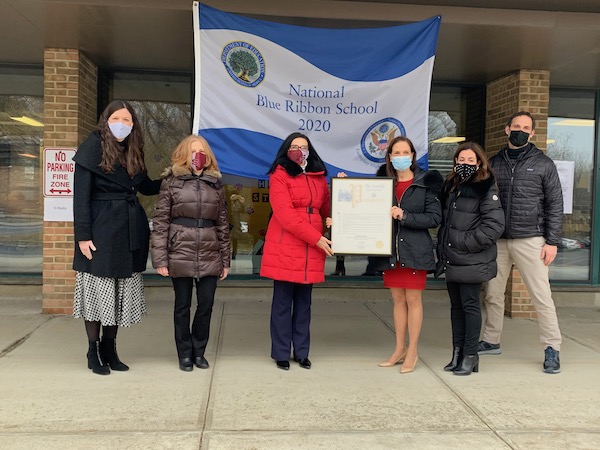 Among news of COVID testing, quarantines and remote learning, comes something to celebrate. Heathcote Elementary School was named a 2020 Blue Ribbon School by the U.S. Department of Education. On Friday January 15, educators and parents gathered outside the school to receive a proclamation noting this achievement from the office of State Assemblywoman Amy Paulin.
Above see a photo of school administrators and PTA leaders celebrating this honor. From left to right, find, PTA President-Elect Carrie Parker, Assistant Principal Katherine de la Garza, Principal Maria Stiles, Assemblywoman Amy Paulin, PTA Prresident Jessice Rosenberg and Assistant Superintendent of Curriculum, Instruction and Assessment Edgar McIntosh.
Heathcote was among four Westchester Schools who were honored in 2020, including Byram Hills High School, Dobbs Ferry High School and Dows Lane Elementary School in Irvington.
The National Blue Ribbon Schools Program recognizes outstanding public and non-public schools, celebrating school excellence, turnaround stories, and closing subgroup achievement gaps. The program recognizes public schools including charter schools, magnet/choice schools, Title I schools, and non-public schools including parochial and independent schools. They are urban, suburban, and rural, large and small, traditional and innovative, and serve students of every social, economic, and ethnic background.
Why Heathcote Elementary School? According to the Blue Ribbon website, "Heathcote School was a model of the modern campus-style that was coming into vogue when McCall's magazine gave it national coverage in 1955. It was built as a translation of educational theory into architecture, based on a humanist approach. Constructed on a rolling hilltop of twenty-two acres, Heathcote dramatizes an indoor/outdoor relationship. Heathcote's unique features begin with a one-level structure that provides grade-specific classroom clusters with a little-schoolhouse atmosphere."
"Programs such as Peer Mediation, STEAM-Maker Space, Circle of Friends, and Citizens of the Week, foster our students' abilities to independently, think, question, and reflect. Heathcote strives to create a nurturing and safe learning environment where all students are free to take risks. We endeavor to promote an understanding and respect for diversity.
Heathcote has a very active parent body that supports such programs as Learning to Look, Artist in Residency, School Play, and After-School Programs. Our students make use of the natural beauty and opportunity offered by our grounds to enrich their academic pursuits. Grades K-5 participates in our gardening program, which enriches our math, science, and social studies curriculum with hands-on garden to table experiences. Love of learning inspires Heathcote's ultimate goal of creating a community of lifelong learners, who are independent, critical thinkers with a social conscience."